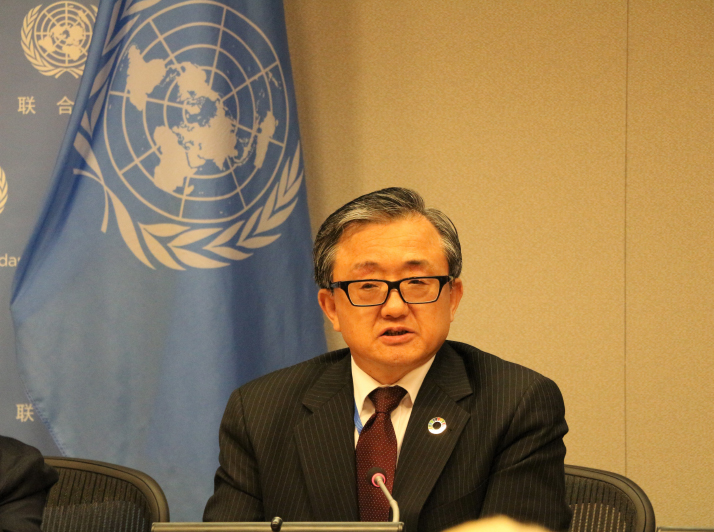 Liu Zhenmin, United Nations Under-Secretary-General for Economic and Social Affairs, speaks at a press conference to launch the Sustainable Development Goals Report 2019 in New York on July 9 (ZHAO WEI)
Climate change, inequality and poverty still need urgent action, the UN warned as it assessed the world's efforts to meet the sustainable development goals (SDGs) in its annual report released on July 9.
"There are some positive trends, yet not all trends are moving in a satisfactory direction," Liu Zhenmin, UN Under-Secretary-General for Economic and Social Affairs, said in a press release at the launch of the Sustainable Development Goals Report 2019 at the UN headquarters in New York.
"Climate change continues to be the main obstacle to our shared prosperity."
According to Liu, the number of phenomena resulting from climate change is increasing. They include sea levels rising, global temperatures increasing and oceans turning acidic faster. The frequency and severity of natural disasters is also growing.
"These are ways in which climate change is fundamentally endangering the health of our planet and livelihoods of people all over the world," Liu said, adding these impacts were not only undermining efforts to achieve the SDGs but also the progress made over the last several decades.
"The clock for taking decisive action is ticking," he stressed. "This report encourages all governments to amplify their efforts toward implementation."
The report also shows that inequality is rising and too many people are left behind, which is another big challenge for the world. "The world today is still unequal and is becoming even more unequal."
"The decline of extreme poverty continues, but the pace has slowed, and the world is not on track to achieving the target of ending poverty," the report says. The share of the world's population living in extreme poverty decreased to 10 percent in 2015 from 16 percent in 2010 and 36 percent in 1990. The 2018 rate of extreme poverty is forecast to be 8.6 percent.
Baseline projections suggest that 6 percent of the world's population will still be living in extreme poverty in 2030, if the current trends continue.
It is therefore imperative for the world leaders to ensure that inequality is reduced and everyone has the same opportunities in life, Liu said.
"The challenges highlighted in this report are global problems that require global solutions," he said in the introduction to the report. "No country or individual can resolve them in isolation. In other words, multilateral action is more important than ever."
(Reporting from New York City)
Copyedited by Sudeshna Sarkar
Comments to yushujun@bjreview.com