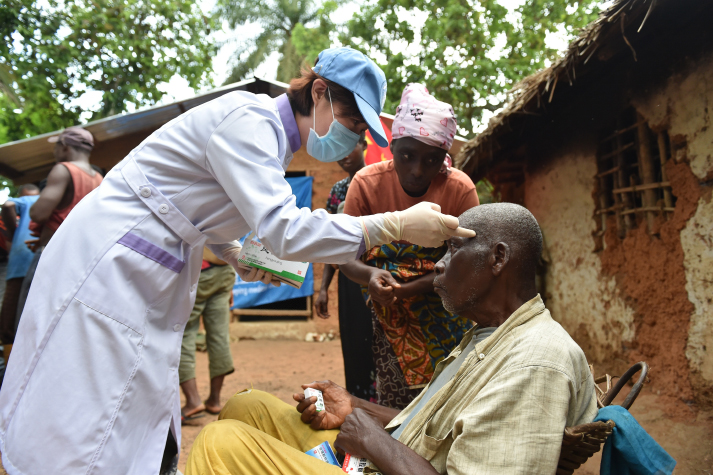 A nurse of the medical detachment of the 18th Chinese peacekeeping force to Liberia treats a villager near Zwedru, Liberia, on November 1, 2015 (XINHUA)
When the novel coronavirus disease (COVID-19) hit the mission area of the UN peacekeeping force in Mali, the first confirmed cases were reported in the eastern sector on April 16. A Chinese peacekeeping medical unit responded quickly to set up isolation wards and carry out detection, quarantine and other protective measures.
The area is on the southern rim of the Sahara, characterized by prolonged droughts and high temperatures. The Chinese medical personnel had to change shifts every hour due to the harsh working conditions, with the thick protective suits obstructing their breathing, layers of masks chafing their faces and ears, and dripping sweat stinging their eyes behind goggles.
Zhu Siqiang, Commander of the Seventh Chinese Level 2 Hospital in the UN Multidimensional Integrated Stabilization Mission in Mali (MINUSMA), said among the three such hospitals in the area, the Chinese facility was the only one that not only maintained normal operations during the epidemic, but also reported no in-house infections.
In addition to treating COVID-19 patients, the hospital also set an example for the local community in preventing and controlling the virus, and helped strengthen residents' confidence in defeating it. Mahamat Saleh Annadif, Special Representative of the UN Secretary General and head of MINUSMA, sent a letter to Zhu on June 25, speaking highly of the Chinese medical team's role in the COVID-19 response in Mali.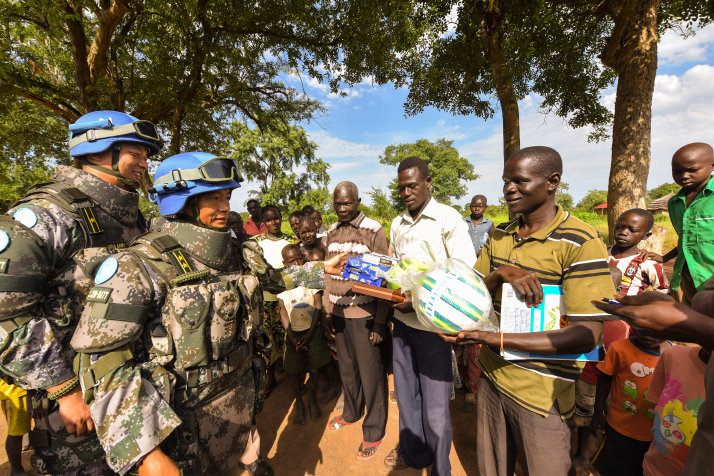 Chinese peacekeepers donate supplies to a primary school in South Sudan on August 26, 2015 (XINHUA)
A key force
According to a white paper released by the State Council Information Office on September 18, Chinese peacekeepers have made a tremendous contribution to facilitating the peaceful settlement of disputes, safeguarding regional security and stability, and promoting economic and social development in host nations.
In April 1990, five Chinese military observers were dispatched to the UN Truce Supervision Organization for the first time, marking the start of China's participation in UN peacekeeping operations.
Since then, more than 40,000 Chinese officers and soldiers have taken part in 25 UN peacekeeping deployments, serving in engineering, medical, transport, helicopter, force protection and infantry units, and as staff officers, military observers and seconded officers. This makes China the largest source of peacekeeping troops among the five permanent members of the UN Security Council, overtaking Britain, France, Russia and the United States. It is also the second largest contributor to the UN peacekeeping budget, with its share reaching 15.22 percent for 2019-21.
Gao Chaoning, Commander of the 18th Chinese Multifunctional Engineering Company in the UN Interim Force in Lebanon, told Beijing Review that Chinese peacekeepers have participated in demining operations with zero casualties over the past 14 years. "We have set the record of fastest speed, highest quality, and lowest cost and casualties in completing the demining mission assigned," he said.
Demining operators need to wear protective suit weighing at least 5 kg, and work in a kneeling position for hours. Gao's team cleared 10,427 square meters of minefields and disposed of 1,577 landmines and unexploded ordnance near the UN-demarcated Blue Line border between Lebanon and Israel from May 2019 to August this year.
The Chinese blue helmets have left their footprints in over 20 countries and regions including Cambodia, the Democratic Republic of the Congo (DRC), Liberia, Sudan, Lebanon, Cyprus, South Sudan, Mali and the Central African Republic.
In March 2017, intense conflicts broke out in Yei, a border town in South Sudan. Seven UN civilian staff were trapped in the area and 12 Chinese soldiers were assigned to the rescue immediately.
"Despite threats and dangers, they outmaneuvered the militants, defeated three interception attempts and successfully evacuated the trapped personnel. This timely and efficient operation was hailed as an exemplary model of rescue operations by members of the UN Mission in South Sudan," Mi Xiugang, Company Commander of the Third Chinese Infantry Battalion to South Sudan, said.
According to the white paper, more than 1,000 Chinese military women have served under the UN flag. They work in medical support, liaison, coordination, demining, explosive ordnance disposal, patrol, observation, gender equality promotion, protection of women and children, and other fields.
Guan Zhumiao went to Mali in 2015, working as an interpreter for the Chinese Level 2 Hospital. The country is afflicted by frequent suicide attacks, roadside bombs and other terrorist assaults. The hospital's staff had to hide in bunkers at midnight during the Christmas holiday in 2015 while the local situation deteriorated. Guan said she never turned off her mobile phone during her tenure in case of emergencies.
On May 28, 2016, Guan returned to China after completing her mission. Four days later, Shen Liangliang, a 29-year-old Chinese peacekeeper, was killed in a terrorist attack when a vehicle-borne improvised explosive device detonated at the UN camp where she had stayed. "We should work hard to maintain peace and stability around the world," she said.
Over the past 30 years, 16 Chinese peacekeepers lost their lives on duty.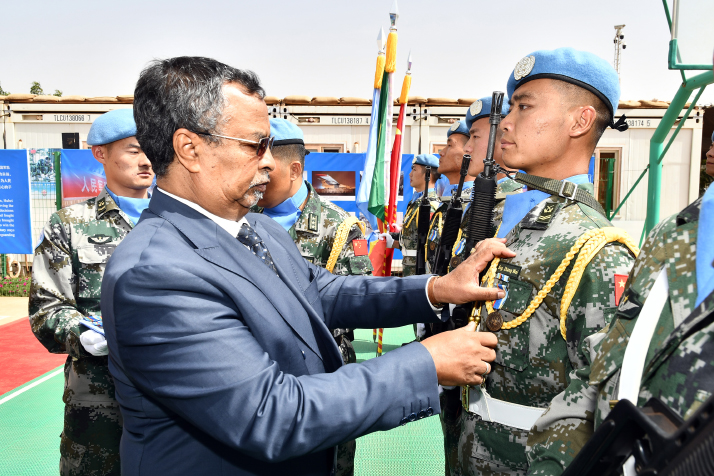 Mahamat Saleh Annadif, Special Representative of the UN Secretary General for Mali and chief of the UN mission in the African country, presents medals to the seventh Chinese peacekeeping contingent to Mali in Gao on February 26 (XINHUA)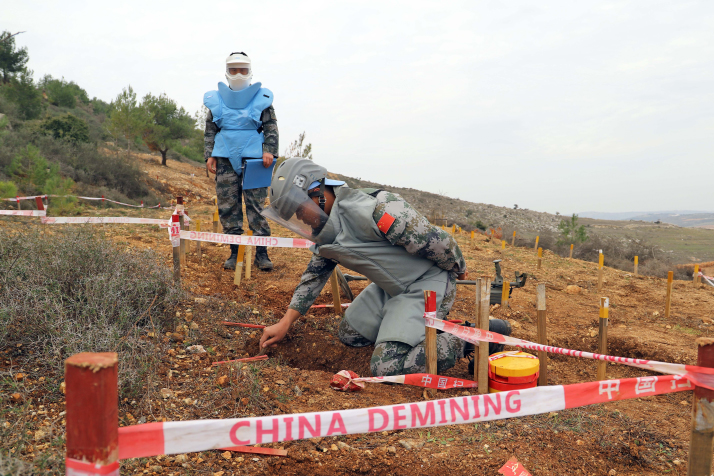 A Chinese peacekeeper defuses a mine in Lebanon on January 17 (XINHUA)
Showered with praise
Far from home, Chinese peacekeepers have participated extensively in humanitarian assistance and post-conflict reconstruction operations in their mission areas, making concrete efforts to bring peace and hope to war-afflicted peoples.
Cai Hui, an associate professor at the National University of Defense Technology and senior instructor at the Peacekeeping Affairs Center under the Ministry of National Defense, told Beijing Review that Chinese peacekeepers have a clean discipline record. "It is a good tradition that we have followed consistently," he added.
Sudan's Darfur region, which lies on the edge of a desert with complex geology, is one of the regions afflicted by the nation's most severe water shortages. From 2007 to 2013, Chinese peacekeepers drilled 14 wells in the most difficult circumstances, alleviating the water scarcity for the locals.
In April, Uvira in east DRC was devastated by a rare flood. A Chinese peacekeeping engineering unit rushed to assistance, helping reinforce the levees and restore damaged bridges, ensuring the safety and security of the affected population.
Liu Yong, Commander of the seventh batch of the Chinese peacekeeping force in Mali, has participated in peacekeeping in Sudan's Darfur, South Sudan and Mali. For him, there were many touching moments during his missions.
In 2015, a clash between government troops and the rebels broke out only 1,000 meters away from Liu's camp in South Sudan. The Chinese team provided timely protection and assistance for the refugees who came for help. "A paralyzed woman spent more than an hour crawling to our camp to seek refuge. It showed her trust in Chinese peacekeepers and a hope for peace," Liu said.
Chinese medical units in the DRC ran a twinning project in an SOS Children's Village in Bukavu. Touched by their love and care, children in the village called the female members their Chinese mothers. The consistent efforts of the Chinese peacekeepers over the past 17 years have won widespread praise from local people.
Gao said the Chinese blue helmets have helped locals build roads and bridges in Lebanon. "We have also assisted schools to open football fields and basketball courts," he said, adding that many of the students were eager to learn simple Chinese words to say thanks.
In the Chinese hospital in Mali, Zhu often saw local patients. In many cases, he could treat conditions that were beyond the local doctors. The surgeon was always ready to offer help and was nicknamed "miracle doctor" by the patients.
"When we were on the way back to China after completing our mission, many locals gave us a thumbs-up, which I will never forget," Zhu said.
(Print Edition Title: Blue Helmets for Peace)
Copyedited by Garth Wilson
Comments to mamm@bjreview.com