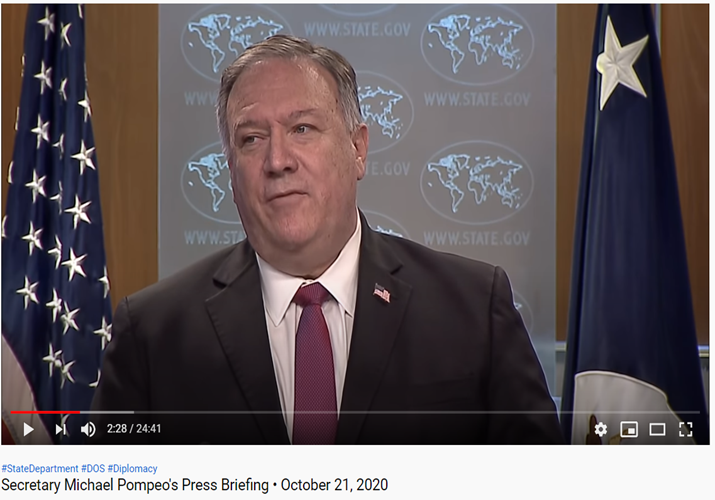 U.S. Secretary of State Mike Pompeo announces at a press briefing on October 21 that the Department of State has designated the U.S. operations of six more China-based media companies as foreign missions (SCREENSHOT)
China urged the U.S. to stop its political oppression and arbitrary restrictions on Chinese media organizations, Foreign Ministry spokesperson Zhao Lijian said on October 22.
Zhao's comments came after the U.S. Department of State designated the U.S. operations of six more Chinese media companies as "foreign missions."
He said the U.S. made the move based on a Cold War mentality and ideological bias, adding that the designation has damaged the reputation of Chinese media, seriously affected their business in the U.S., and disrupted cultural exchanges between the two countries.
According to a list provided to the Chinese Embassy in the U.S., the six media outlets are Beijing Review, Economic Daily, Jiefang Daily, Social Sciences in China Press, Xinmin Evening News and Yicai Global (also known as China Business Network).
At a press briefing on October 21, U.S. Secretary of State Mike Pompeo said the move was aimed at "pushing back on Chinese Communist propaganda efforts here at home." He also announced that the U.S. would launch a dialogue on China with the European Union on October 23.
However, mainstream media didn't buy it. Associated Press called it "a move that will further foment tensions in already deteriorating ties between the world's two largest economies as President Donald Trump seeks to boost his anti-China credentials ahead of November's election."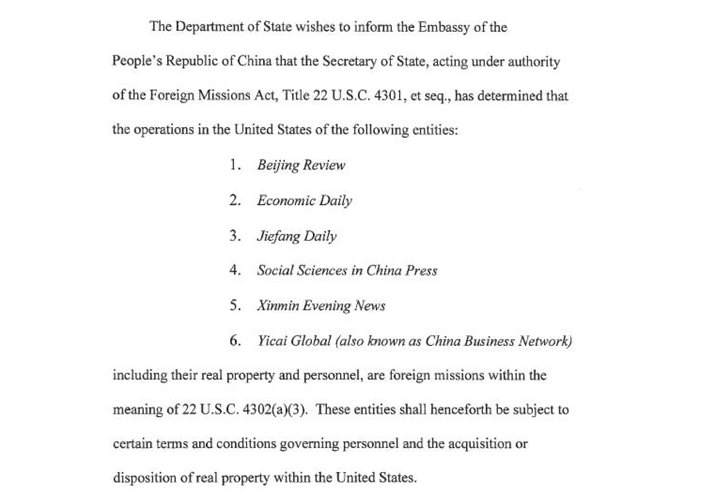 Beijing Review, established in 1958, is China's only national news magazine in English. Its mission is to facilitate communication between China and the rest of world by providing timely, accurate and first-hand information on economic, political and cultural developments in China. Since the first issue, it has been added to the U.S. Capitol Library's collection as a first-hand source on China.
As of today, 15 Chinese media entities have been listed as "foreign missions" by the U.S., including Xinhua News Agency, CGTN, China Radio International, China Daily Distribution Corp., Hai Tian Development USA, CCTV, China News Service, People's Daily and Global Times.
In a letter sent to Beijing Review, the department said Beijing Review's U.S. bureau has to register details about its property and travels and visits by its employees with the U.S. Government.
The adding of the six media entities is the most recent activity by the U.S. to escalate tensions with China. Aside from engineering the arrest of Chinese telecom company Huawei's chief financial officer in Canada, the Trump administration has closed China's consulate in Houston, cooked up the conspiracy theory that a Chinese lab produced the novel coronavirus, indicted several Chinese citizens on espionage charges and kicked out 60 U.S.-based Chinese journalists. It has imposed strict limits on the travels of Chinese diplomats, designated the Confucius Institutes that promote educational and cultural links as "foreign missions," and meddled in Hong Kong and Xinjiang affairs.
China will respond, but in a law-abiding way and following all diplomatic conventions.