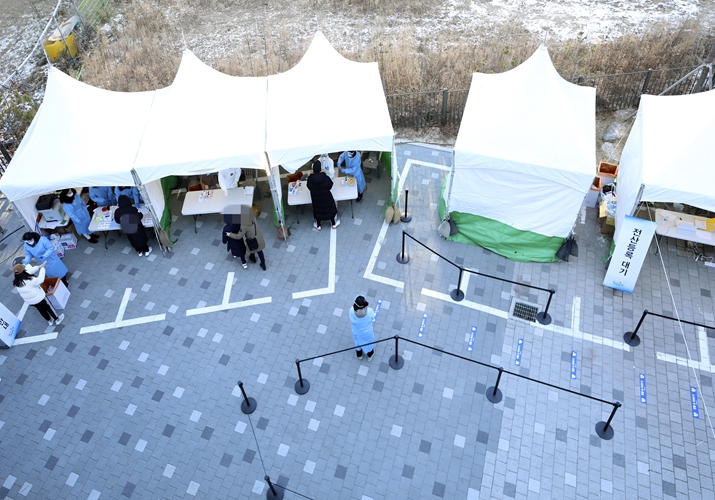 People test for COVID-19 at a designated site in Seoul, the Republic of Korea, on December 14(XINHUA)
1 COVID-19 Pandemic
Global novel coronavirus disease (COVID-19) cases surpassed 72.8 million on December 17, with more than 1.6 million fatalities, according to data from the World Health Organization.
International cooperation supports national efforts to combat the virus. The UN and other international and regional organizations have risen to the occasion to play their part. The Group of 20, for one, reached an agreement on an extended debt restructuring plan for coronavirus-ravaged developing countries.
China has provided assistance to over 150 countries and nine international organizations and sent 36 medical teams to 34 countries.
With rapid progress in the quest for a vaccine, several countries, including Russia and the United Kingdom, launched mass vaccination programs around mid-December.
The global economy has been seriously affected and will shrink by 4.4 percent for 2020, the International Monetary Fund said.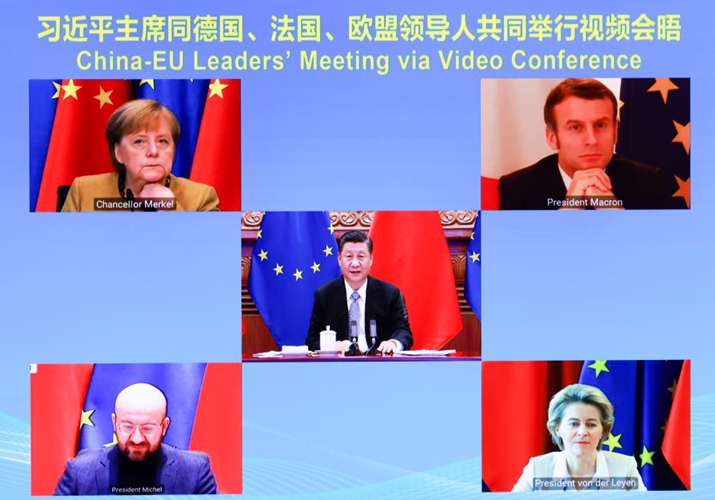 Chinese President Xi Jinping meets with German Chancellor Angela Merkel, French President Emmanuel Macron, President of the European Council Charles Michel and President of the European Commission Ursula von der Leyen via video link in Beijing, capital of China, on December 30(XINHUA)
2

Unprecedented Trade Deals
In 2020, the Regional Comprehensive Economic Partnership agreement was signed, and negotiations were completed for an investment agreement between China and the EU, injecting vitality into a world economy that has become sluggish due to the COVID-19 pandemic.
On December 30, Chinese and European leaders announced that China and the EU have completed negotiations for the investment agreement between the two sides as scheduled. The agreement is expected to greatly boost world economic recovery in the post-pandemic era, enhance the international community's confidence in economic globalization and free trade, and make significant contributions to the building of an open world economy.
On November 15, RCEP agreement was signed after eight years of negotiations, creating the largest trading bloc in the world. The 15 participating countries, including 10 member countries of the Association of Southeast Asian Nations plus China, Japan, the Republic of Korea, Australia and New Zealand, account for some 30 percent of the global population, global gross domestic product, as well as global trade. The conclusion of the pact is an important move to facilitate free trade. It also assures further improvement in economic globalization and regional economic integration.
A snapshot of a televised presidential debate between U.S. President Donald Trump and Joe Biden in Nashville, Tennessee, the U.S., on October 22(XINHUA)
3 Biden Elected as U.S. President
On December 14, the U.S. Electoral College voted to cement Joe Biden's victory over Donald Trump in the U.S. presidential election in November. Biden will be sworn into office on January 20, 2021.
However, Trump received the second-most votes of any presidential candidate in history, signifying the ever-mounting divide within the U.S. Although Biden, a seasoned Democrat, reportedly has plans to reverse Trump's policies on China as well as on issues including migration and climate, it will be a tough process considering the possibility of Republicans retaining control of the Senate.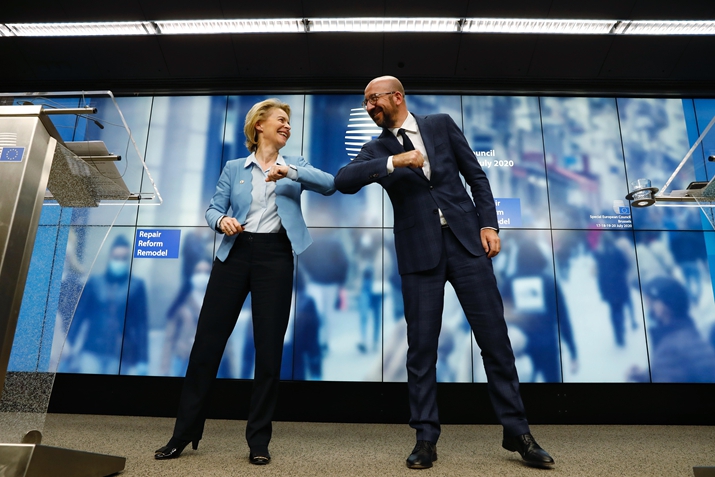 European Council President Charles Michel and European Commission President Ursula von der Leyen attend a press conference after member countries reached
a consensus on the bloc's recovery fund and long-term budget in Brussels, Belgium, on July 21(XINHUA)
4 Pursuit of EU Autonomy
On July 21, leaders of the 27 EU member states agreed on an unprecedented recovery deal, including a coronavirus crisis recovery fund of a total of 750 billion euros ($912 billion) and the bloc's long-term budget worth over 1 trillion euros ($1.21 trillion).
The agreement was a major step to reach European strategic autonomy, a top priority for the EU, as its old ally, the U.S., pursues the "America First" policy under the Trump administration, and of great importance to EU independence as a pillar of the world.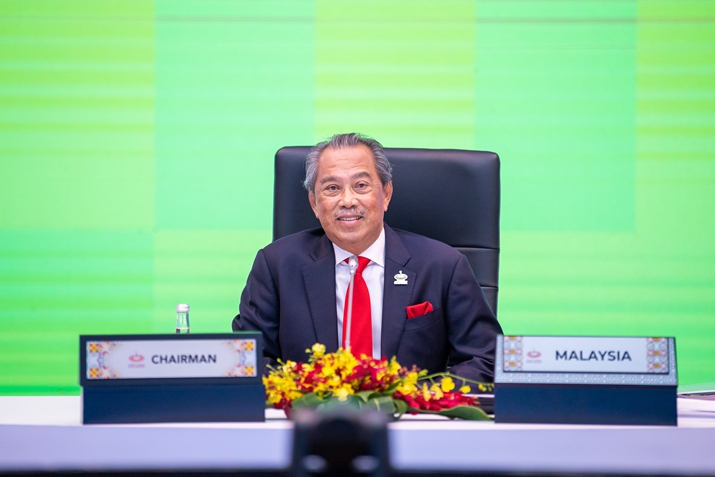 Prime Minister Muhyiddin Yassin of Malaysia, the host of this year's meetings of Asia-Pacific Economic Cooperation (APEC), attends the virtually held 27th APEC Economic Leaders' Meeting from Kuala Lumpur, Malaysia, on November 20(XINHUA)
5 APEC Putrajaya
Vision 2040 Adopted
The 27th APEC Economic Leaders' Meeting, held virtually on November 20, launched the Putrajaya Vision 2040, the new long-term blueprint for future cooperation, which envisions an open, dynamic, resilient and peaceful Asia-Pacific community by 2040. It replaced the 1994 Bogor Goals, which saw remarkable progress in the liberalization and facilitation of trade and investment in the region.
During the meeting, Chinese President Xi Jinping said China will favorably consider joining the Comprehensive and Progressive Agreement for Trans-Pacific Partnership, a higher-level free trade agreement between 11 regional economies that became effective in December 2018.
A clock counting down to the moment Britain would leave the EU on January 31 is projected onto the wall of 10 Downing Street in London, Britain(XINHUA)
6 Britain Leaving the EU
On January 31, Britain officially left the EU, ending its 47-year membership after three and a half years of entanglement since its referendum decision was made in June 2016. The transition period expires on December 31.
Bilateral trade talks kicked off on February 1 and a deal was set to be made before December 13. However, both sides failed to reach an agreement before the deadline and continued the negotiations to avoid a no-deal Brexit.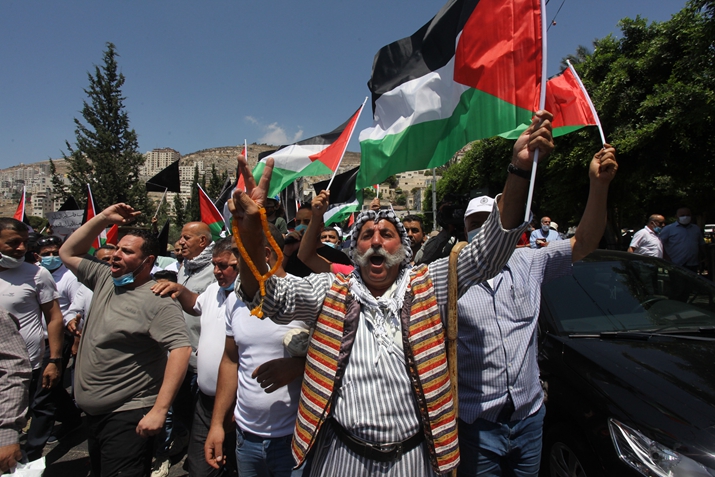 Palestinians demonstrate against the normalization of relations between the United Arab Emirates and Israel in the West Bank city of Nablus on August 14(XINHUA)
7 Israeli-Arab Ties Normalization
Israel has normalized relations with the United Arab Emirates, Bahrain, Sudan and Morocco since August.
The U.S. played a critical role in Israel's diplomatic breakthrough, a development severely condemned and rejected by Palestine.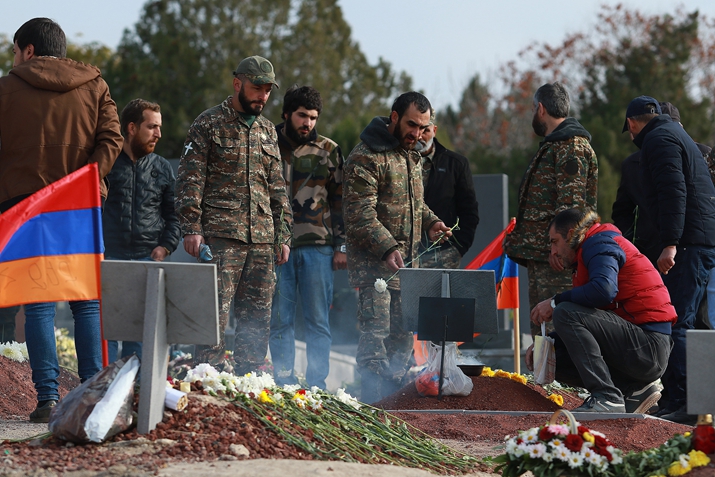 People bury soldiers killed in the Nagorno-Karabakh conflict in Yerevan, Armenia, on November 20(XINHUA)
8 Conflict in
Nagorno-Karabakh
On September 27, a new round of armed conflict broke out between Armenia and Azerbaijan in the disputed Nagorno-Karabakh region, resulting in some 4,000 casualties, including civilians, and tens of thousands of refugees.
A Russia-brokered ceasefire statement was signed on November 10, on the condition of deploying Russian peacekeepers along the line of contact in Nagorno-Karabakh and the Lachin corridor connecting the region with Armenia.
Armenia and Azerbaijan have locked horns over Nagorno-Karabakh since 1988.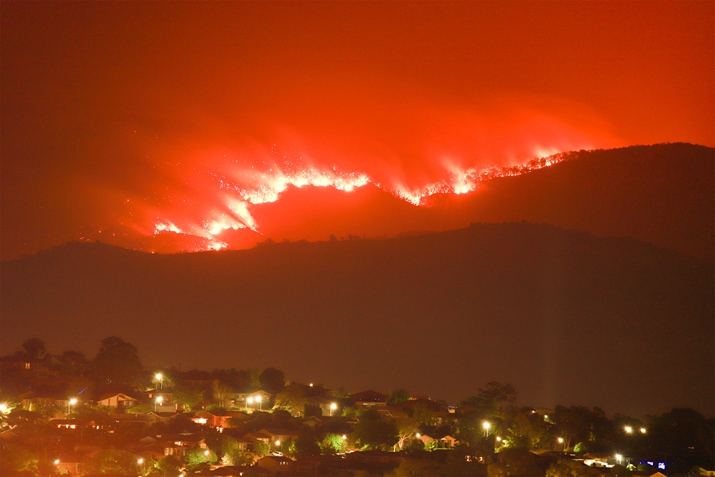 Forest fires spread across a national park south of Australian capital Canberra on January 31(XINHUA)
9 Global Warming Taking Greater Toll
This year marks the fifth anniversary of the Paris Agreement on climate change, and also witnessed extreme weather conditions repeatedly occurring across the world, from raging wildfires in the U.S. and Australia to devastating floods in south China. On February 9, an Antarctica-based team of scientists recorded a new all-time high temperature of 20.75 degrees Celsius. These facts combined have fueled concerns about the warming of the planet and require countries to take their responsibility.
On December 12, the Climate Ambition Summit took place online. Seventy-five leaders from all over the world unveiled new commitments and concrete plans to reduce greenhouse gas emissions to tackle ever-increasing climate change indicators and impacts.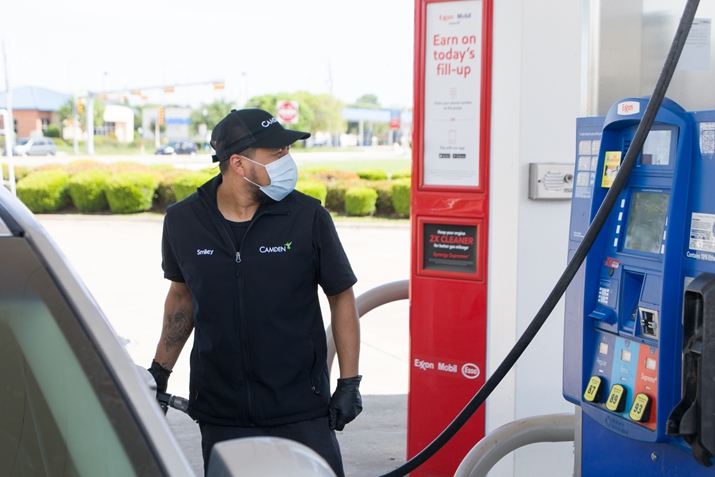 A driver fills up his gas tank in Dallas, Texas,
the U.S., on April 20(XINHUA)
10 Negative Oil Pricing
On April 20, the West Texas Intermediate for May delivery shed over 305 percent to settle at minus $37.63 a barrel on the New York Mercantile Exchange. It meant that the cost of transporting oil to its refineries or storage destinations exceeded the value of the oil itself. It was the first time an oil futures contract had traded negative in history.
The drop was the result of a significant decline in demand due to the COVID-19 pandemic.
U.S. oil prices exceeded $40 per barrel in early December, the highest since late March.