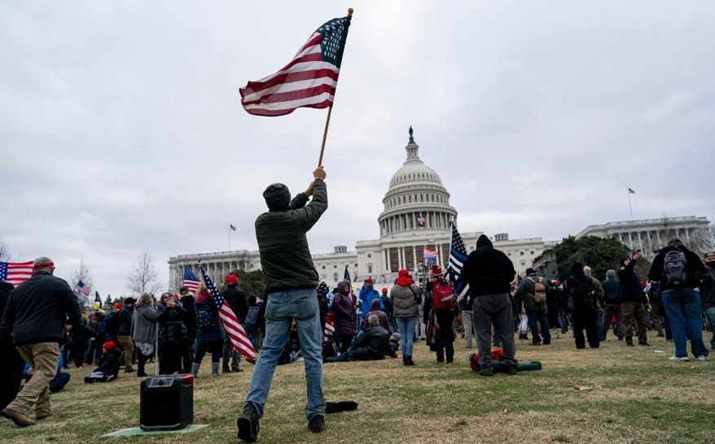 Supporters of U.S. President Donald Trump gather near the U.S. Capitol building in Washington, D.C., the United States, on January 6 (XINHUA)
The smell of tear gas, scattered broken glass, policemen armed-to-teeth. An onslaught of violence swept through the U.S. Capitol on January 6, interrupting the congressional vote count and leaving five dead, with many more injured.
"U.S. President Donald Trump is the initiator of the disturbance. Like a desperate gambler, he tried to bet on his bottom dollar," Teng Jianqun, a research fellow with the China Institute of International Studies, told Beijing Review. "Republicans fueled the violence with an ulterior motive—courting Trump's voter base for their own gains in 2022 and 2024 elections."
"In other words, they put their own political advantage above the national interest," Teng added.
Most Americans view the incident as one incited by Trump. "Many think Trump should be removed from office," Peter Walker, a senior partner emeritus at McKinsey & Company, said. "The rioters are criminals and those who broke into the Capitol are lawbreakers who will be fully persecuted and sent to jail. No one understands why the police and the National Guard were not prepared for this."
"The U.S. now faces its worst political crisis since the Civil War," Martin Jacques, the former senior fellow at the Department of Politics and International Studies in Cambridge University, tweeted. "The nature of the U.S. political crisis has been greatly underestimated," he went on to write, "The country is divided down the middle, hopelessly polarized and its system of government paralyzed."
The social division was further widened during Trump's four-year administration. "Joe Biden will be a healer, but the Democrats did not really connect with or understand the frustration of Trump's base— Biden knows that," Peter Walker said. When asked why such bouts of violence would take place in the U.S., the self-proclaimed leading example of modern democracy at work, Walker did not reply.
World leaders also condemned the Capitol violence. Canadian Prime Minister Justin Trudeau tweeted, "Violence will never succeed in overruling the will of the people. Democracy in the U.S. must be upheld—and it will be." New Zealand Prime Minister Jacinda Ardern said, "Democracy—the right of people to exercise a vote, have their voice heard and then have that decision upheld peacefully—should never be undone by a mob."
Copyedited by Elsbeth van Paridon
Comments to Wenqing@bjreview.com