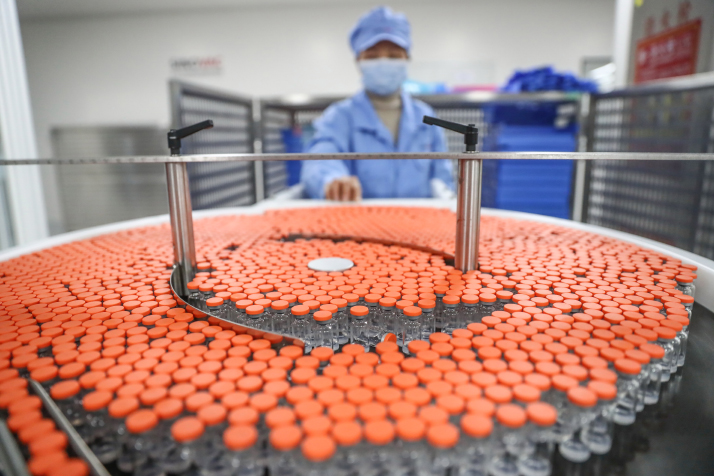 A staff member of Sinovac Biotech manages a vaccine array in the company's workshop in Beijing, on January 6 (XINHUA)
Wang Jiansheng, a taxi driver with Beifang Autos Renting Co. Ltd. in Beijing, is one of the first Chinese residents to receive free vaccination for COVID-19 after the country kicked off the campaign on January 1.
"I got my first shot on January 7. I think vaccination is significant to protect me, my family and my colleagues. After all it's one of the best ways to curb the spread of the virus," Wang, 57, told ChinAfrica.
Wang said that right after receiving the vaccine, his arm hurt a little. But these symptoms were all gone the next morning. "I feel good now," he said.
Now, Wang's profile on ride-hailing apps shows he has been vaccinated. "Mass inoculation makes both drivers and passengers feel a little more at ease," he said.
People aged 18 to 59 working in sectors that have higher risks of infection are given priority for vaccines in China. These key groups include customs officers, disease control and medical personnel, as well as workers in cold chain logistics, public transportation, and agricultural product and seafood markets.
According to Wang Bin, an official with the Bureau of Disease Control and Prevention of the National Health Commission, more than 15 million people had been vaccinated by January 20. "We will gradually expand the immunization to include children and the elderly," she said.
Mass drive
In Beijing, there are about 205 vaccination sites with more than 8,700 workers. As of January 16, about 1.7 million people had been inoculated in the city.
At 9:30 a.m. on January 18, hundreds of people had already lined up at a vaccination center in Beijing's Xicheng District.
Before injecting the shot, medical staff checked every recipient's health condition, age and medical history. Detailed information about the inoculation and consultation regarding safety concerns were also offered.
The whole process took around 50 minutes, including a 30-minute medical observation after injection.
A first aid station set up at the site is equipped with facilities such as ventilators and defibrillators as well as experienced doctors. An ambulance is parked nearby for an emergency.
No serious side effects have been observed among most vaccinated people, Pang Xinghuo, Deputy Head of the Beijing Center for Disease Control and Prevention, told a press briefing on January 6. Every dose of vaccine used can be traced back to its source via a designated code, and every recipient's vaccination information is recorded and then submitted to the data bank of the Chinese Center for Disease Control and Prevention (CDC).
"The injection was administered smoothly. I don't have any discomfort," said Xie Jinchao, who frequently handles imported cold-chain food in the workplace. After getting vaccinated, Xie and other recipients received updated information on their health QR code.
Shao Yiming, an expert with the CDC, previously told the media that although COVID-19 has been largely under control in China, at least 85 percent of the population needs to be vaccinated to achieve herd immunity considering the seriousness of the epidemic. At present, those who have plans to travel abroad in near future can also apply for COVID-19 inoculation at their community service centers.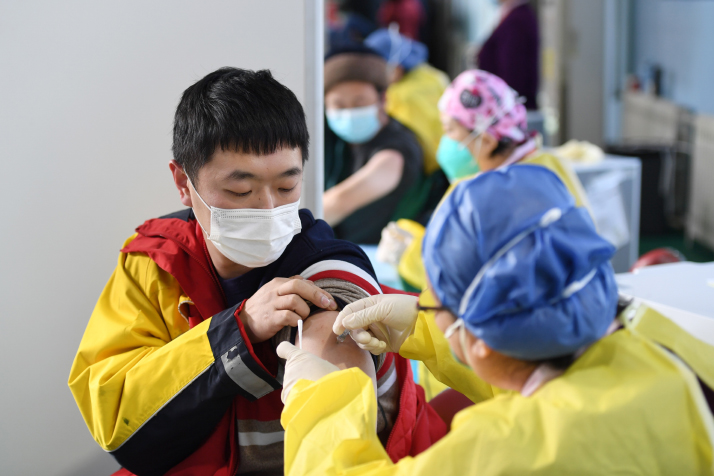 A man receives COVID-19 vaccination at a health service center in Haidian District, Beijing, on January 6 (XINHUA)
Chinese vaccines
China has been leading in the research and development of COVID-19 vaccines. In the process, Chinese researchers have adopted five technologies, namely inactivated vaccines, recombinant protein vaccines, adenovirus vector vaccines, vaccines using attenuated influenza viruses as vectors, and nucleic acid vaccines.
The country's first vaccine received conditional marketing authorization from the National Medical Products Administration on December 30, 2020. It is an inactivated vaccine developed by Beijing Biological Products Institute Co. Ltd. under China National Biotec Group, which is affiliated to Sinopharm. The company said the interim results of the ongoing phase-3 trials showed it has an efficacy rate of 79.3 percent.
Prior to the approval, the vaccine and another inactivated vaccine candidate developed by Sinopharm had already gained approval for general use in the United Arab Emirates (UAE) and Bahrain last December. The phase-3 clinical trials of the two vaccines involved more than 60,000 participants from 125 countries, according to the company. Altogether, China has 16 self-developed COVID-19 vaccines undergoing clinical testing, and seven have entered Phase III trials, according to the Ministry of Science and Technology (MOST) on January 30.
Meanwhile, as a participant in the WHO-led COVAX initiative to promote international cooperation on vaccines and equitable global distribution, China is also conducting joint vaccine research and development with partners in a dozen countries, trying to make the vaccines more affordable and accessible in developing countries, according to Chinese Foreign Ministry spokesperson Hua Chunying.
"For countries that are in urgent need of vaccines and have certified Chinese vaccines or authorized their emergency use, Chinese companies have started exports or to discuss cooperation with them, most of which are developing countries," she said.
A global public good
The quality and efficacy of China-developed vaccines are well acknowledged. A number of countries, including Egypt, the UAE, Jordan, Indonesia, Brazil, Pakistan, Turkey and Indonesia, have authorized the use of Chinese COVID-19 vaccines. And many more countries, such as Chile, Malaysia, the Philippines, Thailand and Nigeria, have ordered Chinese vaccines or are cooperating with China in procuring or rolling out the vaccines.
During the Extraordinary China-Africa Summit on Solidarity Against COVID-19 in June 2020, Chinese President Xi Jinping said, "We pledge that once the development and deployment of COVID-19 vaccine is completed in China, African countries will be among the first to benefit."
On January 10, Seychelles began vaccinating its population with a vaccine developed by Sinopharm. President Wavel Ramkalawan was the first to receive the jab, which was broadcast live on television from a hospital in the capital Victoria. Several dozen public figures joined him at the event.
"It's exactly as if I was getting any vaccine," Ramkalawan said, encouraging all people of the island nation to get vaccinated.
Egypt started inoculating medical staff with the same vaccine at a hospital in the northeastern province of Ismailia on January 24.
Health Minister Hala Zayed said that clinical trials have proved Sinopharm's vaccine is safe and highly effective, especially "in prevention of COVID-19 infection with severe symptoms."
"When Chinese President Xi Jinping talks about accessible and affordable vaccines, he means not just making them available to Chinese citizens but also foreign citizens as well. That is the ultimate exercise of building a community with a shared future for humanity," said John Gong, a professor at the University of International Business and Economics. CA
(Print Edition Title: Building an Immune Barrier)
Comments to xyy@chinafrica.cn