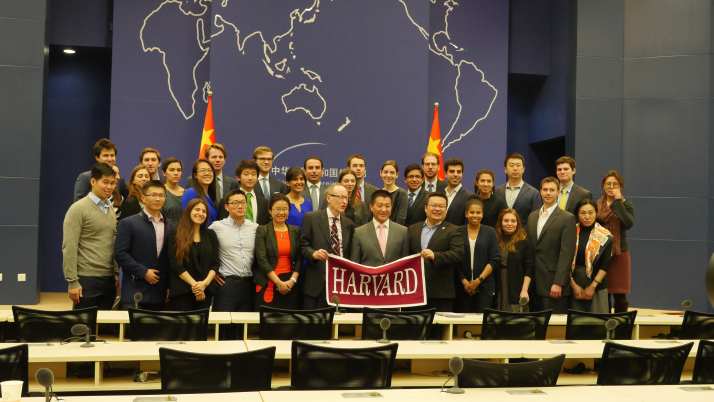 Liu Xi (fifth from left in front) takes picture with the other members of her team under the China Insight program after visiting the Ministry of Foreign Affairs in Beijing on March 18, 2016 (YUAN YUAN)
It was on Harvard's campus that Liu Xi hit upon the idea to set up a program to bring the real China to more Harvard students.
Liu attended a master's program at the Harvard Kennedy School (HKS) from 2013 to 2015. While studying in the U.S., she realized that many Americans have a biased view of China, her home country. "I want to do something to change the situation," Liu told Beijing Review.
Liu was motivated by a desire to make a positive difference in the world, a desire shared by many Harvard alumni.
Her determination became firmer after she learned that Charles Data, a Harvard alumnus from the Republic of South Sudan—which became a sovereign state in 2011—passed up high-paying job offers after graduation and returned to his homeland to help establish its financial system, earning a salary of less than $200 a month.
In the same spirit of public service, a female student from Somalia planned to run for the presidency in her country in an effort to combat piracy and drug trafficking problems there. She remained committed to this path even though the previous Somali presidents faced high risks of assassination.
The commitment
In the United States, after speaking to students who expressed biased ideas about China, Liu realized that many of them held negative opinions about China because they had never been to China and had no direct knowledge of the country, and they had gained their misunderstandings mostly from media reports. Some students argued that China, with skyscrapers in megacities and super fast trains, should be identified as a developed country; some accused China of human rights abuses, citing "facts" that Liu, a Chinese citizen, had never heard of.
Liu realized that to change the stereotyped images of China in the Western world she should bring Harvard students to China. "Students from Harvard might grow up to become leaders in various areas and I hope an insight trip to China can help them to explore with their own eyes the real China," she said.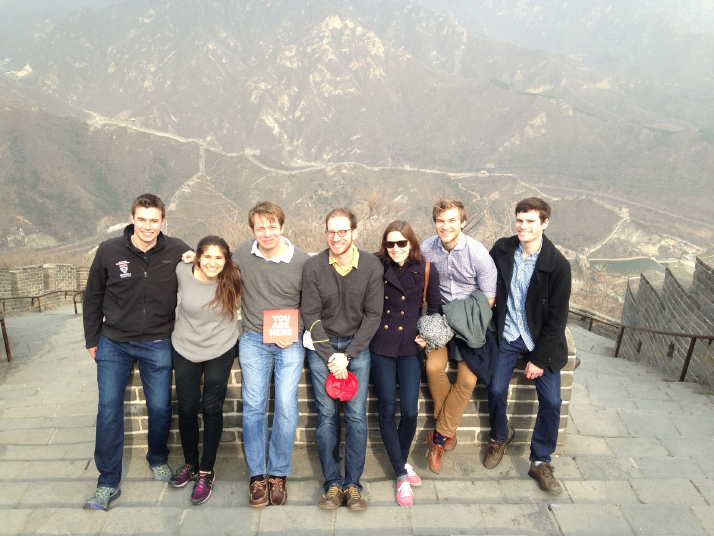 Theodora Skeadas (second left) on the Great Wall in Beijing with other members of China Insight Program in March 2016 (COURTESY PHOTO)
Journey to the East
In 2014, Liu initiated a program to bring a team of Harvard students to China every year. In her idea, it should not be a sightseeing trip: The students would be invited to visit core government departments, emerging private companies, non-governmental organizations (NGOs) and universities, where they would speak with government officials, entrepreneurs, college students and media workers. Liu and her team named the trip China Insight.
Liu moved quickly from idea to action. The program was launched in 2014 with the help of alumni, who offered financial support and helped to make contacts in China. It attracted many applicants on campus, and the selection process for the first group to China was highly competitive, with only one out of 10 applicants accepted. She interviewed every applicant and selected the finalists. "They need to be really interested in China and have the potential to do something for the China-U.S. exchanges in the future," Liu said.
After graduation, Liu found a job in Nanjing, Jiangsu Province in east China, but the trips continued. In 2016, Liu set up an NGO, Hi China International Youth Development Alliance. In 2017, Liu quit her job to focus on the NGO full-time.
From 2014 to 2019, Liu and her team regularly organized teams from Harvard each year, including China Insight treks and smaller teams for academic exchanges.
Theodora Skeadas, now an alumna of HKS, joined the China Insight trek in 2016 as a master's student. She read five books on China before leaving and prepared over 10 questions she hoped to have answered through the trip. As part of the program, she visited the Information Office of the State Council, the Ministry of Foreign Affairs, the China (Shanghai) Pilot Free Trade Zone, Alibaba Group, and historical sites including the Great Wall and the Forbidden City.
"My trip to China was an experience I will never forget," Skeadas told Beijing Review. She said that she found answers to all the questions she had. She got firsthand knowledge of China's history, economy, politics and society. She learned that China has entered a "new normal" stage as the country adjusted its economic structure and shifted its focus from fast to quality economic growth. She also learned about China's efforts to eradicate absolute poverty.
"There is no political system that can be called absolutely right in the world; as long as a government can guide its people to work hard toward a proper goal, it is an appropriate political system for the country," she said.
Now, almost five years since that trip, Skeadas is running for city council membership in Cambridge, a city in the U.S. state of Massachusetts. Amid the great changes the world has been experiencing, especially the outbreak of the COVID-19 pandemic, Skeadas said, "I've become increasingly aware of our interconnectedness, and the importance of cross-country partnership in tackling challenges that will increasingly become global."
The program was forced to halt in 2020 due to the pandemic, and it's hard to say when it will be able to resume. In the meantime, Liu has initiated online exchanges for young people to share their ideas on the global situation. "The eagerness of Harvard students to know more about China has never changed," she said.
In 2017, Liu began to study at Tsinghua University for her doctoral degree. She is now working on her thesis on how NGOs promote China-U.S. exchanges.
"Now there are more government-level exchanges between China and other countries, but NGOs still face many challenges in promoting international communications such as lack of funding," Liu said. "NGOs create soft links to supplement inter-governmental communications as they are less formal and hence more flexible. I will continue to explore more possibilities in people-to-people diplomacy."
Copyedited by Sean Connolly
Comments to yuanyuan@bjreview.com
(Print Edition Title:The Soft Link)