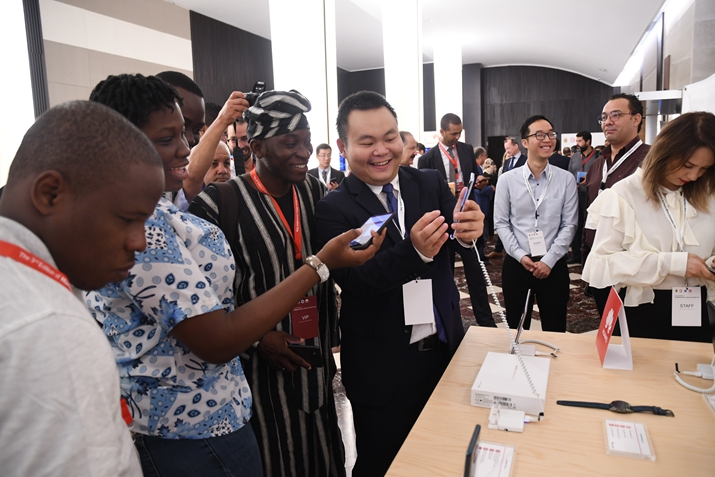 A staff member of Huawei introduces the latest technology of Huawei products to visitors from Benin at a forum of Northern Africa Innovation Day in Tunis, Tunisia, on September 23, 2019 (XINHUA)
Coffee, wine, oranges and tea — these and other products from African countries will soon be available on China's e-commerce platforms with the launch of a three-month online promotion season. The campaign is part of China's broader cooperation with Africa in digital innovation.
On September 6, the launch ceremony of the Forum on China-Africa Cooperation (FOCAC) African Products Online Promoting Season & "The World's Specialty" African Special Event was held both online and offline.
Foreign Ministry Spokesperson Wang Wenbin said the event is a concrete measure taken by China to translate the vision of the China-Africa digital innovation partnership plan into reality. Not long ago, on August 25, during the China-Africa Internet Development and Cooperation Forum hosted by the State Internet Information Office of China online, Assistant Foreign Minister Deng Li announced that China will make more efforts on working with Africa to formulate and implement the China-Africa Digital Innovation Partnership Program.
In recent years, digital innovation has become a new and emerging area of cooperation between China and Africa, and the two sides will outline specific measures in implementing the cooperation over the next three years in new business areas such as digital economy, smart city, and 5G, according to the Chinese Foreign Ministry.
Building a digital Africa
China's digital economy has expanded rapidly in recent years. In 2020, the country's digital economy achieved a high growth rate of 9.7 percent amid the pandemic and global economic downturn, with the scale of 39.2 trillion yuan ($6.1 trillion), accounting for 38.6 percent of the GDP, according to a white paper released by the China Academy of Information and Communications Technology.
In Africa, similarly, digitalization is also seeing rapid growth. It is widely recognized as one of the most powerful tools for implementing the 2030 Agenda for Sustainable Development and Africa's Agenda 2063. In the last 15 years, the growth of digital technology, mainly driven by the mobile revolution and associated innovations has been one of the bright spots for Africa's development.
According to Statista, a global business data platform, the Internet penetration rate in Africa stood at 39.3 percent as of the first quarter of 2020, meaning roughly four in every 10 individuals on the continent used the web.
Although the Internet sector is growing rapidly in African countries, its penetration is still far below the world average, and problems have emerged, including weak network infrastructure, imbalanced development between rural and urban areas, inadequate Internet laws and regulations as well as frequent cyber terrorism activities, according to Augustin Kibassa Maliba, Minister of Post and Telecommunication of the Democratic Republic of the Congo.
China said it will explore broader cooperation with Africa in digital economy at the Extraordinary China-Africa Summit on Solidarity against COVID-19 last year. Also, State Councilor and Foreign Minister Wang Yi made the proposal for China and Africa to cooperate in building a Digital Africa during his visit to Africa earlier this year.
Sharing the benefits
China has been the biggest trade partner of Africa for 12 consecutive years. As bilateral trade grows, digital economy is emerging as a new way to bring about a more sustainable growth mode. A variety of Chinese Internet and tech companies are eyeing booming investment opportunities, engaging in telecommunication, Internet services and e-commerce.
Tech leader Huawei provides over 70 percent of 4G services for African users, and it is also the first company to launch 5G there. Over the years in the African region, Huawei has signed cooperation agreements with over 250 universities in 14 Sub-Saharan countries establishing Huawei ICT academies. In Uganda alone, over 2,000 students have been trained and hundreds have been certified, giving them an advantage and upper hand in getting ICT-related jobs.
JD.com, an online shopping platform in China, set up direct connections with African suppliers with special logistics and sales channels, making it much easier for Chinese consumers to enjoy coffee from Tanzania, cocoa from Cote d'Ivoire, black tea from Kenya and many other specialty products.
In May 2019, China's Alibaba Group signed an agreement with Rwanda to establish an Electronic World Trade Platform (eWTP). Charles Kayonga, former Ambassador of Rwanda to China, said that e-commerce platforms including eWTP stimulated the creativity and productivity of the continent.
New initiatives
At the China-Africa Internet Development and Cooperation Forum, Assistant Foreign Minister Deng Li introduced China's latest proposals for the China-Africa Partnership Plan on Digital Innovation. Six proposals were put forward to further intensify the bilateral digital cooperation.
First, the two sides should strengthen the digital infrastructure to unclog the information artery of economic and social development. China will share its digital technologies with Africa to promote digital infrastructure connectivity. Chinese enterprises will be encouraged to work with their African partners to participate in digital infrastructure projects including fiber optic backbone networks, cross-border connectivity and new-generation mobile communication networks.
Second, digital economy need to be boosted to promote integrated development of digital technologies and the real economy. China will support Africa in raising the level of digitization in the public and corporate sectors and promoting industrialization by applying new technologies such as cloud computing, artificial intelligence, the Internet of Things and mobile payment. China will strengthen e-commerce cooperation with Africa to bring more quality African products into the Chinese market, and leverage cross-border e-commerce to speed up the integration of Africa's information and industrial chains.
Third, digital education should be promoted to overcome the "talent bottleneck" that constrains digital innovation. China will implement the Talented Young Scientist Program, the Cirrus Innovative Talent Exchange Program and other initiatives to step up China-Africa cooperation on distance education and provide further support for Africa in training young talents in digital-related fields.
Fourth, digital inclusiveness needs to be promoted to benefit the wider African public. China will support African countries in applying digital technologies to transportation, medical care, finance and other livelihood areas, building "smart cities," and leveraging digital technologies to strengthen state governance and control the pandemic. Chinese enterprises will be encouraged to participate in the development of Africa's public service platforms such as e-government networks and e-payment and digital currency services.
Fifth, digital security and digital governance capacity should be strengthened and enhanced. China welcomes African countries' participation in the Initiative on Jointly Building a Community with a Shared Future in Cyberspace and the Global Initiative on Data Security. China stands ready to work with the African side to strengthen dialogue and communication in such areas as cybersecurity emergency response and Internet-related legislation, shape an open, fair and non-discriminatory environment for digital development, and explore and formulate global rules on digital governance.
Sixth, cooperation platforms need to be built to promote digital progress through exchanges. China stands ready to explore with Africa the establishment of a high-level dialogue platform on China-Africa digital cooperation, and strengthen communication and exchanges with African governments and organizations such as Smart Africa.
(Print Edition Title: Digital Tie-Ups)
Comments to xyy@chinafrica.cn