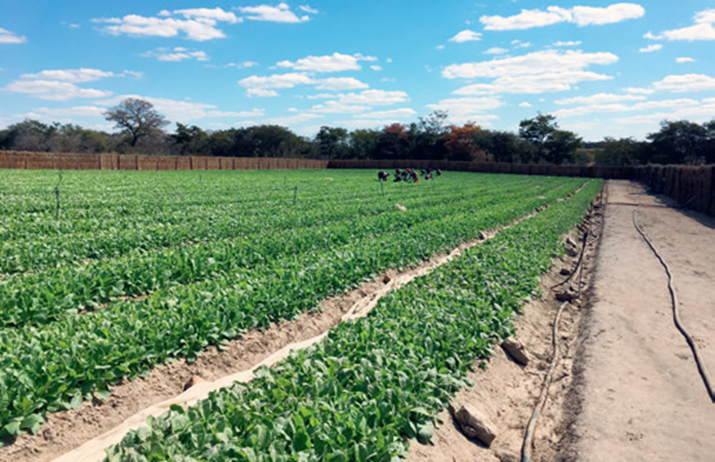 Tobacco fields in the southern Africa (HELLORF)
Matilda Banda from the central region district of Kasungu in Malawi was a happy woman, but has seen her fortunes wane. The district is well known for growing tobacco, responsible for 60 percent of the country's tobacco production, a crop that contributes 11 percent to the GDP.
"All the things around you were paid for by the profits of tobacco, which allowed me to pay for what I need, including the building of this house. I was also able to send my children to school because I had the money," she said.
However, life is no longer the same with Banda as tobacco sales have dropped. This was impacted largely because of the increase in anti-smoking campaigns, which frustrated many would-be crop buyers.
"It was painful as I realized that I was spending more than I was making and decided to give up farming," she said.
Malawian President Lazarus Chakwera was equally frustrated with the tobacco industry. When opening the tobacco market in April this year, Chakwera said it was time that Malawi was "weaned" off tobacco as it was no longer benefitting rural farmers.
"The declining tobacco industry is a harsh reality which farmers and industry players need to accept and [it is time to] look for alternatives. Tobacco use around the world is declining sharply and by indication, [it is] declining irreversibly. It is a knock on the country where every year, the backbone of our economy is growing weaker," said Chakwera. "I am, therefore, calling on the Ministry of Agriculture to begin consultations with all stakeholders to come up with a timeframe within which Malawi's economy will be completely weaned off tobacco."
Hope, smile, relief
Banda's smile has returned after Malawi's parliament passed a law authorizing the cultivation of cannabis in February 2020, making it legal to be used in the production of medicines or hemp fibers in industry. She has joined up with nine other former tobacco farmers to grow cannabis.
Since being passed, all the administrative wrinkles of the law have been ironed out and the crop is expected to be planted this rainy season in Malawi, which falls between October and November.
Hemp is a botanical class of cannabis sativa grown specifically for industrial or medicinal use. It is a non-drug product of cannabis. Cannabis for recreational use as a drug remains illegal in the country.
"I am told there is money in cannabis farming and I hope to recover the losses that I have incurred for three consecutive years farming tobacco," said Banda.
Another farmer Yohane Mkandawire from the northern district of Rumphi says the desire to go back to the land has returned because of the potential of cannabis farming.
He said he has been told that demand for the crop is high and he doesn't want to miss the boat.
Mkandawire, who is also in a cooperative of 10 people, said land is not a problem because they already have a farm.
"What is interesting is that we have already found a market for the cannabis. It's a relief to some of us who are used to farming for business," he said.
The advent of cannabis farming is generating much excitement in the country.
Boniface Kadzamira, Chairperson of the Cannabis Regulatory Authority (CRA), an institution that oversees all issues to do with cannabis, said the livelihoods of Malawians will improve with cannabis production, because it will bring more money into the country.
Kadzamira said that apart from being used in the production of medicine, cannabis is a multi-versatile crop that can be used to produce paper, sacking, clothes, food and building materials. He said the government is working on a processing plan, but has not yet acquired the equipment. Production facilities for cannabis products will be located in areas where high volumes of the crop are grown and this will be identified in due course, he added.
"In the meantime, farmers will be selling unprocessed cannabis until we buy processing equipment. Already some people have already started cultivating through irrigation farming while others are waiting for rains later this year," he said.
The beginning
The issue of cannabis cultivation began many years ago, but many people were afraid to talk about it openly due to its drug connection.
After University of Malawi's Economics Professor Ben Kalua came out in support of growing cannabis, it sparked much open public debate.
Speaking at a seminar, Kalua said much as some people might be skeptical about the crop, its advantages far outweighed its disadvantages.
"We need not doubt the economic importance of the crop. But if we do doubt, we can carry out a five-year experiment or trial to see the outcome. This is a chance which the country cannot ignore," he said.
The matter then moved to the parliament in 2015 when the then legislator Kadzamira moved the motion.
According to its wording, the law sought "to regulate research, cultivation, production, processing, possession, storage, export, sale, distribution and use of medicinal cannabis and its products for medicinal, industrial or scientific purposes under prescribed conditions."
The Security
Sections 4(a) and 19 of Malawi's Dangerous Drugs Act prohibit possession of what is known as Indian hemp and many people have been arrested and convicted for being found with it.
There have been concerns that the cultivation of the cannabis will make people plant the illegal variety as it will be difficult to distinguish between the two.
Eugenio Njoloma, Security Studies Lecturer at Mzuzu University, said there are many things that need to be clarified regarding the allowed cannabis. "Authorities need to know: Who is growing the cannabis and is it everyone? So for security reasons, regulations are needed. I am saying this because if everyone is free to cultivate the cannabis, it will be prone to abuse," he said.
Njoloma suggested that people that will be cultivating the crop should be registered, known and given guidelines on the processes and procedures.
He advised authorities to also look into logistical issues, especially when the cannabis is being transported.
But Kadzamira said before regulating cannabis production, they looked at a number of issues, including security.
He admitted that there is no physical difference between cannabis and Indian hemp, but added that some people are trained to see the difference.
"You cannot see the difference with your naked eyes. But we have trained experts who will be able to identify them," said Kadzamira. "Again, only those that have licenses will be allowed to cultivate the cannabis," said Kadzamira.
The CRA chairperson said before issuing licenses to cultivate the crop, they will look at a number of things, including whether the person has a criminal record.
"Only those that are law abiding citizens will be allowed to cultivate. We are doing this for security reasons. The process will be very strictly monitored," said Kadzamira.
CRA Director General Ketulo Salipira said as yet they do not have the estimate earning figures from cannabis cultivation because they do not know the volume that will be produced as well as prices on the international market during harvesting time.
"We want to have reliable estimates, not just speculate. The prices today on the international market might not be the same when farmers will be harvesting their cannabis," he said.
Zimbabwe, Zambia, Uganda, Kenya, the Democratic Republic of the Congo, Lesotho, South Africa and Ghana are some of the other African countries that have legalized hemp farming as a cash crop.
(Print Edition Title: Diversifying Farming)
Reporting from Malawi
Comments to zanjifang@chinafrica.cn