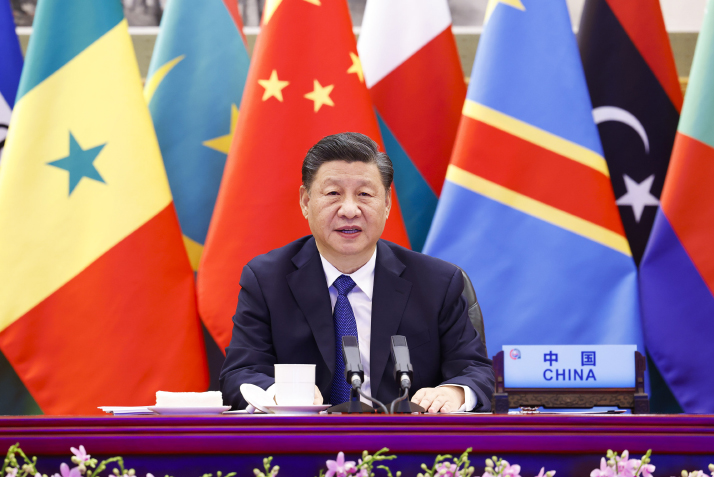 Chinese President Xi Jinping delivers a keynote speech at the opening ceremony of the Eighth Ministerial Conference of the Forum on China-Africa Cooperation via video link from Beijing on November 29 (XINHUA)
In March 2020, the local subsidiary of PowerChina undertook relief work in flood-hit Kenya by evacuating communities, repairing roads and ensuring sufficient water supply.
The Caculo Cabaça hydropower station in Angola, built by China Energy Engineering Group Co. (Energy China Group), one of the largest hydropower projects under construction in Africa, has been helping the country better pursue its goal of green development.
These are all vivid examples of the sincerity and affinity of the China-Africa friendship, Jiang Hui, Secretary General of the Alliance of Chinese Business in Africa for Social Responsibilities, shared with Global Times.
While addressing the opening ceremony of the Eighth Ministerial Conference of the Forum on China-Africa Cooperation (FOCAC) in Dakar, capital of Senegal, on November 29 via video link from Beijing, Chinese President Xi Jinping hailed the spirit of friendship and cooperation, and announced major measures and pledges for fostering ties, with nine cooperative programs included, injecting strong impetus into the building of a high-level China-Africa community with a shared future.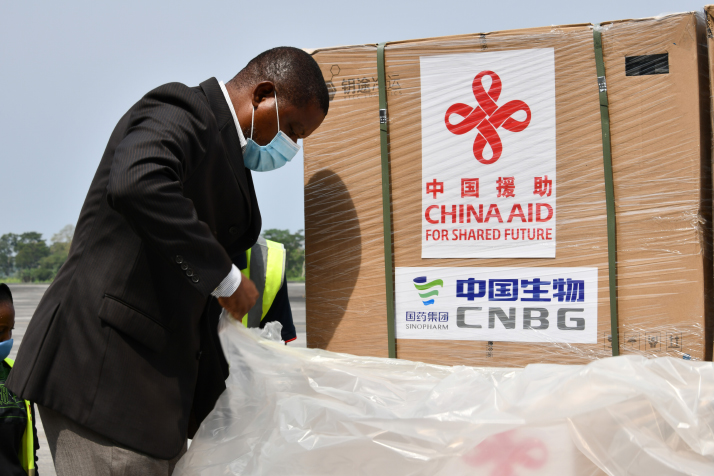 China-donated Sinopharm COVID-19 vaccines arrive in Malabo, Equatorial Guinea, on February 10
(XINHUA)
A time-honored partnership
This year marks the 65th anniversary of diplomatic relations between China and African countries. "Together, we have written a splendid chapter of mutual assistance amid complex changes, and set a shining example for building a new type of international relations," Xi said.
"China-Africa relations have been forged step by step, with our people standing together through thick and thin," Li Xinfeng, Executive Vice President of the China-Africa Institute under the Chinese Academy of Social Sciences, said, lauding the FOCAC as a trendsetter in international cooperation with African countries.
Currently at a historical best, China-Africa relations have delivered wide-ranging results across the African continent, improving conditions for local economic and social development and bringing tangible benefits to both peoples, according to a white paper released by the State Council Information Office of China on November 26.
China has constructed more than 80 electricity infrastructure projects in Africa, over 130 medical facilities, 45 stadiums, and more than 170 schools, and helped train over 160,000 people in Africa, the report continued.
During this year's FOCAC ministerial conference, the partners reviewed the achievements made in the development of China-Africa relations since the FOCAC Beijing Summit in 2018 and solidarity in the battle against the pandemic, deliberated the implementation of the eight major initiatives announced during the summit, and passed an array of outcome documents, Chinese State Councilor and Foreign Minister Wang Yi said on November 30.
China's direct investment in Africa has increased by more than 25 percent on an average annual basis since the establishment of the FOCAC, according to statistics from the Ministry of Commerce. By late 2020, this number exceeded $43.4 billion, covering more than 50 African countries. Chinese enterprises had helped establish 25 special economic zones or industrial parks across Africa, contributing about $1.47 billion in taxes to the host countries and creating over 42,000 local jobs.
China and Africa should stick to teamwork as they fight the pandemic, deepen pragmatic cooperation, promote green development, and safeguard equity and justice, Xi outlined in regards to the four proposals on building the China-Africa community with a shared future in the new era.
With COVID-19 demonstrating the need for countries to get closer, China has laid the foundations for a prosperous future together with its partners, Anani Demuyakor, former Ghanian Ambassador to China, said.
China will provide an additional 1 billion vaccine doses to Africa to help the African Union achieve its goal of vaccinating 60 percent of the African population by 2022, Xi further announced in his remarks.
This is the largest vaccine assistance plan to Africa undertaken by a single country since the outbreak of the pandemic, which will surely boost the African confidence and motivation to overcome the pandemic, Wang said.
According to Li, this is also a continuation of the fine tradition of pragmatic cooperation between both sides.
"The conference is a new dawn to enrich the ongoing productive collaboration between China and Africa, as both sides seek a win-win situation," Benjamin Anyagre, Secretary General of the Ghana-China Friendship Association, told Xinhua News Agency.
It was reassuring to hear that China will continue its assistance to the African struggle against COVID-19 and help recover their economies from the pandemic impact, he said.
"Indeed, China has proven, beyond doubt, through its hard work and experience, that it is capable of dealing with the pandemic through scientific and pragmatic means," Anyagre said. For him, China's decision to continue sharing that experience and expertise with Africa is "gratifying."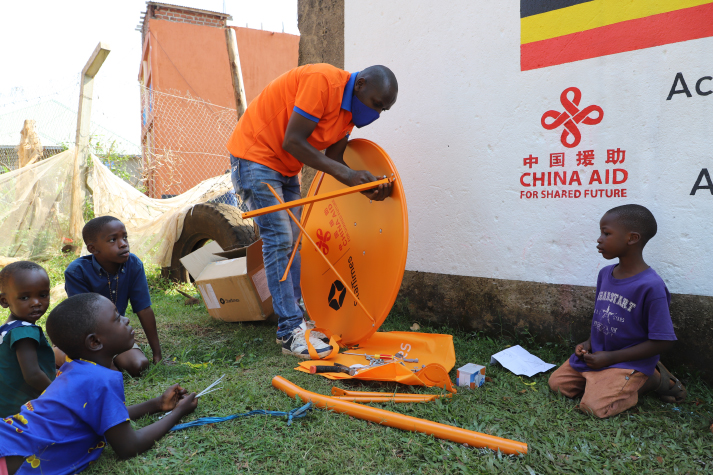 A staff of China's StarTimes prepares to install a satellite dish in Bwerenga Village, Uganda, on September 10
(XINHUA)
Customized cooperation
The nine cooperative programs in the next three years announced by Xi cover healthcare, poverty reduction and agricultural development, trade and investment promotion, digital innovation, green development, capacity building, cultural and people-to-people exchanges as well as peace and security.
They befit the conditions and characteristics of the African continent and respond to the concerns of its people, Wang Heng, Vice President of the Institute of African Studies at Zhejiang Normal University, told Xinhua.
Vaccination rates in Africa are low compared to those in the rest of the world, with many states at the mercy of foreign donors. China, by promising to involve African countries in the joint production of vaccines developed by Chinese companies, will improve the continent's capacity for self-sufficiency, Nicolas Fataki Lungele, Ambassador of the Democratic Republic of the Congo to Senegal, told China Daily.
China promised to increase investments by Chinese companies in Africa, a good sign for the continent's future job market and skill acquisition. "The advantage we gain from Chinese businesses investing in Africa is the transfer of technological know-how to our young people, thereby increasing their chances to find employment," he said.
In addition, the initiative to make available additional funds to African financial institutions in support of the development of African small and medium-sized enterprises will help create employment at the grassroots level and eradicate poverty through empowerment, Lungele added.
The proposal to create more investment-driven projects in Africa comes in direct response to the developmental needs of Africa in the post-pandemic era, Song Wei, a researcher with the Chinese Academy of International Trade and Economic Cooperation, told Global Times.
The financing demands for Africa's development will grow, but, at the same time, the debt pressure on the continent, too, will increase. Investment-driven projects would prove an ideal solution to the problem, Song explained, adding that China will continue to back infrastructure construction projects in Africa.
UN Secretary General António Guterres also praised China's role in Africa's development. "It is clear to me that our efforts to achieve [the UN's] Sustainable Development Goals will only succeed if Africa succeeds," he concluded.
Printed edition title: A Trendsetter of Teamwork
Copyedited by Elsbeth van Paridon
Comments to mamm@bjreview.com
Next Priorities
Under the first three-year plan of the China-Africa Cooperation Vision 2035, China will work closely with African countries to implement the following nine programs:
Medical and health program
Provide another 1 billion doses of vaccines to Africa, including 600 million doses as donation and 400 million doses to be provided through such means as joint production by Chinese companies and relevant African countries, with the aim to help the African Union (AU) achieve its goal of vaccinating 60 percent of the African population by 2022.
Undertake 10 medical and health projects for African countries, and send 1,500 medical personnel and public health experts to Africa.
Poverty reduction and agricultural development program
Undertake 10 poverty reduction and agricultural projects for Africa, and send 500 agricultural experts to Africa.
Establish a number of China-Africa joint centers for modern agrotechnology exchange, demonstration and training in China, encourage Chinese institutions and companies to build demonstration villages for China-Africa cooperation on agricultural development and poverty reduction in Africa, and support the Alliance of Chinese Companies in Africa for Corporate Social Responsibilities in launching the initiative of 100 Companies in 1,000 Villages.
Trade promotion program
Open "green lanes" for African agricultural exports to China, speed up inspection and quarantine procedures, and further increase the scope of products enjoying zero-tariff treatment for the least developed countries (LDCs) having diplomatic relations with China, in a bid to reach $300 billion in total imports from Africa in the next three years.
Provide $10 billion of trade finance to support African export, and create a pioneering zone for in-depth China-Africa trade and economic cooperation in China as well as a China-Africa industrial park for Belt and Road cooperation.
Undertake 10 connectivity projects for Africa, form an expert group on economic cooperation with the secretariat of the African Continental Free Trade Area (AfCFTA), and lend continued support to the development of the AfCFTA.
Investment promotion program
Encourage Chinese businesses to invest no less than $10 billion in Africa in the next three years, and establish a platform for China-Africa private investment promotion.
Undertake 10 industrialization and employment promotion projects for Africa, provide credit facilities of $10 billion to African financial institutions, support the development of African small and medium-sized enterprises on a priority basis, and establish a
China-Africa cross-border RMB center.
Exempt African LDCs from debt incurred in the form of interest-free Chinese government loans due by the end of 2021.
Channel $10 billion from China's share of the International Monetary Fund's new allocation of Special Drawing Rights to African countries.
Digital innovation program
Undertake 10 digital economy projects for Africa, set up centers for China-Africa cooperation on satellite remote-sensing application, and support the development of China-Africa joint laboratories, partner institutes, and scientific and technological innovation cooperation bases.
Work with African countries to expand Silk Road e-commerce cooperation, hold online shopping festivals featuring quality African products and tourism e-commerce promotion activities, and launch a campaign to market 100 African stores and 1,000 African products on e-commerce platforms.
Green development program
Undertake 10 green development, environmental protection and climate action projects for Africa, support the development of the Great Green Wall, and build centers of excellence on low-carbon development and climate change adaptation in Africa.
Capacity building program
Help build or upgrade 10 schools in Africa and invite 10,000 high-level African professionals to seminars and workshops.
Implement Future of Africa—a project for China-Africa cooperation on vocational education, and start an employment through train scheme for African students in China.
Continue to work with African countries to set up Luban Workshops, and encourage Chinese companies in Africa to create at least 800,000 local jobs.
Cultural and people-to-people exchange program
Support all African countries to establish diplomatic ties with China-approved destinations for Chinese tourist groups.
Hold African film festivals in China and Chinese film festivals in Africa, as well as a China-Africa youth services forum and a China-Africa women's forum.
Peace and security program
Undertake 10 peace and security projects for Africa, continue to deliver military assistance to the AU, support African countries' efforts to independently maintain regional security and fight terrorism, and conduct joint exercises and on-site training between Chinese and African peacekeeping troops and cooperation on small arms and light weapons control.