A dialogue event is held to underscore the responsibilities of the media and promote global media cooperation in the post-pandemic era on Dec. 29, 2021. [Photo by Dong Ning/China.org.cn]
A webinar was held on the responsibilities of the media and global media cooperation in the post-pandemic era on Wednesday, gathering media professionals from 12 countries including China, the Philippines, Kenya, Nigeria, and Pakistan.
On the theme of "Building Consensus on Combating COVID-19 and Promoting Global Development," the webinar aimed to provide an opportunity for media stakeholders to discuss the media's role in combating COVID-19 and share experiences on effectively covering the pandemic, in a bid to strengthen global media dialogue and cooperation.
Liu Dawei, vice president of China International Communications Group (CICG), said that faced with the raging COVID-19 and multiple challenges in today's world, media professionals should increase communication and cooperation, especially in providing reliable information for combating the coronavirus and calling for anti-pandemic cooperation among all parties, noting that media dialogue events like this webinar make practical sense.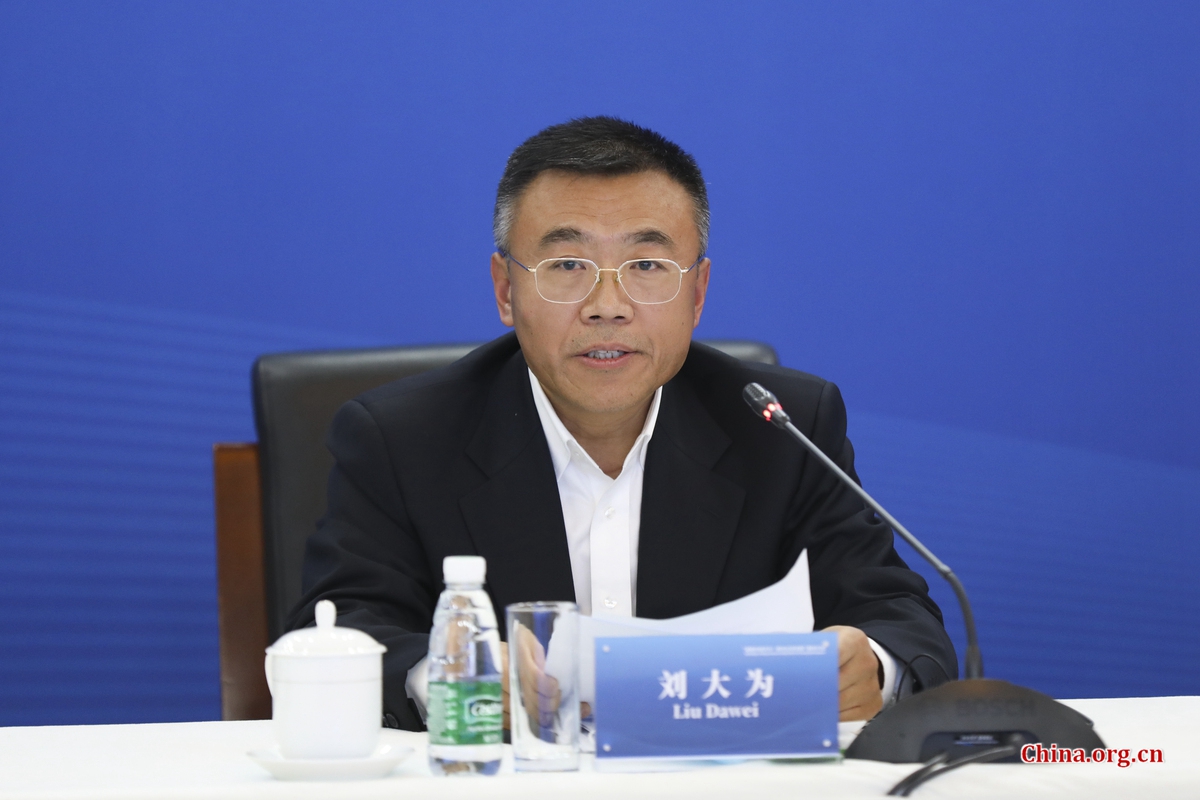 Liu Dawei, vice president of China International Communications Group (CICG), gives a keynote speech during the webinar on Dec. 29, 2021. [Photo by Dong Ning/China.org.cn]
Media's role in the post-pandemic era
Correct information should spread faster than the virus, said Li Jianguo, editor-in-chief of the American Communication Center of the CICG. "In this process, I think the world media should play a bigger role."
Li stressed that the public mainly relies on the media for information about COVID-19, including methods to prevent its spread and the experiences and lessons of other countries in fighting the virus.
"Media have the responsibility of spreading real news and refuting rumors by checking facts and publicizing useful information," he said.
"As the virus keeps spreading like harmattan wildfires, we must step up efforts in disseminating accurate information to the populace and oppose politicization of the virus origin-tracing," said Abdul Karim Naatogmah, manager of communication and media relations at the National Health Insurance Authority in Ghana.
He stressed that the role of the media is more essential than ever to keep the populace informed, especially on the importance of being vaccinated.
Some recent polls have found "misinformation fatigue" among the public, Deng Yushan, director of the English Desk at China's Xinhua News Agency, said, noting that people are getting tired of misinformation, while their demand for facts is increasing.
"We should build ourselves into trustworthy sources of information and serve our audience as rumor busters and truth spreaders," he said.
Deng's opinion was echoed by Wu Qimin, executive deputy editor-in-chief of the Global Times. She stressed that the media is accountable for revealing the truth and exposing lies.
"We have all witnessed that even as the COVID-19 is raging, the 'political virus' that undermines human unity and cooperation is also spreading. And this 'political virus' is as vicious and damaging as the COVID-19, and it calls for a high degree of vigilance," Wu said.
"Some U.S. politicians and media outlets slandered China with the so-called lab leak theory," Wu said. In response, the Global Times, not long ago, based on the principle of fairness and justice, published an open letter requesting an investigation into the Fort Detrick base in the United States.
According to Wu, more than 25 million Chinese netizens signed the letter. "We believe that letting the world hear the voices of justice is the duty and the mission of the media," she said.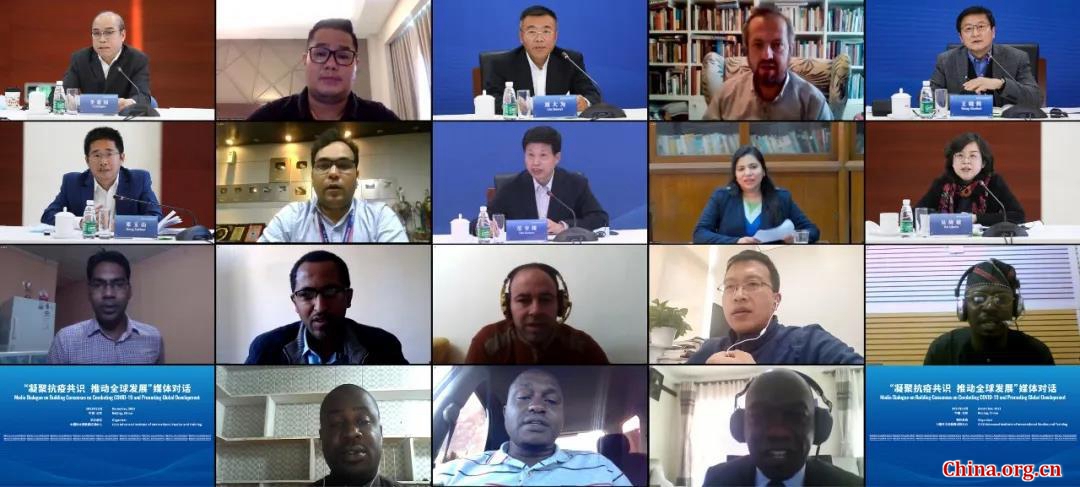 Participants exchange opinions on two topics: "pursuing development and cooperation: the media's role in the post-epidemic era" and "spreading authentic and authoritative information: experience sharing on news coverage of the fight against COVID-19." [Photo by Dong Ning/China.org.cn]
Strengthen coordination and cooperation
"A major response to the COVID-19 pandemic is the development of vaccines; however, the skewed distribution has been a cause for concern for developing countries including Nigeria," said Raphael Oni, editor-in-chief of the Nigerian publication Diplomats Extra Magazine, citing vaccines as an example to illustrate the importance of global cooperation.
"Media practitioners must at this time begin to speak on the need to promote international cooperation," Oni said.
"China has always called for closer international cooperation on vaccines to ensure their accessibility and affordability in developing countries and to make them a global public good," he added, suggesting media practitioners call on world leaders to emulate China's exemplary strategies in ensuring that vaccines are distributed freely around the world without motives or hidden agendas.
Li Yang, director of the editorial office of China Daily, also proposed strengthening coordination and cooperation in the fight against COVID-19, especially among media outlets in less developed countries.
"It was estimated that the United States and its allies had hoarded about 240 million doses of COVID-19 vaccines in total. They would rather let the expiring vaccines remain with them than provide them to the countries that were in dire need of vaccines," Li said.
According to Li, to some extent, the surfacing of the omicron variant in Africa is not an accident but a consequence of delayed vaccination in African countries — only 7.5% of the 1.3 billion people living in Africa have been vaccinated — which might prompt Western countries to again hoard vaccines in the future.
In contrast, China does not hoard vaccines but shares them with other countries, Li stressed. "China has provided nearly 2 billion doses of vaccines to more than 120 countries and international organizations."
"China's motive of doing so originates from its firm belief that until the virus withdraws from its last foothold in the world, no country is safe, and the COVID-19 pandemic has proved that the world is a community of a shared future, though with high costs," he said.
"We should work together to contribute to global solidarity," he added.
The event was organized by CICG Advanced Institute of International Studies and Training, which invited media professionals from around the world to attend seminars and workshops on journalism in China prior to the pandemic.
Wang Xiaohui, editor-in-chief of China Internet Information Center (China.org.cn) of CICG, presided over the discussion.