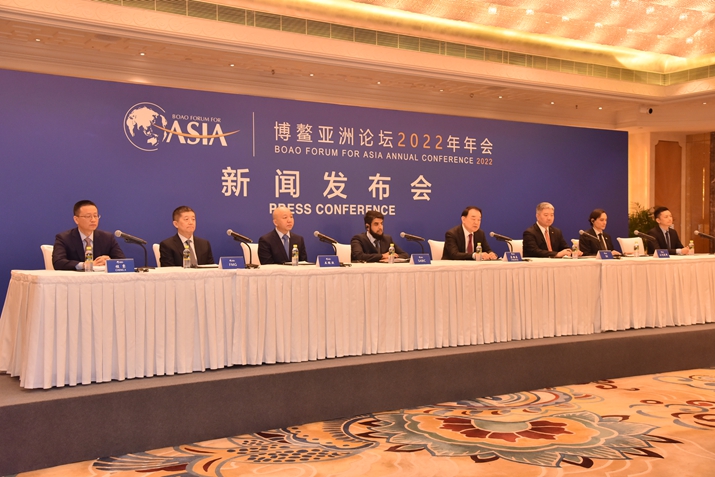 The Boao Forum for Asia (BFA) Secretariat holds a press conference for the BFA Annual Conference 2022 in Beijing on January 12 (COURTESY PHOTO)
The 2022 annual conference of the Boao Forum for Asia (BFA), a leading dialogue platform aimed at promoting regional economic integration, is scheduled to be held this spring in Boao, a resort town in the island province of Hainan. The specific date is still under discussion, BFA Secretary General Li Baodong told a press conference in Beijing on January 12.
This year's conference will discuss COVID-19-related international issues, economic recovery, green and sustainable development, the digital economy, international cooperation and governance, and regional coordination in Asia and beyond, Li added.
"What can be confirmed is that we will hold it," Li said, adding he is confident that the conference will be a success. Government officials, heads of international organizations, business leaders, academics as well as members of the media will gather to discuss the post-pandemic development agenda for Asia and the world.
The 2020 conference was canceled under the COVID-19 pandemic. During the opening ceremony of the 2021 event, which took place in Boao, the permanent location of the BFA headquarters, in April, Chinese President Xi Jinping delivered a speech via video link. The 2022 conference will be held offline and online, according to Li.
Majed Al-Saadan, Greater China Business Director of Saudi Basic Industries Corp. (SABIC), a Saudi Arabian multinational chemical manufacturing company, said SABIC has been privileged to accompany the forum for a large proportion of its journey and has witnessed its growth into one of the most authoritative collaborative platforms in Asia, with an unfaded purpose of enabling regional economic integration and exchanges.
Li emphasized the necessity to seize the opportunity in the post-pandemic time with a forward-looking perspective, despite the uncertainty as to when the pandemic will be over.
"The BFA will devote itself to promoting international collaboration and building a community with a shared future for humanity. Looking forward, we will continue to deliver Asian voices and methods to the world," Li concluded.
Copyedited by G.P. Wilson
Comments to taoxing@cicgamericas.com