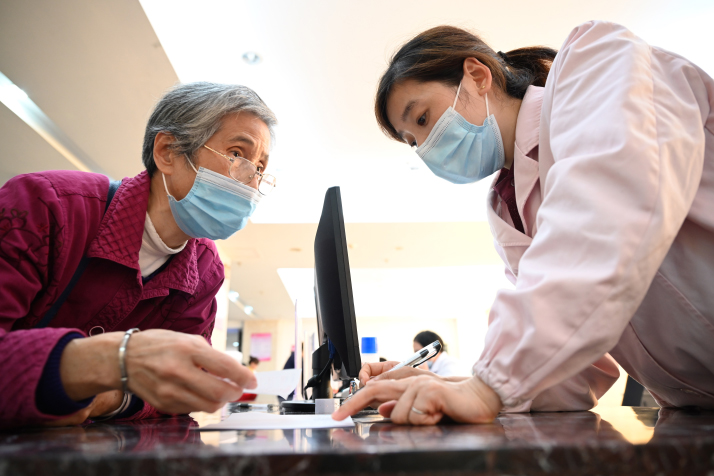 A staff member answers questions about medical insurance reimbursement policies at a hospital in Sanming, Fujian Province, on November 18, 2020 (XINHUA)
What are human rights and what should be done to develop them? Officials and experts from China and other countries shared their views at the Beijing Forum on Human Rights in Beijing on July 26.
While agreeing that global cooperation is needed to facilitate human rights development, the participants denounced politicizing human rights and called not to use them to create division and confrontation.
"When it comes to human rights, the world does not need any country to tell others what to do," Padma Choling, Vice Chairman of the Standing Committee of the National People's Congress, China's top legislature, and President of China Society for Human Rights Studies, said. "Human rights should never be used by any country to exert pressure on others or interfere in other states' internal affairs."
The annual event has taken place since 2008 and provides a platform for the international community to communicate with each other and lay the foundations for future cooperation.
The real definition
International governance on human rights is inseparable from the real definition of human rights, said John Ross, former Director of Economic and Business Policy for the Mayor of London and senior fellow at the Chongyang Institute for Financial Studies, Renmin University of China.
According to Ross, the U.S. promotes an artificial, purely formal, concept of human rights, leaving out human beings' most important real needs and rights. In contrast, China and most of the Global South prioritize a concept of the real rights of the people.
"The most fundamental human right is to be alive," Ross said. For example, COVID-19-related deaths in China were less than 4 per million; in the U.S. they were 3,077 per million. The U.S. death rate from the virus was over 800 times higher than China's. But the U.S. claims it has a better record on human rights than China because, to safeguard population in areas at risk of COVID-19 infection, China had to impose restrictions on their movement.
"For the U.S. concept of human rights, saving millions of lives is not an issue, but individual restrictions on movement are," Ross said. "This shows its absurdity."
Danilo Turk, former President of Slovenia, stressed that when developing a global human rights system, many voices and many new ideas could be heard. Priorities for human rights development vary from one society to another and from one country to another, he said.
In areas that suffer from pervasive poverty, it's important to give priority to overcoming poverty; in areas of armed conflict, the establishment of peace and respect for human life, liberty and security of the human being is paramount, Turk added.
Each country has the right to choose its own human rights development path and its choices should be respected, Padma Choling said.
The international community needs to respect diversity in human rights development as different countries have different paths and focuses, many of the participants mentioned at the forum.
Cooperation, not politicization
At this moment, the world has entered a new period of turbulent change and the implementation of the 2030 Agenda for Sustainable Development has been hindered, Padma Choling said. Therefore, all countries should work together to seek common ground while putting aside differences, build consensus on human rights development, better enhance people's wellbeing, and improve global governance on human rights.
Due to the unilateralism and power politics practiced by a few countries, the international order of human rights and the basis for better global governance are facing serious challenges, said Huang Mengfu, Vice Chairman of the 11th National Committee of the Chinese People's Political Consultative Conference, China's top political advisory body, and Chairman of the China Foundation for Human Rights Development.
Unilateral coercive measures constitute today one of the most serious challenges to solidarity, universality, development and human rights protection, according to Alena Douhan, UN Special Rapporteur on the Negative Impact of Unilateral Coercive Measures on the Enjoyment of Human Rights.
Unilateral sanctions shall still be viewed as a common and easy to use political tool. Nevertheless, the application of unilateral sanctions affects the enjoyment of a broad scope of human rights, including the right to development, and impedes the achievement of a broad number of sustainable development goals, Douhan said.
She further pointed out that the obligation to promote and protect fundamental human rights is universal. It should be implemented by all states and even private companies. "Human rights can only be protected and achieved if cooperation, dialogue, the rule of law and prohibition of discrimination and of double standards are applied by every state and every international organization [as a basis] for international relations," Douhan added.
The cause of human rights will be best served when global cooperation improves and when geopolitical and ideological tensions decrease, the participants said. They urged the human rights bodies of the United Nations to put more effort into minimizing the dangers of politicization.
All parties should advocate real multilateralism and strengthen cooperation in fields such as poverty reduction, food security, public health, clean energy and the digital economy, Du Zhanyuan, President of China International Communications Group, said. "We should also promote development outcomes that fairly benefit more countries and people," Du added.
China's contribution
For 100 years, the Communist Party of China (CPC) has always put people first, applying the principle of universality of human rights in the context of the national conditions, according to a white paper on the practice of the CPC in respecting and protecting human rights. The document was released by the State Council Information Office in June 2021.
The CPC regards the rights to subsistence and development as the primary and basic human rights, and believes that living a life of contentment is the ultimate human right. It promotes the well-rounded development of the individual, and strives to give every person a stronger sense of gain, happiness and security, the white paper said.
Attendees also commended China's contribution toward improving human rights internally and globally.
Over the past four decades since the launch of reform and opening up, China has lifted over 700 million people out of poverty, accounting for over 70 percent of poverty reduction worldwide.
"This makes China the largest contributor to the global effort of poverty eradication. China has created jobs for 770 million people, and has established the world's largest education, social insurance and primary-level democratic election systems," Tahir Farooq, Editor in Chief of Pakistan's Daily Ittehad newspaper, noted.
"It can be enthusiastically and proudly stated that China has made and continues to make worthy contributions towards the promotion and protection of global human rights," Bhofal Chambers, Speaker of the House of Representatives of Liberia, said via video link at the forum.
The Chinese Government has been instrumental in the empowerment activities of women and children in Liberia, he said.
China's concept of human rights is of the real lives of human beings, Ross said. For example, China has performed well in eliminating absolute poverty, guaranteeing women's rights and protecting its people's lives during the COVID-19 pandemic. The facts show that China has delivered great contributions to the improvement of human rights, Ross concluded.
(Print Edition Title: No Respect, No Progress)
Copyedited by G.P. Wilson
Comments to taoxing@cicgamericas.com