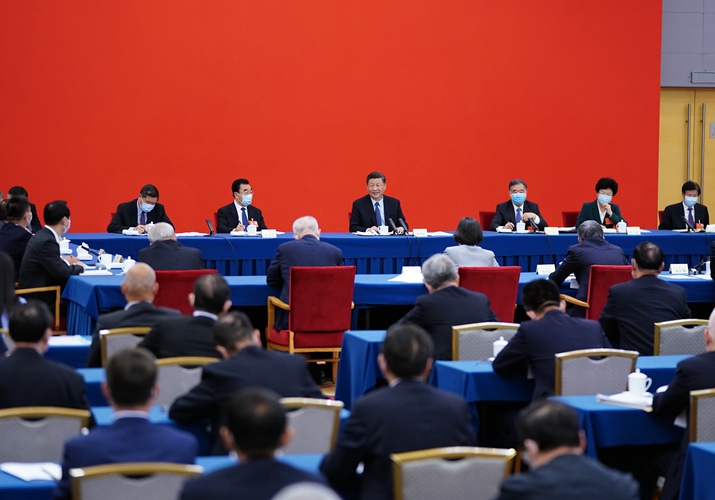 Chinese President Xi Jinping, also General Secretary of the Communist Party of China (CPC) Central Committee and Chairman of the Central Military Commission, visits national political advisors from the economic sector attending a joint panel discussion at the third session of the 13th National Committee of the Chinese People's Political Consultative Conference (CPPCC) in Beijing on May 23(XINHUA)
President Xi Jinping stressed analyzing China's economic situation from a comprehensive, dialectical and long-term perspective on May 23, urging efforts to foster new opportunities amid challenges and make new advances amid changes. Xi made the remarks when joining a joint panel discussion attended by national political advisors from the economic sector. Edited excerpts of Xi's speeches in recent years on economic development follow:
China's economy is in a pivotal stage for transforming the growth model, improving economic structure, and fostering new growth drivers.
China's economy is still characterized by ample potential, strong resilience, large maneuver room and sufficient policy instruments.
China has the largest industrial system in the world with the most complete categories, strong production capabilities, complete supporting sectors, as well as over 100 million market entities and a talent pool of 170 million people.
We should make steady progress in creating a new development pattern where domestic and foreign markets can boost each other, with domestic market as the mainstay.
More steps should be taken to maintain the security of industrial and supply chains, and to forestall and defuse major risks.
The fundamental role of agriculture should not be neglected or undermined at any time.
Unwavering efforts should be made to make economic globalization more open, inclusive and balanced so that its benefits are shared by all, and to build an open world economy.
--Speech at a joint panel discussion of CPPCC National Committee members from the economic sector on May 23, 2020
Our emphasis on the need to consolidate and develop the public sector and our policy of encouraging, supporting and guiding the development of the private sector are not contradictory but inherently coherent.
--Speech at a joint panel discussion of CPPCC National Committee members from the China National Democratic Construction Association and the All-China Federation of Industry and Commerce during the Fourth Session of the 12th CPPCC National Committee on March 4, 2016
Our success in securing and improving the wellbeing of the people can increase social consumption and expand domestic demand; improving standards of living is in essence promoting development.
--Speech during a fact-finding trip to Guizhou Province on June 16-18, 2015
To release the great potential and strengths of the Chinese economy, we must move faster in changing the growth model, restructuring the economy, and fostering new growth drivers.
--Speech at the Central Conference on Economic Work on December 18, 2015
Economic globalization is superficially exemplified by an extensive flow of products, capital and information across the world, but behind such a flow is the propelling force of human resources and scientific and technological innovation.
--Speech at the joint session of the National Conference on Scientific and Technological Innovation, the 18th Meeting of the Academicians of the Chinese Academy of Sciences and the 13th Meeting of the Academicians of the Chinese Academy of Engineering, and the Ninth National Congress of the China Association for Science and Technology on May 30, 2016
(Sources: Xinhua News Agency & Xi Jinping: The Governance of China (II))