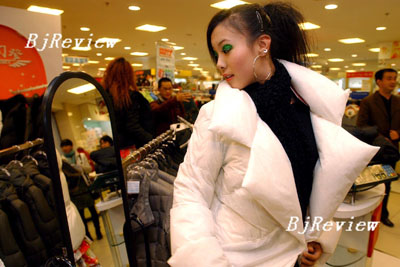 Last month, Zhang, a 30-year-old magazine editor, spent 7,100 yuan on a newly launched Nokia N95 mobile phone. This amount nearly equals his monthly salary. Together with daily expenditures Zhang spent nearly 20,000 yuan in the first three months of this year.
"I'm a typical save-nothing," Zhang smiled.
Zhang is probably not aware, but what he spends is incorporated into retail sales statistics kept on the purchase of consumer goods. A report released by the National Bureau of Statistics (NBS) on April 18 indicated that in the first three months, retail sales of consumer goods nationwide totaled 1,45 trillion yuan, growing 14.7 percent compared with the same period last year.
"From NBS figures, we can see that consumption capability is quite strong," said Zhong Wei, Director of the Financial Research Center of Beijing Normal University.
Disposable income?
Statistics show that the consumption rate growth is much higher than income for the average Chinese worker. In the first quarter, retail sales of consumer goods increased 14.7 percent. Yet last year, the per-capita disposable income of urban residents only grew 10.4 percent allowing for price hikes, while the net income of rural residents went up only 7.4 percent, much lower than retail sales growth.
This high consumption growth pushes up the absolute value of consumption. According to the NBS, in 1990, retail sales of consumer goods stood at 1.14 trillion yuan. In 2006, they reached 7.64 trillion yuan, 6.7 times the 1990 numbers.
Consumption levels have also improved steadily. In 1978, the per-capita expenditure was 184 yuan , while in 2005 the figure was as high as 5,434 yuan.
"At present, the Chinese people are spending to enjoy a better life instead of seeking to meet the basic livelihood," said Zhong Wei.
According to Zhong, products associated with a better life, such as houses, automobiles, hi-tech goods, culture and entertainment, are becoming the new focal points of consumption.
A report released by the China General Chamber of Commerce on April 8 confirmed Zhong's impressions. According to the report, in 2006, sales of gold, silver and jewelry grew 28.5 percent while sales of construction and interior decoration materials, telecom equipment and furniture increased 24 percent, 22 percent and 21.3 percent, respectively. At the same time, sales of household electrical appliances, audio and video equipment increased 19.2 percent, cosmetics 18.6 percent, and automobiles 26.3 percent, year on year.
This trend will continue, deems the report. "It is estimated that in 2007, the growth of retail sales of consumer goods will be higher than that in 2006. Retail sales of consumer goods will range up 14.5 percent to 8.7 trillion yuan," the report stated.
High-income urbanites lead the charge
Doctor Yuan Yue, President of Horizon Research Group, has conducted research on Chinese consumption habits. He found that commodities previously seen as durable goods are now frequently changed or upgraded. For example, among urban residents with middle or high incomes, 16.5 percent switch to a new mobile phone within one year and 26.1 percent change their MP3 within two years.
"People aged 30-50 make up the majority of urbanites with high incomes, and they are also playing a major role in consumption," Yuan said.
In terms of age, the group from 30 to 40 accounts for 37 percent, or the highest proportion of high-income city dwellers. The group also includes nearly 100 million of the country's "only children." They are well educated and have around five or six years of work experience. Highly confident about their future, they are gradually becoming a vital force for consumption in urban areas. The next important consuming force are those aged 40-50, accounting for 31.3 percent of high-income people living in cities. They are experienced and successful with their careers and their incomes reflect their earning status and job security.
Improvement of personal economic strength also inspires people to spend more freely, allowing them to consume their individual favorites. "Consumption is becoming more and more distinct and differentiated," Yuan said.
A research report by Horizon Research Group indicates that among people with middle or high incomes in urban areas, 74.5 percent hope that what clothes they wear and what products they use differentiate themselves from others and show off their personal tastes. This highly individual demand makes people's choices more diversified and increases the space for consumption.