Millions of Chinese are hitting the roads, traveling back to their hometowns to celebrate the Spring Festival, the country's most important holiday. But amid the festive atmosphere, will their spending during the holiday be affected by the turbulent global economy? How do they intend to ride out the crisis for the rest of the year? Beijing Review interviewed 10 people from all walks of life and various professions about how they are coping with the financial downturn.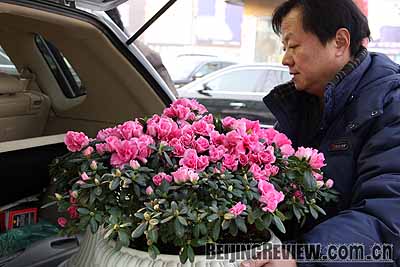 PRETTY IN PINK: Many people spend a lot of money on plants and flowers during the Chinese New Year holiday (GAO XUEYU)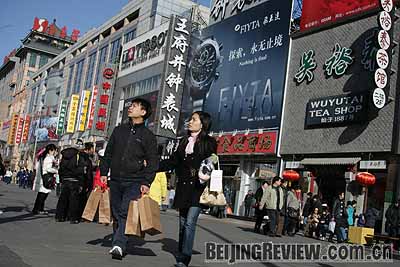 SHOPPERS' PARADISE: Chinese are spending money on food, clothes and other items for the Spring Festival (WANG XIANG) 
An Optimistic Consumer
Bai Yang, 29, a beauty salon owner in Beijing
I want to buy clothes and home furnishings for a festive atmosphere and a good omen for the Chinese New Year. At the same time, I will also buy some presents for my friends. My shopping budget this year is about 8,000 yuan ($1,170). Excluding shopping for luxury goods, the spending will be similar to that of last year. This year, my husband and I plan to buy either a new car to replace the old one or an extra car for me.
My husband and I always spend the Spring Festival with his family, and this year we will drive to his hometown as usual because there is no railway there. The driving expense will be about 1,000 yuan ($146), while round-trip bus travel for two people would cost 700 yuan ($102).
We always have the family reunion dinner on Lunar New Year's Eve at home. It's a tradition among the Chinese people, and we can watch the Spring Festival gala on TV at home.
Some of my customers said they have been financially affected by the financial crisis, but according to our observations, sales at my beauty salon have not dropped. My salon is in the western part of Beijing, and most of our customers work for government agencies and state-owned banks and securities companies. They have been slightly affected by the financial crisis. I have a friend who runs a beauty salon in the business district in the eastern part of Beijing. Her salon has been closed down, because her customers have been seriously affected by the crisis. But business at my salon is still OK.
I think the financial crisis has more of an impact on people's mentality, so that they dare not spend or they take a wait-and-see attitude when it comes to buying things. But this year, I plan to invest in real estate and the stock market to buy the cheapest stocks I can get.
Prepare for the Worst
Will Sheng, 30, a senior accountant at one of the world's big four accounting firms
My spending during this Spring Festival holiday will include dining out with friends, having some fun at a ski resort on the outskirts of Beijing, and giving my parents 2,000 yuan ($293) as usual in a red envelope. All this will probably not exceed 4,000 yuan ($586). I had planned a vacation in Australia with my fiancé and cancelled it not because we were financially affected, but because of the tight work schedule.
I think people in this business are psychologically rather than financially affected. The turmoil will keep us on our toes, wondering whether there will be further impacts this year. I have worked with the team for merger and acquisition consulting in this firm since August 2007. If it wasn't for the crisis, I would probably be promoted to manager later this year. The firm has already dismissed 6 to 7 percent of employees since last October. As an anti-crisis solution, we are required to take a one-month leave with no pay by this June and be ready to return once needed.