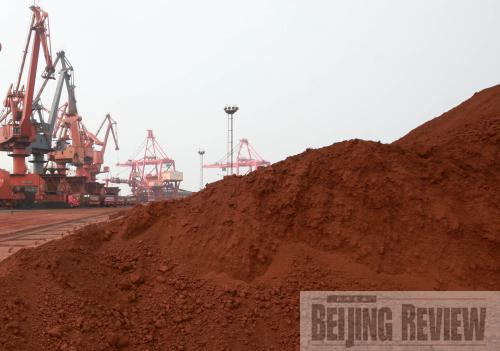 CNSPHOTO RED RESERVES: Rare earth produced in China waits to be loaded for export at Lianyungang Port in Jiangsu Province. China has the largest rare earth reserves in the world 
China's Ministry of Industry and Information Technology (MIIT) has drafted a plan and related policies to develop the rare earth industry in 2009-15 and is now soliciting opinions from related authorities.
China is a major global supplier of rare metals, where a variety of the rare resources are predominantly found. While China initially adopted a loose mining policy, the result was a chaotic industry whereby most of the rare metals were exported at low prices.
To place stricter controls on the situation, the Ministry of Commerce (MOFCOM) and the General Administration of Customs listed the resources in the Catalogue of Prohibited Commodities in the Processing Trade in 2005. The decision limits foreign countries to buying only refined rare earth materials.
In 2007, the National Development and Reform Commission and MOFCOM issued the new Catalogue for the Guidance of Foreign Investment in Industries, in which rare metals were listed among industries restricted from foreign investment.
Mining companies and local governments were less than willing to give up the high economic gains from mining rare metals. Despite the MOFCOM regulations, cheap exports continued. As a last resort, the Chinese Government formulated stricter policies of controlling their exports. In April 2009, the Ministry of Land and Resources (MLR) issued a circular on controlling exploitation volumes of tungsten, antimony and other rare metals for 2009. According to the circular, MLR would not accept any application for exploration and exploitation permits for these rare metals.
The policies have not gone unchallenged, arousing fierce reactions from many countries seeking to acquire rare metals. On June 23, 2009, the European Union and the United States sued China at the WTO for its restrictions.
Reasons for restriction
According to MOFCOM, the main reason behind the restrictions of rare metal exports is not economic in nature, but rather focuses on protecting the environment and natural resources. But an article released on its website on August 26 offers other insights. The article states that Japan has been securing and storing resources from China through various channels. Statistics show that 83 percent of rare earth in Japan originated in China.
While in no hurry to utilize the rare earth resources, Japan's acquisition shows the Pacific island nation's plan for future energy strategies. Seven rare metals are incorporated into the Japanese strategic reserve system, in effect since 1983, including nickel, chrome, tungsten, cobalt, molybdenum, vanadium and manganese. While keeping these resources in reserve, Japan is trying by every means to import more from all over the world, especially from China.
In contrast, China's rare metals have been over-exploited over an extensive period of time, being sold far below their true value. Japan, the European Union and the United States have, and wish to continue, to buy rare metals from China at low prices.
In 2005, China's output of rare earth resources accounted for 96 percent of the global total, with exports of these resources accounting for more than 60 percent of the world's total. However, the pricing power of rare earth was not held by Chinese companies. In the first half of 2008, rare earth prices declined sharply, with the price of crude ore decreasing from 76,000 yuan ($11,127.38) per ton to 64,000 yuan ($9,370.42) per ton. Prices of praseodymium oxide, a major type of rare earth, dropped from 220,000 yuan ($32,210.83) per ton to 135,000 yuan ($19,765.74) per ton. The drops resulted in China almost selling rare metals at cost.
Cheap sales of resources have left their mark on China. Exploitation of rare metals has brought serious environmental pollution to mining areas, where dust pollution destroys surface vegetation. Around some mining areas, it is hard to find even the smallest blades of grass.