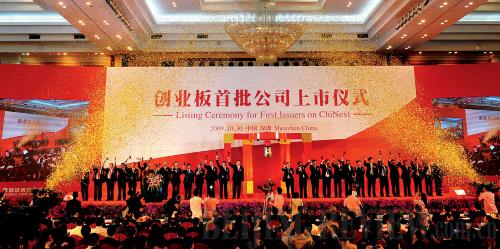 AN AUSPICIOUS TAKE-OFF: Representatives from the 28 listed companies celebrate their IPOs in Shenzhen on October 30 (MA PING)
The ChiNext, China's NASDAQ-style stock market that has been in the making for the past decade, finally opened to prospective traders on October 30 on the Shenzhen Stock Exchange.
Enthusiastic investors rushed to join the financial party, prompting an explosion in share prices. All 28 listed firms closed with a significant run-up of at least 76 percent on their first day of trading.
So overwhelming was the buying rush that regulators temporarily suspended share trading of all 28 newly listed companies at different points throughout the opening day. Under rules created to rein in speculation on the first trading day, if a stock fluctuates beyond 20 percent from its opening price, it will be suspended from trading for 30 minutes.
The initial stock euphoria vanished as abruptly as it arrived, when second day trades saw 20 of the 28 firms dive by a daily limit of 10 percent as investors scrambled to sell off their investments on worries about valuation over-extension.
By November 13, a total of 14 stocks had slipped below their October 30 opening prices, a financial fiasco that was believed to have incurred painful paper losses for numerous investors that jumped in on ChiNext's opening day.
According to data from the Shenzhen Stock Exchange, on November 13, the market value of ChiNext was 127 billion yuan ($18.6 billion), 12.9 billion yuan ($1.9 billion) less than on October 30.
Given the dips and dives of the market so far, a mood of pessimism appears to be taking hold as worried investors start asking themselves the same question: Will the ChiNext follow in the footsteps of the bearish Hong Kong Growth Enterprise Market? And can ChiNext really become the second NASDAQ?
Funding the future
The China Securities Regulatory Commission said the new market was aimed at funding technology- and innovation-driven startup companies, in line with the country's economic restructuring to rely less on labor-intensive manufacturing. Before ChiNext opened its trade floor, the 28 companies had raised a combined 15.5 billion yuan ($2.27 billion) from their initial public offerings (IPO), far more than they had expected.
By the end of 2008, the number of China's registered small and medium-sized enterprises (SMEs) had exceeded 9.7 million, contributing 60 percent of the country's GDP, 50 percent of taxation, 66 percent of patents and 80 percent of job creations, according to data from the China Association of Small and Medium-Sized Enterprises (CASM).
However, many SMEs are struggling to survive. Among the many bottlenecks that choked their growth, the most devastating has been a lack of financing. In China, the SMEs rely on banks for 98 percent of their funding, but since most of them are startup businesses they have little access to bank loans.