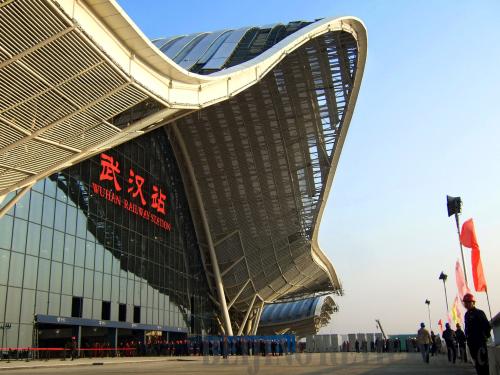 READY FOR SERVICE: The Wuhan Station of the Wuhan-Guangzhou High-speed Railway is ready for service on December 22, 2009 (CFP) 
Chenzhou, a medium-sized city in Hunan Province, knows what it's like to be cut off from the rest of the world. The city suffered a 15-day blackout during a snowstorm in 2008 in south China when power supply was disrupted and many trains were delayed. But thanks to the launch of the Wuhan-Guangzhou High-speed Railway on December 26, 2009, Chenzhou was given a rare opportunity to grow as a steady movement of materials, capital, information and passengers flowed into the region.
Like other cities along high-speed rail routes, the traditionally industry-heavy Chenzhou began to draw tourists. By the end of March 2010, the passenger turnover almost had doubled while cargo transportation increased from its stagnant volume three months before. The local government organized a seminar to explore a new development model for Chenzhou to fully utilize the opportunities offered by the high-speed rail running through the city.
To meet growing tourists, local authorities decided Chenzhou would have to forge a tourism brand for itself, taking steps to enhance current tourist facilities and the city's rich tourist resources. A tourism industrial chain catering to sightseeing, leisure and shopping would also be completed, experts said at the seminar.
But a successfully tapped tourist market is not exclusive to Chenzhou—tourism across China has jumped by leaps and bounds following the construction of high-speed rails nationwide in recent years as more people have the time, money and means to travel, said a report by the Ministry of Railways on the benefits brought about by high-speed rails for economic growth.
China aims to ease the bottlenecks in its economic development through the building of high-speed rail projects. So far, such endeavors have already reaped immeasurable economic and social benefits for the Chinese people.
In addition to boosting tourism, high-speed rails also offer an impetus for other aspects of China's development.
First and foremost, it removes certain restraints on China's cargo transportation capacity. For a long time, the size and quality of China's railway network failed to keep pace with the country's development, and the shortage of passenger trains often placed unnecessary burdens on cargo freight. Busy rail arteries are still congested with passengers, especially during the Spring Festival, May Day and National Day holidays when cargo trains are all suspended to facilitate the need for passenger carriages.
The high-speed rail development will also enable the separation of passenger transportation from cargo transpiration on busy lines, allowing existing lines to focus exclusively on heavy freight. The cargo transportation capacity of existing lines will provide a sufficient guarantee for the steady growth of the national economy.
High-speed rails will also promote coordinated development between different regions, said the report. Labor, information and other important production factors between various regions will move quickly and freely; the transfer of some industries from developed regions to less developed regions will be facilitated; and less developed regions will be assisted with their efforts to turn potential resource advantages into real growth advantages. In effect, China will realize coordinated development between different regions by making full use of their respective advantages.
Of all modes of transportation, railways take up the least amount of space. While undertaking its high-speed rails project, China adopted the bridge-instead-of-embankment designs for many sections of high-speed lines, saving nearly 30,000 hectares of land for every 10,000 km of railways constructed, thus contributing significantly to land protection across the country.
In terms of environment awareness and land conservation, high-speed railways are more energy efficient than other means of transportation. Currently, the railway sector accommodates half of China's total passenger turnover at the cost of less than 20 percent of the country's total energy consumption annually. And high-speed rails improve energy-saving transportation methods. Electric-powered high-speed rails, not consuming petroleum, use electricity generated from coal, water, wind or nuclear power, making them the most energy-efficient mode of ground transportation. In the long run, these rails will make significant contributions to the country's energy security, said the report.
High-speed trains are also the most environmentally friendly ways to travel, emitting the least carbon dioxide out of all transportation options in China. While running on tracks, the trains emit no exhaust or materials harmful to the environment.
The expansion of high-speed trains across China will also provide a substantial boost to the country's industrial sector. The construction of high-speed lines will place a hefty demand on technology-intensive products, presenting a huge impetus to relevant industries now enjoying government incentives, the report said.