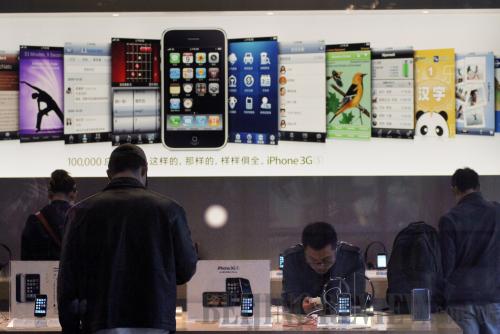 APPLE APPEAL: Customers experience the colorful services of the iPhone at an Apple store in Beijing (CFP) 
One year after China kicked off its third-generation (3G) wireless services, an increasing number of Chinese mobile users are flocking to the concept of digital lifestyles via their handset devices.
According to the Ministry of Industry and Information Technology (MIIT), 3G users nationwide soared to 18 million at the end of March this year. Such gleaming performance should be a reason to cheer though it remains to be seen whether China could meet the government-set target of 240 million by 2011.
With a richer and tech-savvier consumer base, it is not difficult to see how the new technical standard has found such strong traction here. What added fire to the 3G mania was a spending spree of operators beefing up their network construction and improving technology reliability.
The telecom operators have spent more than 160 billion yuan ($23.4 billion) on 3G network construction in 2009, and the investments will add up to 450 billion yuan ($65.9 billion) over the next two to three years, said Li Yizhong, Minister of the MIIT, at a recent news conference.
Chinese regulators had been under pressure for dragging their feet in handing out 3G licenses to allow more time for the fledgling TD-SCDMA technology to mature. But now the government's patience has turned out to be worthwhile. China Mobile, the top operator, now leads the race, with 42.5 percent of all users subscribing to the homegrown TD-SCDMA network, followed by 30.8 percent of China Telecom's CDMA2000 and 26.7 percent of WCDMA operated by China Unicom—both proven and mature technologies used globally.
Like their counterparts in other more developed markets, Chinese telecom operators are looking to value-added 3G services for a source of revenue at a time when cellphone penetration is on the rise, said Chen Haofei, a telecom analyst with the China International Capital Corp. Ltd.
Heated competition
Since China fired the starting gun for 3G services, competition between the operators has been fierce, with smartphones being the latest battleground.
China Unicom in early May announced to step up subsidies to iPhone buyers, aiming to have 10 million 3G users paying at least 100 yuan ($14.6) per month for basic packages by the end of this year.
When the company became the only legal channel for the iconic iPhone handset in China in October 2009, it seemed to count on the trendy multimedia device as a wonder weapon for poaching subscribers from market dominator China Mobile.
But the success hopes did not become realities. Sales of the handset stalled as its prices, at least 5,000 yuan ($732.3), were simply out of reach of average Chinese consumers.
The price subsidies could help pick up sales, but the iPhone can never be a panacea for China Unicom, said Fu Liang, a renowned independent telecom analyst.
With an over-dependence on iPhones for new subscribers, the company is ignoring the biggest advantage of its WCDMA standard—the wide range of handsets already on offer, said Fu.
While there are hundreds of handsets available on the WCDMA network, TD-SCDMA users could choose from only around 70 models as of the end of 2009. Such limitations cast an ominous shadow over prospects of the homegrown technology, but the government boosted its chances of success by awarding the license to market leader China Mobile.
China Mobile controls around 75 percent of telecom market shares in the country, laying a solid groundwork for a 3G takeoff. But what really set it apart from rivals was a deep-rooted commitment to filling in TD-SCDMA terminal offerings.
In 2009, China Mobile released nine models of the Ophone that can run on the TD-SCDMA network and offers customized applications for high value-added services such as music downloads and mobile TV. The company also launched its own operating system—OMS (open mobile system). It was based on Google's Android and China Mobile tweaked the software to localize it to China.
But that is still far from enough, said Wang Jianzhou, Chairman of China Mobile. "We hope the number of TD-SCDMA handset models could reach 200 in the first half of 2010."
The gap may not be difficult to fill. China Mobile reportedly plans to subsidize high-end handsets for customers with up to 50 percent off the retail price, provoking the burning enthusiasm of phone makers.
A number of international brands like Nokia, Samsung and Motorola are quickly jumping on the bandwagon, making a firm push into TD-SCDMA handsets.
With more handsets available and growing brand recognition, the TD-SCDMA network is bursting with vitality, mounting pressure on its rivals, said Li Zhiwu, a senior analyst with the BOCOM International Holdings Co. Ltd., a Hong Kong-based investment bank.
After acquiring the CDMA mobile technology from China Unicom, China Telecom, the country's largest fixed-line operator, became the newest player among the trio. But the latecomer was no less ambitious to chime in. In its latest effort to cash in on the 3G bonanza, China Telecom in May 2010 inked an agreement with Research in Motion to offer Blackberry services to corporate clients in 16 provinces across the country.
China Telecom earlier last year launched its 3G service, called "e-surfing," which enables users to go online with an Internet handset equipped with applications allowing access to e-mails, instant messaging and music downloading. In addition, it tried to exploit the advantage of being the sole provider of both fixed-line and mobile services, offering a series of bundling and convergency services.
Such aggressive strategies allowed China Telecom a head start in the race. By the end of 2009, its 3G subscribers had totaled 5 million, barely below 5.51 million of China Mobile. But when the bigger rival started picking up its promotional efforts, the China Telecom momentum faded.