The guiding opinions will be implemented from 2010 to 2015. During this period, Qinghai will promote green industrial development in various ways.
With respect to accelerating the development of strategic emerging industries, Qinghai will promote industrial restructuring and vigorously develop new energy, biomedical, energy saving and environment protection industries. Qinghai will also promote the development of recycling petrochemical, chemical and non-ferrous industries, with emphasis on optimizing the product mix, while energetically developing light, textile and other industries with distinct local characteristics, in an effort to advance the province's green development.
By taking steps to eliminate backward production capacity, Qinghai will also reduce energy consumption. And by strengthening corporate information systems, Qinghai will speed up the integration of industrialization and informationization.
Luo said while establishing a policy guarantee system for green industrial development, Qinghai will increase financial input and improve financial, scientific and technological services, and coordinate industrial development and ecological environment optimization, in an effort to realize sustainable industrial growth at minimum resource consumption and environmental costs.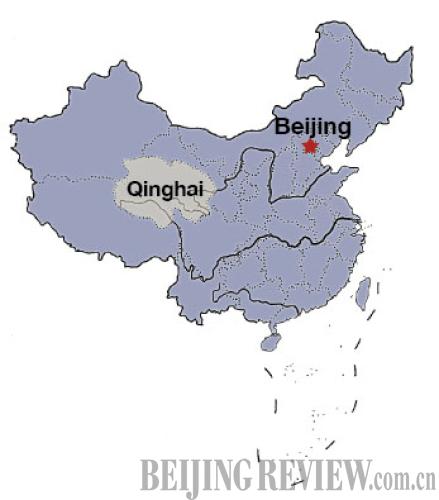 Definition of a Green Economy by the United Nations Environment Program
A system of economic activities related to the production, distribution and consumption of goods and services that result in improved human well-being over the long term, while not exposing future generations to significant environmental risks and ecological scarcities.
(Source: www.unep.org)
Qinghai Facts
Sitting on the Qinghai-Tibet Plateau, Qinghai Province covers an area of 721,200 square km, stretching 1,200 km from east to west and 800 km from north to south.
The Yangtze River, the Yellow River and the Lancang River all originate in Qinghai. A key natural preserve for the country, the province is home to more than 250 kinds of wild animals. It is also one of China's four biggest pasturelands.
Among the country's 56 ethnic groups, 54 live in Qinghai.
At the end of 2008, Qinghai registered a permanent population of 5.54 million, with 2.34 million, or 42.8 percent of the province's total, belonging to ethnic minorities.
Qinghai has rich resources. More than 120 kinds of mineral resources have been found here, and reserves of 110 have been verified. Qinghai's kalium, sodium, magnesium, lithium, bromine, Glauber's salt, asbestos, chemical limestone and silicon reserves come first in China.
(Source: official website of Qinghai Province)