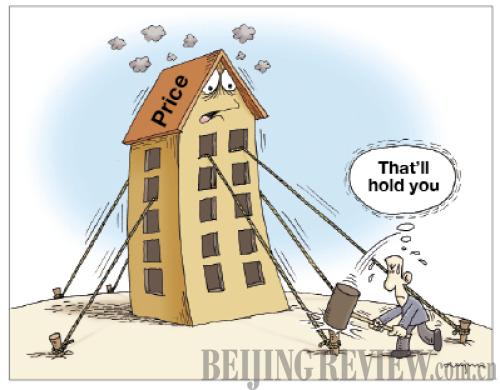 A string of policies aimed at cooling the housing market are taking effect, as galloping house prices have slowed to a saunter. The policies introduced in April, cover land supply, taxes, credit and property transactions.
"Home sales dropped as prices stagnated and the housing market will hopefully go through new rounds of adjustment in the next three months to bring further decreases to house prices," said Xu Shaoshi, Minister of Land and Resources, on July 4 while attending a meeting in Dalian for heads of land and resources bureaus.
But potential homebuyers remain idle, watching and waiting for the situation to play out and, more importantly, hoping for price decreases to sweep China's housing market.
Market stalemate
Residents in Beijing, Shanghai and other Chinese cities saw home prices skyrocket during the past two years. The supply of new homes also increased. In Beijing alone, 21 housing projects were launched in June, of which nine were completely new projects not affiliated with other housing developments. This was the largest supply of new projects in Beijing after the Central Government started taking measures to cool off the market this year.
Statistics from the Beijing real estate transaction administration website said 4,241 apartments were sold in June, for a total area of 415,000 square meters, decreasing 24.9 percent and 20.4 percent, respectively, from the previous month.
But home prices have yet to make any substantial decline. Houses were sold at an average price of 18,000 yuan ($2,635.4) per square meter in the first half of June in Beijing, increasing 7.5 percent from May, according to statistics from Beijing-based Yahao Real Estate Brokerage Co. Ltd.
Statistics released on July 2 by China's housing industry website, sofang.com, said, compared with May, the average price in June increased in 32 of 52 cities nationwide, and dipped slightly in only 19 cities.
"The number of home deals shrank while home prices didn't fall noticeably," said Deputy Manager of Yahao Ren Qixin. "This just indicates home buyers and sellers are continuing to wait patiently for further developments."
Either property developers decreasing the prices to an acceptable level or the government lifting administrative measures to curb speculative property purchases will help break China's stalemate-enveloping housing market, Ren said. But neither of these two scenarios should be expected in the near future.
"Property developers have enough cash to withstand sales drops and will not hastily cut the prices, while the government will continue current housing market regulation policies for stability," Ren stated. "Anemic home sales will be the main feature of the housing market in the short run."
Stringent measures
Measures to curb speculative home purchases have proven effective, especially in the land supply and purchase market where excessive investments have been in retreat.
But the Ministry of Land and Resources will not slack off regulation and supervision over land supply and utilization activities just yet, said Xu.
The ministry is working to identify and dispose of unused land for property development purposes and promises to increase oversight on land supply and land use for property development, Xu said.
In the second half of this year, the ministry will actively regulate the housing market and guarantee land supply for social security housing projects. It will also increase land supply information transparency, Xu added.
Management and regulation of land for property development purposes, Xu said, is and will remain a priority for the ministry.
"Local functions relating to land and resources must never be allowed to slack off. It should show the residents the government's determination and confidence in curbing rising prices and improving living conditions for the people," the ministry told People's Daily on June 21.
But since the property industry is a major contributor to local economies, some local governments are hesitant to regulate the housing market at the cost of steady GDP growth.
Now, many market observers consider recent statements from the Ministry of Land and Resources and the Ministry of Housing and Urban-Rural Development as indicative of a second round of regulations later this year.
The two ministries are essentially telling the market that the government will not falter in its efforts to cool the property market, despite speculation that the government could ease up its tough measures and break the stalemate now facing property developers and homebuyers, said Chen Guoqiang, Vice Chairman of the China Real Estate Society.