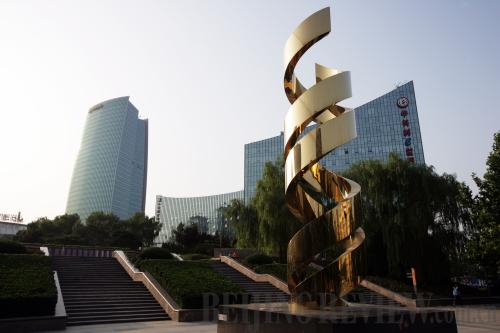 MODEL FOR SUCCESS: In March 2009, the State Council gave its approval to develop the Zhongguancun Science Park in Beijing's Haidian District into a national innovation model park (WANG XIANG)
In 2006, the Chinese Government launched a national campaign to press ahead with its indigenous innovation strategy, a program meant to break the nation's reliance on foreign enterprises for new technologies and put the nation on track to become a hi-tech innovator.
A series of recently introduced Central Government policies will help the strategy develop smoothly and gain momentum. In November 2009, the Ministry of Science and Technology, National Development and Reform Commission, and Ministry of Finance jointly issued a notice on the national indigenous innovation product accreditation that year. In April 2010, the draft notice for this year was released. This move will give priority to indigenous innovation products in government purchases.
In interviews with Beijing Review, two economists and experts in this regard provided an in-depth analysis on the country's indigenous innovation strategy and the way it is carried out.
The Chinese Government has put its indigenous innovation strategy into action. So what does "indigenous innovation" mean? Why has the government advocated it? What benefits will it bring to the country? Qi Jianguo, Deputy Director of the Quantitative and Technical Economics Institute under the Chinese Academy of Social Sciences, shared his views on these issues in an interview with Beijing Review reporter Ding Wenlei. Edited excerpts follow:
Beijing Review: China has spared no effort to promote indigenous innovation. Would you explain what is significant about this strategy?

QI JIANGUO 
Qi Jianguo: In an era of globalization and growing interdependence, major economies are reciprocally affected by each other's economic policies. Every country is trying to get its economy back on track with incentives following the financial crisis.
Overseas audiences may have a blurred view of the real meaning of China's indigenous innovation proposal. It was already clarified in the National Medium- and Long-term Science and Technology Development Plan (2006-2020) that indigenous innovation consists of three types: original innovation; integrated innovation; and acquired and assimilated advanced foreign technologies used to invent new products.
Original innovations start with new ideas and end with products or industries developed from homegrown technologies suiting the Chinese market.
Integrated innovations incorporate various technologies, regardless of origin, into different products, and have been widely applied toward technological inventions. We're not too concerned about the origins of these technologies—they can be homegrown or imported, or modern or ancient. We can incorporate whatever we get through legitimate means to meet the country's needs.
And in terms of the third type of innovation, we stress the importance of acquiring advanced foreign technologies for assimilation, improvement and reinvention. We emphasize that this kind of innovation based on imported technologies also falls into the category of indigenous innovations.
Therefore, China will hold intellectual property rights (IPRs)—which could be the rights to decide prices, design, as well as marketing—for products developed based on domestically innovated technologies. As a result, we will manage, modify and dispose of these products and innovations according to the market.
China has never meant to pursue innovations and production completely independent of the global market. The innovation system is an inclusive one that emphasizes assimilating advanced foreign technologies and inventing new products. The proposal itself doesn't shut the door on technological applications based on acquisitions of advanced foreign technologies and products, nor does it discriminate against foreign capital.
Why is China advocating indigenous innovation at this stage of economic and social development?
Domestically, it's because China's manufacturing sector doesn't control most core technologies for its products, particularly in hi-tech areas, despite remarkable growth in recent years. About 80 percent of those core technologies are in the hands of multinationals and, as a result, most products made in China are relatively low added value. For many of these products, we can make them but are not allowed to alter the design.
Take the auto-making industry for example. China recently became the world's biggest auto manufacturer, but except for two automakers using homegrown technologies—Geely and Chery—we produce cars mostly for overseas brands. As such, we can only produce cars in line with engineering drawings the overseas companies provide and are prohibited from altering even the tiniest detail. The production and finished products of China's auto industry are therefore dominated by multinationals, and restricted by the patent system and other institutional barriers.
Our hope is that Chinese enterprises will soon be able to independently design and manufacture their own products. Developed countries already reached this frontier, and as IPR owners are able to modify designs according to the needs of different markets. If Chinese enterprises want to follow suit, they have to shake off the restrictions from others' patents by developing original technologies and designs.
Internationally, the Central Government proposed this strategy to prepare Chinese manufacturers to compete against global enterprises. The financial crisis caused all countries to outline policies to ensure sustainable economic growth. The United States, for example, sought to revive American manufacturing in renewable energy and smart grid technologies, and to encourage more R&D investments in bio-materials and bio industries. They even proposed making preferential policies, such as the R&D tax credit, permanent. These measures were introduced with an eye on areas of future international competition, or strategically important emerging industries.
China's strengths are in its manufacturing capabilities, but Chinese manufacturers still rely on imported core technologies. The country's manufacturing sector will not be able to take off if they continue to follow this route.
Has the financial crisis made indigenous innovation a must for China?
The financial crisis dealt a heavy blow to the Chinese economy, not because of flaws within the economy itself but because of problems with the country's production model and innovation capability.
In the absence of core technologies, China has based its large-scale production and high-speed economic growth on international demand, such as processing with supplied materials. Overseas orders have kept Chinese factories busy, but if orders are cancelled, as was the case during the economic downturn, these factories will sit idle. To avoid this scenario in the future, Chinese enterprises must own IPRs on products they create, have their own brands and design capacity to support the sustainability of their own.
China has to sharpen its competitive edge if the country wants sustainable growth. The government will have to stimulate domestic consumption, cutting its reliance on external demand for growth momentum, and the manufacturing sector must have its own IPR-protected technology system that no longer depends on overseas orders. In this way, China's industries can be both competitive and domestically propelled.