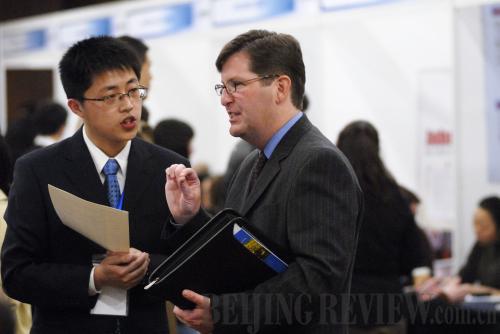 MULTICULTURAL: The 2010 Beijing Job Fair for Foreigners was held on April 17. Expats and repats, especially experienced managers and professionals, are needed in China's emerging sectors (CFP)
The frigid job market since the financial crisis in 2008 is thawing, according to the latest quarterly report on global job trends from London-based headhunter Antal International. Banks and funds, the first to shrink during the crisis, are actively building their teams again—and Antal is also gearing up for the coming battle to win over talent in China and abroad.
The Global Snapshot, Antal's report based on a quarterly survey of global hiring and firing trends, found hiring at the managerial and professional levels has risen since the beginning of 2010 across the world. And Asian countries, China in particular, are among the highest employers at these levels worldwide.
But the accelerating economic recovery exposed a shortage of skilled professionals in the banking sector and some emerging industries. And a talent exodus looms large in major cities like Beijing and Shanghai as an increasing number of young professionals move to second-tier cities for lower costs and higher standards of living.
Overall, the Global Snapshot paints a much brighter picture for the employment outlook, but the shortage of managers and professionals at mid-senior level positions in China's recruitment market needs to be addressed soon, said Antal International's Group Managing Director Graeme Read.
Hiring thaw
Globally, hiring at the mid-senior level has increased slightly since the beginning of the year, from 53 percent to 54 percent, and is expected to rise again over the next quarter to 58 percent, said the Global Snapshot released in June.
"Although some countries, particularly in Western Europe, are still seeing a decline in the employment market, the global picture has definitely improved once again," said Tony Goodwin, founder and CEO of Antal International.
In compiling the Global Snapshot, Antal surveyed more than 9,600 organizations in 55 countries on their hiring and firing practices. It also asked what their plans were, concerning employment or layoffs, in the coming quarter.
The results indicated China, a strong employment market, is improving. About 72 percent of Chinese companies said that they were currently hiring, a rate next to only a few countries like Canada, Malaysia and India, while only 17 percent were letting people go. The Chinese companies plan to continue their hiring trend, with 73 percent expecting to employ managerial staff over the next three months.
The hiring recovery is more obvious in the banking sector, after a painful period of large-scale redundancies and recruitment freezes.
"The fact that the banking community now tops the list of the world's most active sectors gives us the confidence to say that a double dip recession is now unlikely," said Goodwin.
Banks in China were adding more staff at a growth rate of about 20-30 percent in the first quarter this year, mainly due to the expansion of foreign banks and IPOs in the banking sector, according to Eva Lu, banking consultant with Antal International.
"It's a matter of sentiment and confidence," said Read. "With a lot of FDI and merger and acquisition activities, China's economy is much healthier than economies in Western Europe."
Other sectors such as engineering, fast moving consumer goods, IT software and manufacturing were all recruiting at the highest levels, according to the Antal report.
Talent shortage
But recruiters could only fill 50-60 percent of job vacancies, in part because nearly 40 percent of hiring is for positions that didn't exist before the crisis, said Lu.
A couple factors put pressure on China's labor force and helped create the labor shortage, said Read. While Chinese companies are expanding domestically, with many of them moving into the global market and acquiring overseas firms, foreign companies are also expanding in China or coming to China for the first time.
"They are all looking for more knowledgeable, highly educated professionals, such as fund managers, intellectual property lawyers and clean energy engineers," he said.
Senior professionals and managers for business development, fundraising and government relations are hard to find in China at the moment, said Lu.
Good marketing, accounting and IT skills have increased in demand in all disciplines as Chinese manufacturers start selling their products by themselves to international markets, he said.
The rush for talent at mid-senior level is pretty fierce now, but the backbone of Chinese industry—the manufacturing sector—remains a major area where businesses in China will continue to snap up professionals, such as those in the chemical and pharmaceutical sectors, said Antal International's China Managing Director Alastair Watts.
Big companies in Beijing or Shanghai are losing staff to the second-tier cities, as an increasing number of young professionals look to move out of the stressful large cities to be closer to their families or for higher quality and happiness of life, Read said.
"That creates a shortage as well, and that's why we see repats come back to China," he said.
To address rising recruitment opportunities in second-tier cities, Antal plans to open five more offices in such cities as Chengdu in Sichuan Province, Dalian in Liaoning Province and Tianjin in the next two years. Antal already has offices in Beijing, Shanghai and Hong Kong.
Antal is helping its clients alleviate the shortage by finding capable professionals in relevant industries, investing money and time on training newcomers, or looking for qualified candidates.
For instance, Antal tends to look for candidates in relevant industries for clients in the new energy sector, Read said. At present, it is difficult to find experienced professionals for China's nascent and burgeoning new energy industry, despite the huge business opportunities it presents.
"Many companies should now start to look at the graduate recruitment program and create their labor force of the future, because there is a shortage of professionals with both qualifications and experience," he said.
Cross-cultural staff
Founded in 1993 and specializing in executive recruitment, Antal International now has more than 70 offices in 30 countries. It has been operating in China for around 10 years, introducing countless foreign professionals to the country.
While talking about the strengths repats have over expats, Watts, the only foreigner in Antal's Beijing office, said repats are generally preferred because cross-cultural knowledge and experience is increasingly valued for managerial candidates in multinationals in China.
Chinese repats with multicultural experience are most attractive, he said. But companies have to consider what's best for their businesses in terms of recruiting—for companies with China-based businesses, local Chinese employees always know the system and procedures and can easily identify potential opportunities, he said.
Expats usually feel comfortable with working in a bilingual environment in multinationals and living in Chinese cities with developed infrastructure, he said, calling his arrival in Antal's Beijing office a "soft landing."