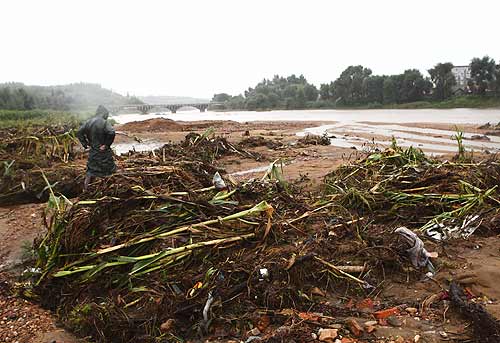 HEAVY DESTRUCTION: A farmer from Changqing Village, Tonghua County of Jilin Province, looks over crops destroyed by recent storms(YUAN MAN)
Summer rainstorms have been sweeping through much of the country, causing immeasurable damage to affected provinces and people. By August 4, some 28 provinces, municipalities and autonomous regions have been hit by storms, victimizing a population of 140 million, said the State Flood Control and Drought Relief Headquarters.
Torrential rains washed away homes, claiming over a thousand lives and devouring vast farmland. Villages in remote mountainous areas suffered blackouts as water levels peaked.
So far, the death toll has risen to 1,072, with 619 missing. More than 9,700 hectares of crops have been devastated and 1.1 million houses have collapsed or have been washed away. According to the headquarters, direct economic losses are estimated at around 209.6 billion yuan ($31 billion).
The flood season in China usually lasts from May to September, and the southeast coastal provinces also suffer from typhoons and tropical storms through October.
More rainstorms are expected to ravage parts of northeast Heilongjiang and Jilin provinces where rains have added to swollen waters along the Songhuajiang River, the country's third longest river, said the National Meteorological Center. Meanwhile, casualties are on the rise as the overwhelming flood gave rise to landslides and mudflows.
The devastation has raised fears of another major disaster similar in scale to the 1998 Yangtze River floods, which resulted in 1,562 deaths and 255 billion yuan ($37.6 billion) in economic losses.
But the situation is less likely to reach the same level as the 1998 disaster, said Liu Ning, Vice Minister of Water Resources.
"Rainfall along the Yangtze River is 20 percent less than in 1998 and, most importantly, China is now much more prepared with the help of the newly built Three Gorges Dam," he said.
Economic losses
Actual economic losses may be heavier than the headline figure of 209.6 billion yuan ($31 billion) since the disaster has paralyzed transportation networks and disrupted industrial activities.
Among the hardest-hit was southeast Fujian Province where downpours and strong winds knocked people to the ground and forced many factories to suspend production.
The Fujian Cement Co. Ltd., for example, received a heavy blow from a prolonged storm. On June 18, torrential rains swamped three of the company's cement kilns and caused storage units to crash, putting a sudden halt to production.
"The direct economic loss is believed to surpass 20 million yuan ($3 million), not to mention the losses incurred by business suspension," said Lin Chengchao, secretary of the board of the company, in an interview with the Securities Daily.
Worse still, this will mount pressure on the company to clear its inventories and cast an ominous shadow over its growth prospect for the entire year, said a report by the Lianxun Securities Co. Ltd.
Economic woes in northeast Jilin Province were no less acute. On July 31, heavy rains damaged water pipelines supplying Tonghua, an industrial city, cutting drinking water to about 300,000 residents.
In response, the local government mobilized hundreds of rescuers to work around the clock and finally restored water supply on August 4.