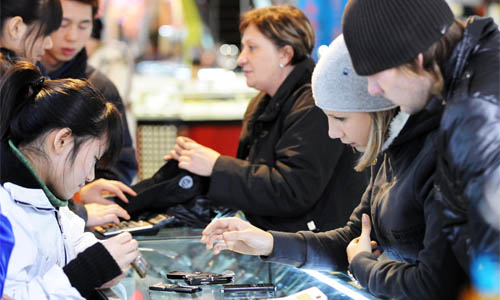 SO MANY CHOICES: Suifenhe, Heilongjiang Province, receives a large number of Russians coming to China for shopping and recreation (WANG JINAWEI)
In the seven visits Tatiana Zauzolkova has made from Khabarovsk, Russia, to Suifenhe, a land port in northeast China's Heilongjiang Province, one task stands out as a priority on her busy schedule: shopping. On her last trip, she spent 60,000 rubles ($2,000), mainly on shoes and clothes.
"Prices of shoes and clothes in China are just about half of what they are in Russia," Zauzolkova told Beijing Review.
Zauzolkova's two friends, Anna Gorelova and Svetlana Klishina, made shopping trips to China in 2003 and 2009. On their second shopping trip, they spent 50,000 rubles ($1,667) and 40,000 rubles ($1,333), respectively, on shoes and clothes.
Shoes and clothes aren't the only items up for sale in Suifenhe—services such as photography, beauty salons and nail salons are also cheaper than in Russia, which have created a huge draw for people to visit the Chinese border city.
Take artistic photography and photos shoots for example. At Zhongyi Photography Studio of Suifenhe, a 7-inch plastic-coated art photo, including make-up service for the customer posing in the photo, only costs 15 yuan ($2.2), while the same photo may cost 30-40 yuan ($4.4-5.9) in Russia, Zhang Chengli, a staff member of the studio, told Beijing Review.
Every day, 8,000-10,000 Russians stay in Suifenhe, shopping, enjoying leisurely activities and talking about educational, health care and cultural-related topics with their Chinese counterparts, said Fu Yancheng, Mayor of Suifenhe. According to Fu, every year Russians spend 12 billion yuan ($1.76 billion) on shopping in the city.
Suifenhe model
Since the railways between China and Russia opened in 1903, Suifenhe, the terminal of the railway, has been an important land port involving trade with Russia. Now the city is connected with Russia's Far East through one railway and two highways. At present the port handles 10 million tons of cargo and 1.6 million passengers every year, said He Bingli, Director of the Trade and Industry Commission of Suifenhe.
Convenient transportation has greatly promoted Suifenhe's trade with Russia. Since 1998, the city's trade volume has accounted for one fourth of the trade volume of Heilongjiang Province—and the value of the city's border trade has accounted for one third of the province's total and one tenth of the country's total trade with Russia. The city's trade volume increased from $232 million in 1996 to $5.83 billion in 2008.
Affected by the global financial crisis, the trade volume of Suifenhe declined to $3.51 billion in 2009, but from the outset of 2010, foreign trade in Suifenhe has begun to recover, He said. In the first half of 2010, the city achieved exports and imports worth $3.21 billion, a year-on-year increase of 108.64 percent, while the city is expected to realize foreign trade volume of $6 billion by the end of 2010, up 70 percent from 2009.
He said through Suifenhe, China mainly buys oil, timber, iron ore sand, fertilizers, pulp, synthetic rubber and a variety of other materials from Russia, and sells electric and machinery products, farm and sideline products, garments, shoes, bags, furniture, among other things. "China exports 80 million pairs of shoes to Russia every year," He told Beijing Review.
To better promote the development of border trade in the city, Suifenhe is establishing an integrated zone for international freight transfers, international purchases, international distribution, transit trade, commodity exhibitions and sales as well as export and import processing.
Establishment of the bonded zone was approved by the State Council on April 12, 2009 and was put into trial operation on August 31, 2010, said Shi Jinqi, Deputy Director of Suifenhe Integrated Bonded Zone. It will be the only integrated bonded zone on the border between China and Russia.
To facilitate Chinese and Russian companies in doing business, Suifenhe has also established an online electronic transaction platform. Via the transaction platform, Chinese and Russian companies can get in touch without worrying about the language barrier, and all transaction procedures can be recorded. The quality of all products will also be supervised by the quality supervision department.