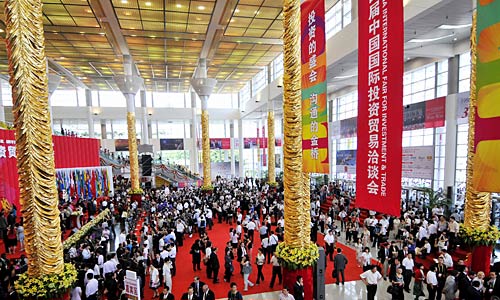 GLOBAL MIXER: Chairman of Jiangxi Yifu Industry Co. Ltd., talks with a U.S. businesswoman. The CIFIT provided a platform for Chinese firms searching for opportunities overseas (Li Haoqing)
A bustle of Chinese business people roams the vast exhibition hall of the China International Fair for Investment & Trade (CIFIT) looking for opportunities to build cross-border scale. Among them is Zhou Meimei, Business Development Manager of the Shanghai Yiyang Electric Machinery Co. Ltd., a manufacturer of mufflers and ventilation equipment. Although this was her first time attending the fair, Zhou did not go home empty-handed.
"We reached an initial agreement with the Zimbabwe Investment Authority to build a machinery production line in their country by year's end," she told Beijing Review.
Aside from the African continent's advantages in terms of resources and labor, it's much easier for Chinese companies to gain a foothold in these developing economies where the consumer markets have yet to be entrenched, she said.
Chinese companies, Zhou's included, are scrambling to go global, and the CIFIT, now in its 14th year, provides the perfect springboard to dive into foreign markets.
The CIFIT, held September 8-11 in Xiamen, a coastal city of southeast China's Fujian Province, is the ultimate matchmaker for investors and traders worldwide—this year it witnessed 639 deals worth $22.4 billion, up 41.5 percent from last year.
For decades, the Chinese economy has been firing ahead at turbo speed, but the gleaming wealth boom has been overshadowed by the fact that few Chinese brands enjoy global recognition. Many domestic enterprises have yet to step onto the world stage, with most either unprepared for international competition or fearful of the challenge of multinational management.
But the dynamics are changing fast. China's outward direct investment reached a dizzying $56.53 billion in 2009, the largest among developing countries, said a recent Ministry of Commerce (MOFCOM) report.
By the end of last year, Chinese enterprises had established at least 13,000 companies in 177 countries, said Shen Danyang, CIFIT spokesman and a MOFCOM official.
The manufacturing industry was the most coveted area for Chinese investment, followed by the wholesale and retail sector, and tenancy and business services, said Shen.
The tide of investment going out is expected to roar ahead in the next few years and will receive a boost from the domestic economic take-off, said Shen.
Acute industrial overcapacity at home is also adding to the forces pushing Chinese capital offshore. In addition, the financial meltdown in the developed world, coupled with a stronger yuan, has left the door open for mergers and acquisitions (M&A)—a shortcut into markets across the globe.
Meanwhile, policymakers have realized that going out is a more promising strategy than staying at home. The MOFCOM has established more than 200 commercial counselor offices across the globe, providing information about local businesses and legal environments for Chinese investors.
A welcome move
As Chinese firms try to graduate from mere low-cost manufacturers and expand their geographic scope, their efforts are warmly greeted by the rest of the world. Italy and France, among those countries vying for the attention of Chinese capital, even launched massive promotion campaigns at this year's CIFIT.
"Chinese investments are welcome in Italy as they can breathe fresh life into our economy," said Barbara Gasperi, Trade Officer of the Italian Trade Commission's Shanghai office.
A string of Chinese companies have taken root in manufacturing, industrial design, as well as renewable energy businesses in Italy. Among them were the China Energy Conservation and Environmental Protection Group that recently completed a solar power project in Puglia, southeast Italy.
"Our government offers generous incentives for green energy investors, including cash subsidies and favorable feed-in tariffs to name a few," said Gasperi.