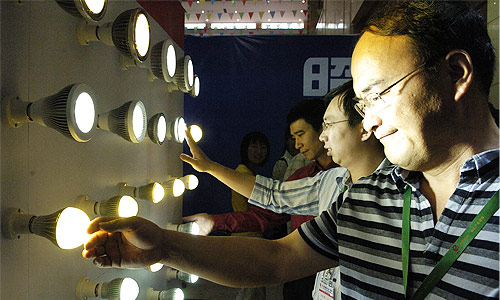 ILLUMINATION WITH RARE EARTH: Visitors experience functions of LED illuminators at the 2010 China Rare Earth New Materials and Green Illumination Expo held in Baotou, Inner Mongolia Autonomous Region (TANG WENKUI)
Since China announced it was reducing exports of rare earth, there have been continuous voices in the international community demanding China expand eports or seek alternative resources. The United States has also complained to the WTO that China is hoarding the commodity.
Subjected to scathing censure, what difficulties are facing China's rare earth industry? When other countries seek alternative resources, how is the Chinese rare earth market affected? Economy & Nation Weekly, Xinhua News Agency's finance magazine, recently interviewed Lin Donglu, Secretary General of the Chinese Society of Rare Earths, and Wang Hongqian, General Manager of China Non-Ferrous Metal Industry's Foreign Engineering and Construction Co. Ltd. Edited excerpts follow:
Regulation for resource protection
Some foreign media think China's restrictions on rare earth exports will directly influence the development of green industries in Europe and the United States. How should we look upon these comments?
Lin Donglu: Most of the green industries related to rare earth are in the new energy and illumination sectors, where permanent magnetic and luminescent rare earth materials are used. China imposes no restrictions on the exports of these materials, and foreign companies can directly import these materials from China, or invest in the industries that process rare earth as raw materials in China to meet the demands of green industries in their countries.
The aim of our control of rare earth exports is to protect resources and the environment and promote sustainable development of green industries across the globe. China's rare earth resources only account for 30 percent of the world's total. The exhausting of these resources as a result of a lack of control would be a major blow to the world's green resources. Now the time is right for other countries and regions to exploit their own resources again. Only establishing an international competition mechanism for the rare earth industry, instead of making China the only rare earth exporter, will promote the sustainable development of new energy technologies.
Worries about industrial transfers
On the one hand, Western countries are complaining China has adopted export quota in order to attract foreign businesses to set up hi-tech factories in China; on the other, China is worrying trade wars will be triggered since foreign companies are creating barriers in regard to rare earth separation and application technologies. How should we view this problem?
Wang Hongqian: Exports of our products are regulated by quota, but enterprises established by foreign companies in China are not restricted by quota. Although the quota has not been raised, China's rare earth is still able to flow to foreign markets through many other channels. Demand for rare earth by other countries can be satisfied in these two ways.
Foreign companies won't set up hi-tech enterprises in China, but they transfer their demands to China in certain ways. Many rare earth-related technologies in China have reached high standards, so barriers won't be created. China's rare earth industries for civilian purposes have reached an internationally advanced level. Research and application in high-performance magnetic materials, luminescent materials and power batteries also are not lagging behind.
Lin: For Western countries, the real worry is associated hi-tech industries may shift to China as a consequence of China's control of rare earth exports. But, in any country, exploitation of resources is followed by active development of high-end, new technologies. This is an inevitable trend.
In terms of technology, China owns internationally advanced rare earth separation and smelting technologies. It is the only country in the world that can provide rare earth products of all grades and specifications. In its 12th Five-Year Plan, China will list high efficiency cleaning and recycling utilization technologies of rare earth materials as key projects.