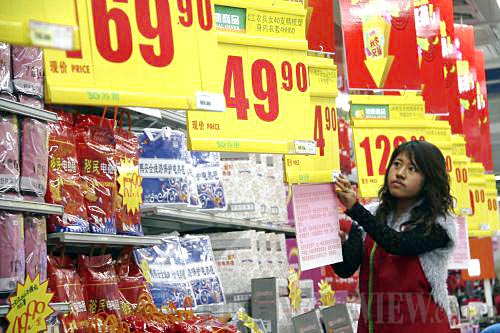 PRICE HIKE: A staff member of a supermarket in Hai'an County, Jiangsu Province, changes price labels (XINHUA)
China's CPI grew 3.3 percent in 2010, higher than the security line of 3 percent set at the outset of 2010, said the National Bureau of Statistics (NBS) on January 20, 2011.
"In the short term, curbing inflation will be the focus of China's macro-control policies," said Xie Guozhong, an independent economist and a board member of Rosetta Stone Capital Ltd.
This round of inflation pressure started last July when the CPI began increasing continuously, reaching 5.1 percent in November. In the second half of 2010, the Chinese Government adopted various measures, such as increasing interest rates and deposit reserve rates and selling national reserve commodities, to curb inflation.
But Xie said the measures the government has adopted are not enough. Worrying their money could evaporate, people have started purchasing real estate in third-tier cities across China. People have even stockpiled grain, edible oil and other consumables in anticipation of severe price hikes. These panic-induced practices, which have only increased inflation expectations and the speed of money circulation, will cause future measures to tighten monetary policies to become more complicated.
Focus of the New Year
According to NBS figures, the 4.6-percent CPI growth in last December was lower than the rate of 5.1 percent in November, but it may still rise in the next few months. China International Capital Corp. Ltd. predicts CPI growth will be 5 percent in January 2011 and remain at around 5 percent in the first quarter of this year.
"If Chinese policymakers have to choose between preventing inflation and ensuring economic growth, my suggestion is preventing inflation," said Ma Jun, chief economist for Greater China of Deutsche Bank AG.
Ma says inflation is the biggest challenge for the Chinese economy, and the risk of it occurring is much greater than that of an economic slowdown.
The reasons for inflation are numerous and complex. Wang Tongsan, Director of the Institute of Quantitative and Technical Economics of the Chinese Academy of Social Sciences, says the first reason is the growing price of bulk commodities on the international market, such as crude oil, iron ore and grain, which will inevitably affect prices in China. Easing policies adopted by the U.S. Government since the financial crisis have also made international monetary liquidity too lenient and caused some inflation pressure. Also, Chinese agriculture is weak. Since 2000, China has experienced three rounds of inflation, in 2003, 2007 and 2010, all directly caused by price hikes of farm produce. Finally, increasing labor costs have also added to CPI growth.
Wang says among these four reasons, the influence of labor cost growth is relatively weak, but a new factor has arisen: Local governments are too enthusiastic about infrastructure construction projects. This year is the first year for the 12th Five-Year Plan (2011-15), and many local governments have proposed doubling their economic growth rates, which puts them at risk of launching construction projects without sufficient resources.
"If the local governments' investment impulse cannot be effectively controlled, the CPI growth may be as high as 6 percent," Wang said.
Xia Bin, Director of the Institute of Finance of the State Council's Development Research Center, says the excessive money issuance is the reason for inflation. Before 2005, newly increased loans in China had never surpassed 2 trillion yuan ($303.49 billion), but the amount topped 3 trillion yuan ($455.24 billion) in 2006 and 4 trillion yuan (606.98 billion) in 2007. In 2009, it approached 10 trillion yuan ($1.52 trillion) and stood at 7.95 trillion yuan ($1.21 trillion) last year.
Xia says the excessive money issuance in recent years has increased inflation pressure, and in 2011 the amount of newly increased loans will not be lower than in 2010.
Expert advice
Zhou Wangjun, Deputy Director of the Department of Prices of the National Development and Reform Commission, says if prices increase markedly in the first quarter of 2011, China will consider launching further measures to cope with inflation. But Zhou didn't reveal detailed measures.