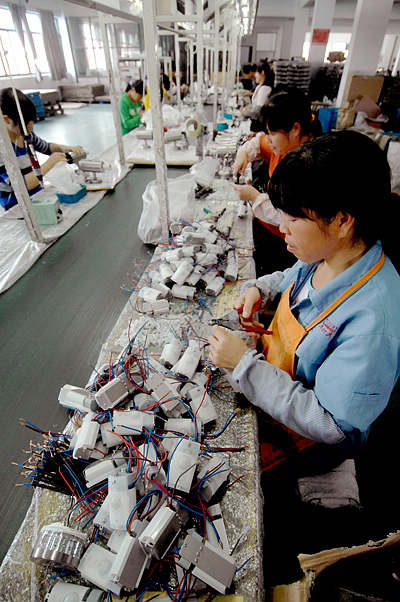 RECOVERING: Workers on a production line at the Ningbo Kanghui Lamps Co. Ltd. Like other SMEs in Zhejiang Province, the company expects more government support (WANG XIAOCHUAN)
A new enterprise category—micro enterprises—has been added to small and medium-sized enterprises (SMEs). On July 4 the Ministry of Industry and Information Technology (MIIT), the National Bureau of Statistics (NBS), the National Development and Reform Commission (NDRC) and the Ministry of Finance (MOF) jointly released new provisions on the division of SMEs.
The new standards incorporated enterprises in the real estate, lease and business service, information transmission as well as software and information technology service industries into the scope of SMEs. As it stands, SMEs have business dealings in almost all of China's major industries.
According to the MIIT, formulating new division standards for SMEs aims at facilitating research and the implementation of supporting policies for SMEs, strengthening differentiated guidance and promoting SME development.
In the past, due to obscure division standards, the government could not formulate differentiated policies. As a result, SMEs had a hard time receiving effective government support to finance their operations.
Micro addition
One of the most important breakthroughs of the revision is the inclusion of a new category of SMEs—micro-enterprises. Under the old standards, enterprises were divided into medium-sized and small ones. Here, China lagged behind other countries that have already covered micro-enterprises.
According to the new standards, micro-enterprises include companies in agriculture, forestry, stockbreeding and fishing sectors whose annual sales revenues are under 500,000 yuan ($77,280); those in the sector of industry that have less than 20 employees or whose annual sales revenues are under 3 million yuan ($463,679); those in the sector of software and information technology service that have less than 10 employees or whose annual sales revenues are under 500,000 yuan; and those in the real estate sector whose annual sales revenues are under 1 million yuan ($154,560) or whose total assets are under 20 million yuan ($3.09 million).
Zhu Hongren, MIIT chief engineer, said micro-enterprises are a vulnerable group in need of exigent government support. Moreover, micro-enterprises provide jobs, sometimes on a larger scale than their large and medium-sized counterparts. With low start-up costs and flexible ways of employment, micro-enterprises can be an important channel to increase job opportunities.
According to the new standards and statistics of the second national economic census, the number of employees of micro-enterprises accounted for 38.7 percent of the total of all Chinese enterprises. With additional government support, these enterprises will continue to create job opportunities for China's growing workforce.
With the new standards dividing Chinese enterprises into large, medium-sized, small and now micro-enterprises, policies can be tailored to enterprise-specific needs according to their scale. It will also help policymakers adjust to economic developments and industrial changes in providing guidance and support.
According to Zhu, in the United States, Japan, the European Union, Canada and Brazil standards for micro-enterprises are already in place and each respective government grants favorable policies to micro-enterprises in terms of taxation, government procurement and public services. Now, China must learn from these countries to implement effective procedures of its own toward domestic micros.