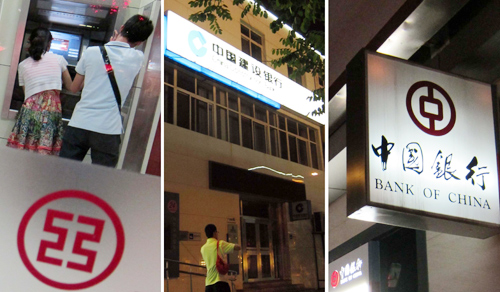 STILL STRICT: Pictured are branches of the Industrial and Commercial Bank of China, China Construction Bank and Bank of China (from left to right) in Beijing (GONG LEI)
International credit rating agency Fitch Ratings warned 16 Chinese banks of possible downgrades due to risks to their medium-term assets quality outlook and liquidity strains. The announcement came in its latest report, the Viability Ratings for Global Financial Institutions, released on July 21.
Viability Ratings, which features a more detailed assessment of financial institutions' intrinsic financial strength with a 20-notch long-term rating scale from aaa to f, is a substitute for Fitch's long-established Individual Ratings that use a 10-notch A-to-F scale.
The 16 Chinese banks were graded between bb and b, of which the Industrial and Commercial Bank of China, China Construction Bank and Bank of China were graded bb and Agricultural Bank of China bb-. Another 11 banks such as Bank of Communications, China Merchants Bank, China Citic Bank and Shanghai Pudong Development Bank were graded b+, while Hua Xia Bank received a b.
The latest grading caused a panic to seize foreign institutional investors, forcing many to sell off stocks from Chinese banks in anticipation of the downgrade. But the People's Bank of China, China's central bank, has tried to clear up these misgivings and prove the security of China's banking sector by providing concrete statistics.
Quality assets
Three ratios are typically used to measure a bank's financial health: asset-to-liability, capital adequacy and non-performing loans (NPL).
By the end of June, China's banking sector had reported assets of 104.14 trillion yuan ($16 trillion), increasing 19.4 percent from the previous year, and total liabilities of 97.81 trillion yuan ($15.05 trillion), up 18.8 percent year on year, according to statistics released by the China Banking Regulatory Commission (CBRC) on July 25.
The capital adequacy ratio of commercial banks in the first quarter stood at 11.8 percent, higher than the required 11.5 percent and 10.5 percent for systematically important banks and non-systematically important banks, said the CBRC.
The NPL ratio of China's commercial banks for the first quarter was 1.1 percent, much lower than the internationally recognized security line of 5-8 percent. In total, they had 433.3 billion yuan ($66.66 billion) worth of NPL, 300 million yuan ($46.15 million) less than the end of 2010, according to the CBRC statistics.
Statistics aside, international rating agencies and investment institutions still expressed concerns about China's banking sector.
Fitch highlighted risks to the medium-term asset quality outlook for China's banking sector given the rapid growth of credit since 2008, a large amount of which has been extended to local governments and property-related borrowers, which have questionable repayment capacities in the medium term.
"This risk is further underscored by elevated property prices in numerous Chinese locales, and the banking sector's meager capital and burgeoning size," said the report.
Loans secured by local government financing platforms are usually less than 30 percent of total loans, said the central bank's statistics. Local government debts totaled 10.7 trillion yuan ($1.65 trillion) in 2010, while China's GDP that year was about 39.8 trillion yuan ($6.12 trillion), creating a debt-to-GDP ratio of 26.88 percent, much lower than the international standard of 60 percent, said statistics from the National Audit Office of China.
"Overall, we believe the risks behind loans to local governments' financing platforms are controllable," said the central bank.
Local government investment in recent years has targeted large self-liquidating projects that provide economic and social benefits. Industrialization and urbanization have accelerated in China, making it possible for a large number of these projects to have steady and sufficient cash flows to offset debts and their ensuing interests, said the central bank. Some projects, while developed along with peripheral industries, can reap diversified revenues to pay off their debts, and only a small number of them need fiscal support to cover their debts.
Chinese banks tend to have low NPL rates, according to these banks' regularly released financial reports. These rates were audited by accounting companies before their release, verifying their accountability. Most of the 16 banks are already listed, and only a few are seeking approval from the China Securities Regulatory Commission for a public listing, said the central bank.