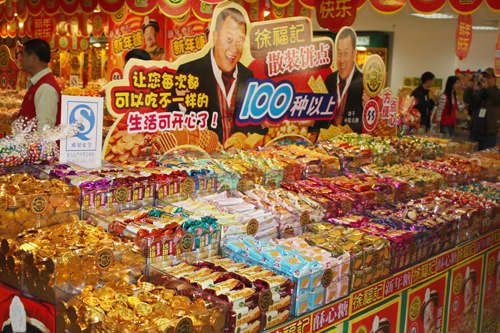 A SWEET OR SOUR DEAL?: A Hsu Fu Chi candy counter at a supermarket in Beijing has tons of treats available for sale (CNSPHOTO)
Nestle Group, the world's largest food manufacturer, announced on July 11 it had entered a partnership agreement with Chinese candy and pastry producer Hsu Fu Chi International Ltd. Nestle intends to acquire a 60-percent stake in the Chinese company, a deal valued at $1.7 billion.
This has been the 35th instance of foreign companies acquiring Chinese brands since the year began. It's also the second time this year Nestle has made a move to acquire a share of a Chinese company. In April, Nestle purchased 60 percent of Yinlu Foods Group, famous for its canned food and drinks.
Industrial insiders believe Nestle intends to gain a competitive edge in the candy and pastry market through the purchase. The acquisition is already causing concern among the Chinese public, which believes the Hsu Fu Chi brand may disappear altogether after the sale.
These fears are not unwarranted. Domestic brands such as Dabao (cosmetics), Robust (mineral water), Supor (cooker), Nanfu (battery) and Mini Nurse (cosmetics), used to stand out in their respective markets until being bought by multinationals. Many of them have since vanished from the market.
Lu Renbo, Deputy Secretary-General of the China Electronics Chamber of Commerce, said most Chinese companies are not aware of brand protection. Once they are acquired by foreign companies, their brands disappear. Many foreign companies simply covet sales channels and marketing resources established by domestic brands by various hardships, instead of the value of domestic brands.
Fortune or misfortune?
According to a Hsu Fu Chi statement, in 2010, the company reported sales revenue of 4.31 billion yuan ($669.25 million) and net after-tax profit of 602.2 million yuan ($93.51 million), up 14 percent and 31 percent, respectively, year on year, ranking first among all Chinese candy companies. Hsu Fu Chi hasn't provided an explanation behind the decision to sell, despite the appearance that the company is in its prime.
Other experts side with the sale. Hsu Fu Chi's product line is limited to candy and pastries, a market that is already overly competitive. To drive development, Hsu Fu Chi must strengthen research and development of new products, a weak point for the company. Hsu Fu Chi's past efforts include development of high-quality chocolate products to boost sales, but the results were less than satisfactory.
Nestle, on the other hand, has a solid R&D base. An acquisition by Nestle would mean access to new opportunities for Hsu Fu Chi. Moreover, since the acquired price represents a premium of 24.7 percent over the volume-weighted average share price over the last 180 days, shareholders of Hsu Fu Chi can also reap handsome benefits from the acquisition.
Wang Wei, Chairman of the China Mergers and Acquisitions Association, said the brand influence of Hsu Fu Chi is priceless, and it is now hard to estimate the industrial influence of foreign companies acquiring domestic brands.
On the positive side, Wang said the acquisition can speed up industrial integration and hasten industrial development. But a significant negative impact is that it is likely for foreign companies to monopolize the industry, impairing the power of control over the market by domestic companies.
Statistics from the Ministry of Commerce (MOFCOM) show that among China's 39 industries, foreign companies have stakes in a growing number of Chinese brands. Wang said in the next two years and on, the Chinese capital market will see the frequency of foreign acquisitions increase. If foreign capitals gain a leading position or a monopolized market share by mergers and acquisitions, or acquire competitors and leading companies in the market, market shares of foreign companies will grow rapidly, which will eventually monopolize the market.