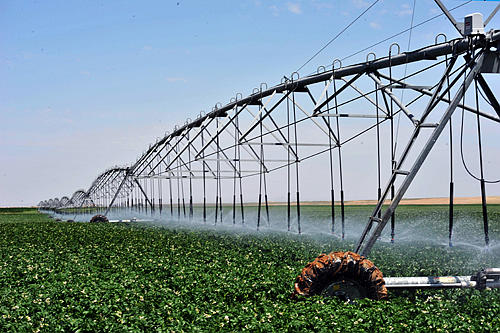 RICH IN RESOURCES: Water-saving irrigation equipment is put to use in potato fields of Yanchi County, Ningxia Hui Autonomous Region. China's western region has advantages in agriculture and natural resources (LIU QUANLONG)
An automobile factory near Yinchuan in northwest China's Ningxia Hui Autonomous Region stands vacant among a number of busy newly built plants. After producing only four prototype cars in the three years since opening, the plant, owned by southwestern Chengdu Newland Automobile Co. Ltd. which sunk 1.8 billion yuan ($279 million) into the 20-hectare facility, was forced to close in September 2010, said a report on the Beijing-based China Business Times. The closure came after Chengdu Newland failed to apply for approval procedures and produced cars without a manufacturing license, said the Ministry of Industry and Information Technology (MIIT).
Now, weeds and various shrubs have started to reclaim the factory. No plans have been laid out to reopen the facility, said the report.
The failed project illustrates the problems facing west China's development as it looks to attract investors, said Mao Zhenhua, Director of the Institute of Economic Research at the Renmin University of China.
"Many problems existed when the east was developing. The western region, at this early stage in its development, should look for a new path by learning from the lessons of the east," said Zhang Shuguang, a researcher at the Institute of Economics with the Chinese Academy of Social Sciences.
If west China follows east China's development path and doesn't adjust itself to western conditions, it will pay a high economic and ecological price, said Wang Zaiwen, Deputy Director of the Training Center of the National Development and Reform Commission.
Too much of the same
The west holds vast amounts of land and natural resources. It also has a vulnerable environment, low productivity and a high poverty rate. But the 6.95-million-square-km territory's main feature is its diversity.
But many of the regions are not embracing their unique assets and advantageous industries, instead sticking to a largely homogenous economic development path.
"There exists high homogeneity of industrial structure in central and west China," said the 2010 Report on Regional Financial Operations in China released by the People's Bank of China, the central bank, in June.
The non-ferrous metal industry, especially electrolytic aluminum, has been migrating from east to west but in a seriously disordered fashion due to a lack of planning and administration, said an MIIT report released on August 1.
The ill-planned transfer has exacerbated problems in the already bloated domestic electrolytic aluminum industry.
Li Defeng, Director of Aluminum Department of China Nonferrous Metals Industry Association, said more than half of the country's electrolytic aluminum capacity will be located in five provinces or autonomous regions in west China in the next five years, including Xinjiang Uygur, Inner Mongolia and Ningxia Hui autonomous regions, and Qinghai and Yunnan provinces.
Rising costs, a result of rising power prices, are also hindering production. Some producers in central and west China have meager profits or are suffering losses, said the MIIT report.
The same blind investment has struck other industries, such as polysilicon, cement and copper.
The MIIT on May 27, 2010 required the elimination of outdated industrial production capacity. The target is to reduce the electrolytic aluminum production capacity by 339,000 tons, iron by 30 million tons, steel by 8.3 million tons, cement by 91.6 million tons, and glass by 6.5 million weight cases.
For western provinces or autonomous regions with almost the same investment plan, it is urgent to develop advantageous industries on a case-by-case basis.
"Currently, many local governments are rushing to draft copycat industrial plans, and their plans are not based on their own natural resources and other conditions," said Liu Qihong, Director of the Regional Economy Research Center of Nanjing-based Hohai University.