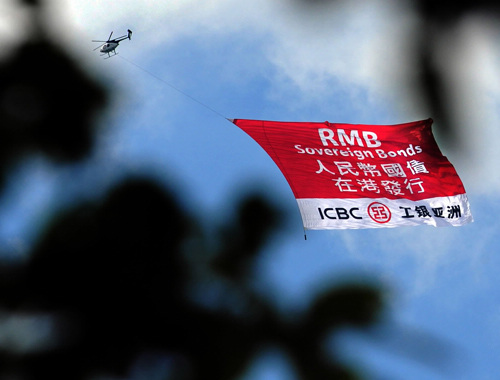 ACCUMULATING OFFSHORE YUAN: A helicopter towing a banner flies over Hong Kong on August 17 when the Ministry of Finance auctioned 20 billion yuan ($3.125 billion) worth of yuan-denominated treasury bonds there (CHEN XIAOWEI)
Foreign investors will soon be able to make direct investments in China with the yuan obtained legally overseas. The Ministry of Commerce (MOFCOM) recently issued a draft circular on this issue, and it is currently soliciting public feedback on the new rules.
"The new policy is aimed at facilitating cross-border trade and investment in the yuan, as well as better utilization of foreign capital," said Shen Danyang, a MOFCOM spokesman. "The government will try to officially implement the program in September."
The move marks a stride toward greater internationalization of the Chinese currency, and it is also expected to speed up circulation of yuan funds both into and out of China.
Currently, the Chinese currency still cannot flow through the country freely under the capital account, and the government grants approvals to cross-border yuan investments on a case-by-case basis. For example, the U.S. fast food chain McDonald's Corp. in August 2010 auctioned 200 million yuan ($31.25 million) worth of yuan-denominated bonds in Hong Kong, and used the raised capital to expand its businesses on China's mainland.
MOFCOM said in the circular that yuan funds obtained through cross-border trade settlement and overseas issuance of yuan-denominated bonds or stocks are eligible for direct investments.
The program also allows foreign investors to make use of yuan-denominated earnings as well as proceeds from share transfers and asset sales that have been remitted overseas.
However, those overseas yuan funds cannot be used to invest in negotiable securities and financial derivatives in China directly or indirectly. They're also barred from providing entrusted loans in the country or repaying domestic or overseas loans, said the MOFCOM.
Investors will be required to seek approval from the MOFCOM for foreign direct investment (FDI) in the yuan larger than 300 million yuan ($46 million) or investments related to certain types of financial services or industries with overcapacities, such as steel, cement and shipbuilding.
The way back
In the past few years, China has spared no effort to promote greater use of its currency in international trade and finance. In its latest attempt, the government expanded the program of yuan settlement in cross-border trade to cover the entire nation.
Cost savings on foreign exchange transactions and appreciation expectations of the yuan have encouraged exporters and importers to switch from the U.S. dollar to the yuan. In the first half of 2011, yuan settlement in cross-border trade totaled 957.57 billion yuan ($149.62 billion), skyrocketing 13.3 times from last year.
By broadening the channel for offshore yuan funds to flow back to China, the country gears up to build the groundwork to allow the yuan to become a global currency.
Meanwhile, China's experiment with Hong Kong as a test bed for internationalizing the yuan has been largely successful.