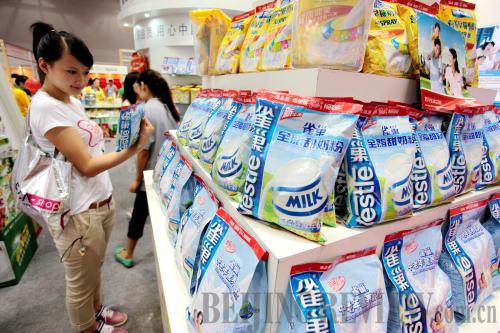 A NICE BUY: A consumer purchases dairy products at the China International Women and Children Industry Expo held in Beijing on July 29-August 1. Nestle's bid for a 60-percent stake in Xiamen-based Yinlu Food Group has been approved by the MOFCOM (CNSPHOTO)
China's Ministry of Commerce (MOFCOM) recently gave Nestle the nod of approval for the international food giant's acquisition of Yinlu Food Group. A signing ceremony was held on September 8 in Xiamen, southeast China's Fujian Province, where Yinlu is headquartered. This is the first merger and acquisition (M&A) case of a domestic enterprise by a foreign investor since the Provisions on the Safety Review System for M&As of Domestic Enterprises by Foreign Investors came into effect on September 1, 2011.
Nestle, the largest food and nutrition company in the world, has been accelerating its development in the Chinese market in recent years. On April 18, 2011, it announced plans to purchase a 60-percent stake in Yinlu, a family-owned food maker with sales of 5.46 billion yuan ($854 million) in 2010. The deal was submitted to MOFCOM's for anti-monopoly review on May 24 and was approved after a three-month review period.
In July, the food conglomerate said it would buy a 60-percent stake in leading Chinese confectioner Hsu Fu Chi International. MOFCOM's approval of the deal is still pending.
Before the safety review provisions were issued, relevant ministries regulated foreign investors' M&A transactions through regulating the access of foreign investment and anti-monopoly investigations. Under the provisions, security reviews will be launched for deals involving national defense, the national economy and impacts on society, as well as research and development of technologies key to national security.
Western countries are the true forerunners of safety reviews for M&As involving foreign investors with countries like the United States and Canada operating intricate review systems through legislation and special agencies.
The U.S. review system dates back to the 1987 when the Fujitsu Corp. of Japan sought to purchase U.S.-based Fairchild Semiconductor Corp. from Schlumberger Ltd. of France. The intended acquisition alarmed a number of U.S. officials who viewed it as yet another step in Japan's efforts to dominate the global semiconductor trade at the expense of U.S. semiconductor firms. The transaction forced the United States to draft the Exon-Florio Amendment, a law enacted by the United States Congress in 1988 to review foreign investment in the United States.
The Byrd Amendment followed in 1992, producing stronger regulatory scrutiny on acquisition bids for a business owned by a foreign government. The Foreign Investment and National Security Act of 2007 raised the level of scrutiny for foreign acquisitions of U.S. corporate entities.
In March 2005, the Chinese National Offshore Oil Corp. (CNOOC) tried to acquire Union Oil Co. of California (Unocal). U.S. congressmen were quick to act. Following a vote in the United States House of Representatives, the bid was referred to then President George W. Bush on the grounds of national security. CNOOC eventually withdrew its bid in August 2005.
Even though China attracted foreign direct investment of $105.7 billion in 2010, up 17.4 percent from the previous year, foreign companies continued to complain about the safety review system, saying it signaled the Central Government's efforts to stifle foreign investment.
The MOFCOM said that utilizing foreign investment is a vital component of China's opening-up policy. Establishing the M&A security review system will improve the foreign investment policy and regulatory systems, enhance transparency and predictability, and promote the orderly development of M&As by foreign investors.