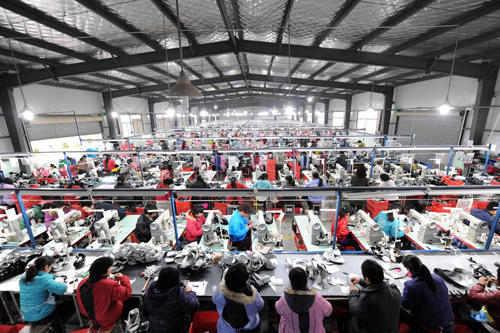 HAND MADE: Workers at the Ningbo production base of Cheely Motors, a domestic car maker, manufacture car interior accessories (ZHAO PENG)
In 2012, Chinese enterprises will be confronted with unprecedented challenges, said the Report of Chinese Enterprise Development, issued by the Development Research Center (DRC) of the State Council on January 8.
The report pointed out that Chinese enterprises will face a more complicated development environment and the economic conditions could be less than friendly. They will be plagued by weak domestic and international demand, rising labor and raw material costs, land shortage, appreciating Chinese currency and increasing costs for environment protection. Those challenges have already put Chinese enterprises into a worse position than they were in when the financial crisis broke out in 2008.
China's economic growth has been decelerating in the past few years and will decrease even more this year. Out of concern over a hard landing, the Ministry of Industry and Information Technology (MIIT) researched a package of policies aimed at supporting small and medium-sized enterprises (SMEs). The favorable policies might include reducing tax burdens of SMEs, building up a public service platform for SMEs, and supporting the development of innovative, labor-intensive and hi-tech SMEs.
MIIT has named 2012 the "year of service" for SMEs.
The report said the 2012 international and domestic economic environment might continue to put enormous restrictions on Chinese enterprises.
Li Wei, DRC Director, said that as stimulus policies are normalized, the deep-rooted conflicts of enterprises have begun to emerge. Enterprises are faced with rising labor costs and the inability for them to keep employees from quitting their jobs in search of better pay. The financing needs of SMEs cannot be met sufficiently, and worse still, they shoulder much higher financing costs than state-owned companies. Apart from the high credit interest, SMEs are burdened with numerous fees such as those for registration, evaluation, notarization, auditing, and industrial and commercial inquiry. Services provided by financial institutions cannot meet the needs of SMEs. Although they have been making headway in supporting SMEs financially, the financing time limit and the complicated procedures block many SMEs from borrowing.
Li said the east coastal area where the SMEs are most developed has the biggest problems, as many SMEs are in the red.
The report, based on forecasts and judgment of both international and domestic economic situations, noted 2012 might be the hardest time for Chinese enterprises in this century. The companies should re-examine their development strategies and mode, tap into the challenges and opportunities during the period, voluntarily make readjustments, raise management quality and efficiency, strengthen innovation and branding, and cultivate core competitiveness.
At the end of last year, MIIT launched a "serving-the-SMEs" campaign for 2012, aimed at creating a sound development atmosphere for SMEs and promoting the SME development by activating all social strengths.
Zhu Hongren, chief engineer of MIIT and director in charge of the SME development work under the State Council, recently hosted a meeting to execute the project.