Pan Ziqiang, a member of the Chinese Academy of Engineering and an expert of nuclear radiation protection and environmental protection, said the disparity will be made up for mainly through development of nuclear power, because most exploitable hydropower resources have been developed, leaving little potential for future development. Also, restricted by technologies and natural conditions, wind power, solar energy and biomass energy are unlikely to see rapid development. Compared with other clean energies, only nuclear power can be developed in a large enough scale to meet China's energy needs.
An MEP news release showed that in the future China's safety standards for nuclear power will be raised. The Nuclear Safety Plan completed by the MEP and submitted to the State Council mainly focuses on supervision so as to improve the safety of nuclear power facilities and nuclear power utilization, reduce risks of radiation, ensure operation safety and safety to the environment and public health, and push forward safe, sound and sustainable development of nuclear energy and technology.
China has also made changes to its supervision mechanism for nuclear safety. The NEA will set up a nuclear power department, the NNSA will increase from one department to three and the number of nuclear safety supervision personnel will increase by 1,000, the State Administration for Science, Technology and Industry for National Defense will also set up a department of nuclear emergencies.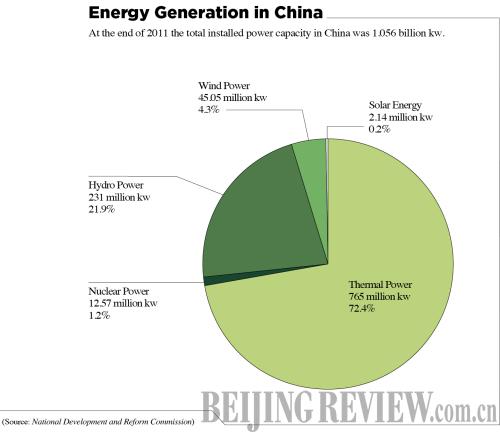 As China gears up to resume approval of nuclear power projects, arguments against construction of new nuclear power plants abound.
On February 7, a government document requiring the cessation of the nuclear power project construction in Pengze, Jiangxi Province attracted widespread attention on the Internet. The document was issued by the government of Wangjiang County, Anhui Province, as the project in Pengze sits along the Yangtze River, on the opposite shore from Wangjiang.
This report says Pengze nuclear power project will have hidden dangers if completed.
Establishment of Pengze nuclear power plant was approved two years ago, but was suspended by the State Council after the Fukushima accident last year.
The opposition of Wangjiang County Government is also supported by He Zuoxiu, an academician of the Chinese Academy of Sciences. He published articles opposing construction of nuclear power plants in the inland areas of the country, mentioning that problems such as construction of Pengze nuclear power plant will be blocked by drought and nuclear power plants in inland areas will pollute rivers.
Pan said this reflects the fact that people are still concerned about the safety of nuclear power plants.
"From the safety and nuclear safety standards, there is no difference between inland and coastal nuclear power plants. The site of Pengze nuclear power project is good, and in principle its safety is ensured," Pan said.
According to Pan, China's provisions on preventing and protecting against environmental radiation in nuclear-powered factories impose detailed requirements on site selection and safety standards of nuclear-powered factories. Pengze nuclear power project is located along the Yangtze River, which has plenty of water and is highly capable of diluting and diffusing pollutants.
At present, China has approved a total of 43 nuclear power plants, with a planned capacity of 200 million kw. These plants are located in 16 provinces, including eight inland provinces such as Jiangxi and Anhui.
It is unknown whether opposition from Wangjiang can successfully stop construction of the Pengze project, but according to information from the environmental protection authority, since there are still big disputes on the safety of building nuclear power plants in inland areas, China will temporarily suspend approval of building nuclear power plants inland.