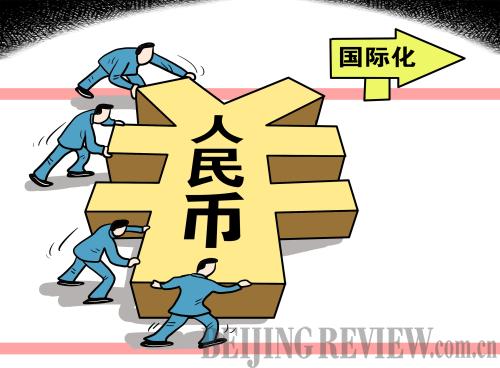 (LU XIAOWEI)
China has been presented with a strategic opportunity to open its capital account a little wider and accelerate the internationalization of the yuan, said the People's Bank of China, the central bank, in a recent report.
"Liberalizing the capital account will be a needed boon to widening the channels for the yuan funds to flow in and out of the country, and bolster the status of the Chinese currency in international trade and investments," said Sheng Songcheng, director of the central bank's statistics department and chief compiler of the report.
Under a more liberalized capital account, Chinese firms will be more able to acquire overseas resources, technologies and market shares, said the report. Moreover, Chinese households will obtain easier access to overseas capital markets and facilitate wealth management.
The capital account and the current account are two primary components of a country's balance of payments. It reflects a country's net change of public and private international investments. China's capital account is partially convertible. Major obstacles on inward and outward direct investments were removed, but policymakers have been cautious to loose the grip over financial derivatives, debt financing and securities markets.
"There may never be a better time to push for reform, if the country continues to wait until conditions mature for the interest rate and exchange rate to be decided by the market and the yuan to become a global currency," said Sheng.
This short window of opportunity may pass China by if it stalls until market conditions mature, said the report.
"Possible dangers stemming from the reform may not be as acute as expected," said Sheng, citing the controllable risks facing real estate and capital markets, and the country's limited short-term external debts.
By the end of September 2011, China's outstanding short-term external debts had totaled $507.6 billion, accounting for only 15.9 percent of the country's foreign exchange reserves.
"Moreover, China's foreign exchange reserves are mostly parked in the bond portfolio, and their principal and interest payments are less vulnerable to fluctuations in foreign exchange rates," he added.
Still, Sheng pointed out China must optimize the sequence of the opening up by first promoting reforms with the highest prospective returns and later taking more risky moves.
This is not the first time that Chinese policymakers have sent out a signal for capital account reform. In a recent interview with the New Century Weekly, central bank governor Zhou Xiaochuan said China is not far from convertibility under the capital account.
By the end of 2010, inside the 40 specific items under capital account transactions classified by the IMF, five items had been fully opened, with eight items basically convertible, 17 items partially opened and 10 items tightly restricted.
"While it tries to move toward greater financial freedom, China will retain necessary regulations to ensure financial stability," said Zhou. "The IMF in 2010 mandated that regulatory controls over short-term volatile capital flows are legitimate and temporary solutions."