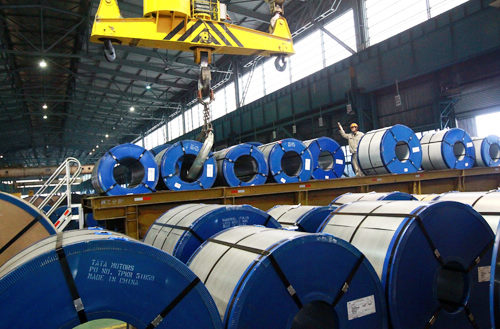 STERLING STEEL: A worker commands lifting of steel rolls in the finished parts storage of the Shanghai-based Baosteel Group, China's largest steelmaker (PEI XIN)
Wuhan Iron and Steel Corp. (Wusteel), the country's fourth largest steelmaker based in central China's Hubei Province, recently announced a plan to build a 10,000-head pig farm as part of a diversification strategy. It's going to invest 39 billion yuan ($6.19 billion) in swine, poultry and vegetable farms in 2012.
"It is hard to make money by making steel," said Deng Qilin, President of Wusteel. "Steel prices are much lower than pork. To survive, we have to diversify," he said.
Wusteel's decision to raise pigs has astounded the public. Actually, Wusteel is not the only steelmaker diversifying. According to the Shanghai-based National Business Daily, half of China's major steelmakers have made inroads into the housing industry.
What is behind steelmakers' diversifying efforts are losses in the steelmaking industry.
The collective profit margin for the Chinese steel industry has fallen to 3 percent over the past two years, well below the 6-percent average for other industrial sectors, according to the Ministry of Industry and Information Technology (MIIT).
According to statistics from the China Iron and Steel Association (CISA), the profit margin of the Chinese steel industry was less than 1 percent in the fourth quarter last year, representing a loss across the sector.
China's major steel producers saw further losses in January this year, and the losing streak is expected to continue throughout the year.
The country's 80 largest steel producers reported combined losses of 2.32 billion yuan ($366.80 million) in January, compared with a net profit of 7.91 billion yuan ($1.26 billion) in the same period last year, according to the CISA.
With margins for steel mills being squeezed by soaring iron ore prices and a softening of domestic demand, China's steel industry is not likely to pick up soon.
In response, steelmakers need to upgrade their production and pronounce a stronger and more unified voice in international iron ore price negotiation, said Zhang Changfu, Vice Chairman of CISA.
As a growth engine of the global economy for more than a decade, China's appetite for iron ore has increased dramatically over the past decade.
In 2000, the country imported 69.97 million tons of iron ore. Last year, that number surged to 686 million tons, according to China Customs figures.
Mysteel.com, a Chinese Internet portal for the iron and steel industry, estimated China will import as much as 720 million metric tons of iron ore in 2012.
Despite being a big purchaser, China does not have much bargaining clout and has actually pushed up global iron ore prices with its large demand.
China Customs statistics show imported iron ore prices for China reached $163.8 per metric ton in 2011, up 27.1 percent from a year ago.
In 2012, prices will remain between $130 and $150 per metric ton, according to a report by Guangdong-based Guosen Securities.
However, rising imports will leave China with little room to reduce its dependence on imported iron ore next year, said Zhao Xiang'e, an analyst with Guangdong-based Huatai United Securities.
Macroeconomic slowdown is also blamed for the slump in the steel industry.
"Last year, China's GDP growth slowed as a result of economic restructuring, which caused consecutive decreases in the manufacturing sector and fixed-asset investment," said Zhang.
Government efforts to rein in a speculative commercial real estate boom also dampened the demand for steel.
While China's steel sector was suffering from losses, the investment frenzy in the industry continued.