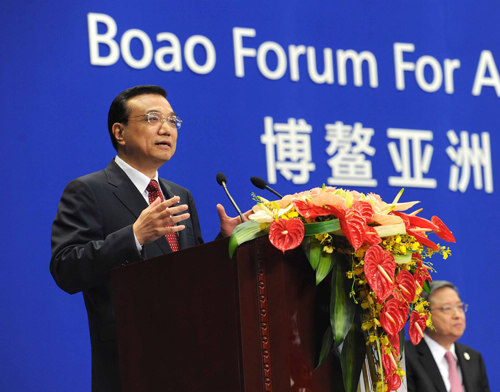 KEYNOTE SPEECH: Chinese Vice Premier Li Keqiang delivers a speech at the opening ceremony of the Boao Forum for Asia Annual Conference 2012 in Boao, Hainan Province, on April 2 (RAO AIMIN)
In an era of globalization, Asia is not immune to the challenges facing the world economy. The still-gloomy global economy casts a shadow on the sustainability of the Asian economy.
How Asia should maintain sustainable development amid global economic uncertainties became a focus of this year's Boao Forum for Asia (BFA) held in south China's Hainan Province on April 1-3.
"While continuing to unleash its comparative advantages in global competition, it is important for Asia to explore and expand markets of domestic demand," said Li Keqiang, Chinese Vice Premier, when delivering a speech at the opening ceremony of the 2012 annual conference of the BFA.
"Asian countries should be able to walk using both legs," said Goh Chok Tong, former Singaporean Prime Minister, at the forum. If global demand withers, internal drivers of growth will play an important role to support the economy. More cooperation, trade and investment should be encouraged among Asian economies, he said.
During the last decade the economic output of Asia has grown from 15 percent to 30 percent of the world total. If the growth momentum continues, it will make up half of the world economy by 2050. But the shrinking of world markets after the financial crisis hit the export-oriented Asian economy hard.
"Asian economies rely heavily on exports, investment and resource exploitation. Because the investments are mainly from the West and most of the export markets are also Western countries, Asia's economic model showed its uneven and unsustainable nature," said Zeng Peiyan, Vice Chairman of the Board of Directors of the BFA.
Thus, restructuring the export-oriented economy and boosting domestic markets should be a priority for Asian countries, said Zhang Yuyan, Director of the Institute of World Economics and Politics under the Chinese Academy of Social Sciences.
In seeking internal growth engines, Asia has its own unique advantages. As home to around 45 percent of the world's population, there is huge potential in the Asian market.
Asia is a dynamic and diverse region with different political regimes, economic models and cultural traditions. But one common goal of Asian countries at present is striving for economic development and modernization, said Fan Bi, Deputy Director of the Department of General Research of the State Council Research Office.
"Based on that point, the concept of seeking internal growth could be widely accepted by Asian economies. It is of great significance for the healthy and sustainable development of the Asian economy and promoting its ability for fending off all kinds of risks," Fan said.
To maintain sustainable development, most Asian countries are also facing some problems such as aging, employment and income and wealth inequality.
During the past several decades, the low-cost labor force in Asian countries has helped a lot in their export-oriented industries and earned large foreign exchange reserves.
However, because many Asian countries are aging rapidly, analysts say the so-called demographic dividend of those countries is likely to come to an end in the next eight to 20 years.
Shoei Utsuda, Chairman of the Board of Directors of Mitsui & Co. Ltd., said Asian countries should be fully aware of the magnitude of the aging problem.
Since 1950, Japan enjoyed an economic upswing with the rapid growth of population. But when it entered a stage of graying society after 1990, Japan began falling into an economic decline. It has spent two uncomfortable decades adjusting to an era of slower growth and graying population, said Utsuda. It is very significant for other Asian countries to prepare for dealing with the issue in advance, he said.