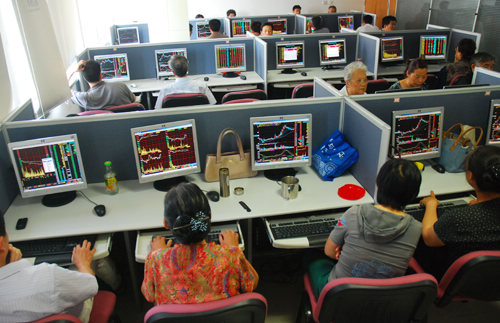 BUSY TRADING: Individual investors trade their stocks in a VIP room of Huatai Securities Co. Ltd. in Huaian, Jiangsu Province (CFP)
Guangxia (Yinchuan) Industrial Co. Ltd. is a company well passed its prime on the Shenzhen stock market. Most investors agree it should have been swept from the trading floor and delisted a decade ago.
A trade suspension and reorganization is now headed by Ningxia Ningdong Railway, but ultimately hopes are low for the company that has been mired in controversy since 2001 when the media exposed a corporate plot to fabricate earnings reports and other information. The result was a nosedive in its stock price from 37.99 yuan ($6.02) to 2 yuan ($0.32) in 2002. And yet the company was allowed to shamble along for another 10 years, albeit more slowly and with a *ST tag, indicating that its fate was hanging in the balance.
According to SZSE figures, in 2011 Guangxia reported earning per share of 0.336 yuan ($0.05), net asset per share of -0.74 yuan ($-0.12), operating revenue of 0 yuan and net profits of -23,063.62 yuan ($-3,655.09).
If the reorganization fails, Guangxia will be forced to delist from the stock market under a new policy from the China Securities Regulatory Commission (CSRC), which was meant to make yet another improvement to China's securities market.
On April 29, 2012, both Shanghai Stock Exchange (SHSE) and Shenzhen Stock Exchange (SZSE) publicized drafts of the new policy to collect opinions from institutional and individual investors.
The CSRC also issued guiding opinions on deepening reform of the new stock issuance mechanism and policies of reducing A-share trading fees on April 28 and April 30 respectively.
The new policies will hopefully prevent cases like Guangxia from arising in China's stock market as it seeks to improve the capital market.
"In countries with a sound mechanism in capital market, stocks like Yinguangxia should have been delisted years ago," said Wang Yong, a researcher at CITIC Securities Co. Ltd. But Yinguangxia was allowed to remain in the stock market due to trading mechanism riddled with loopholes and vague rules. Now, the CSRC hopes to improve that mechanism.
The guiding opinions on deepening reform of the new stock issuance mechanism released on April 28 are the first new policy by the CSRC.
Kou Jianxun, an analyst at Soochow Securities, said the influence of the guiding opinions focuses on information disclosure, pricing in the primary market and trading in the secondary market. The guiding opinions' top priority requires listed companies to disclose all relevant information, fully indicating the resolution of the CSRC to solve the problems existing in the A-share market.
Information disclosure is the core of U.S. federal securities supervision mechanism, a model the Chinese market is trying to replicate. It is also the major reason the United States has a more relaxed regulation and registration system on stock issuance. In China, information disclosure is a luxury most investors don't enjoy, and insider trading is rife throughout the Chinese stock market.
Kou said the guiding opinions will reduce non-standard information disclosure and raise investor confidence in a still developing stock market. People can expect that problems such as abnormal rise in stock prices on the day of issuance or excessive price-earnings ratio for newly issued stocks will be markedly reduced.
The second new policy will regulate the delisting process for stocks. On April 29, both SHSE and SZSE publicized drafts for the exit system to collect public opinions.
The two drafts both take lessons from common practices of international securities markets and set a standard for exit of stocks. This will end the current situation that stocks in Chinese stock markets never die.
According to figures from the two stock exchanges, among the 2,381 listed companies that have publicized 2011 annual reports, 39 would have been delisted from the stock market according to the exit standard.
SHSE will allow a grace period of 30 trading days for stockholders to arrange over-the-counter (OTC) transfer of stocks. SZSE allows stocks of delisted companies to enter qualified OTC markets.
The third new policy is that the two stock exchanges and China Securities Depository and Clearing Corp. Ltd. announced on April 30 to reduce A-share transaction fees. It is estimated that a total of 3 billion yuan ($475.44 million) of transaction fees will be exempted till the end of this year.