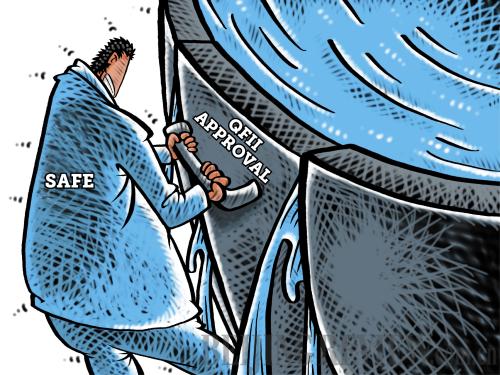 (CFP)
A decade ago, United Bank of Switzerland (UBS AG) grabbed the financial spotlight by becoming one of the first qualified foreign institutional investors (QFIIs) approved by the Chinese Government. The move, implemented in December 2002, offered a fast track for overseas investors to channel their money into China's stock markets. In July 2003, UBS AG completed its first QFII transaction, buying four stocks in China's A-share market, namely, Baosteel Co. Ltd., Shanghai Port Container Co. Ltd., Sinotrans Air Transportation Development Co. Ltd. and ZTE Corp.
Today, UBS AG is China's biggest QFII, with an investment quota of $790 million.
UBS AG is not the only company reaping historic profits in China. According to figures from the China Securities Regulatory Commission (CSRC), in the past decade, QFIIs have netted $144 billion in profits.
Investing in the stock market is an important way for QFIIs to make profits in China. According to figures from the State Administration of Foreign Exchange (SAFE), by the end of last March, total assets of QFIIs stood at $265.6 billion, with investment in stocks, bonds and bank deposits accounting for 74.5 percent, 13.7 percent and 9.6 percent, respectively. Stocks held by QFIIs were valued at 197.9 billion yuan ($31.26 billion), accounting for 1.09 percent of the total market value of the A-share market.
The latest statistics released by the China Securities Depository and Clearing Corp. Ltd. showed that in March and April, 12 QFIIs opened investment accounts on the A-share market, while in the previous four months, only two QFIIs did so.
Foreign investors think that as the basic mechanisms of China's capital market have kept improving, its valuation level will eventually reach the same level as European and U.S. markets.
On May 4, Fubon Life Insurance Co. Ltd. received approval for a $150-million investment quota from SAFE, becoming China's 141st QFII. Later that day, the Dai-ichi Life Insurance Co. Ltd. was also granted an extra quota of $50 million, raising its total investment quota to $250 million.
To date, China has approved 167 QFIIs from 23 countries and regions, of which 141 institutions have combined investment quotas worth $26 billion. The other 26 QFIIs are applying for quotas of more than $10 billion.
On April 3, the CSRC added $50 billion of investment quotas for QFIIs, bringing the total to $80 billion. This will allow more international investors to become QFIIs and increase the quotas of the approved QFIIs. In 2002, when the QFII scheme was first established, the total investment quota was only $4 billion. By 2007, the amount had reached $30 billion.
When applying for QFII status, international institutions used to be put on a waiting list for about one to two years. Now the process has been expedited, taking about six months from application to approval.