Since the breakout of the global financial crisis, China has taken the initiative to push the yuan's globalization by expanding yuan settlement in cross-border trade and investment. China has also signed currency swap agreements worth over 1.9 trillion yuan ($304.7 billion) with 19 countries.
Nevertheless, for many years, the exchange rate of the yuan has been pegged to the U.S. dollar, and its rates against other currencies are worked out by calculating cross rates, which leads to the rigidity and distortion of the exchange rate formulation mechanism. Thus, direct yen-yuan trading will increase the transparency, authenticity and autonomy of the yuan, cutting down exchange costs and helping push the yuan's globalization.
Ding said direct exchanges in the Tokyo foreign exchange market will raise the convertibility of the yuan, and reduce the dependence on the U.S. dollar in the free exchange between the yuan and Japanese yen, which will contribute to the formation of a more balanced international monetary system.
Direct yen-yuan trading suggests future yuan reforms will focus on two aspects. One is the evolution from the current managed floating exchange regime based on market supply and demand to a free floating exchange regime, the other is more openness for capital accounts. Caution should be taken when proceeding with these reforms in the course of the yuan's globalization.
Unaffected dollar
Some media reports say that because China and Japan rank second and third in the global economy respectively, direct yen-yuan trading indicates a declining role for the U.S. dollar.
Tan Yaling, Director of the China Foreign Exchange Investment Research Institute, said the power of the U.S. dollar would not be weakened.
"The U.S. dollar is like an anchor for currencies across the globe, and the yuan and the yen are tradable now. They have to be tagged to the dollar."
"In the past, the yuan's exchange rate against the yen was calculated by comparing their respective rates with the U.S. dollar. From now on, it will be figured out according to the quoted prices offered by market makers. But it is inevitable for these market makers to take into account the fluctuations of the yen against the U.S. dollar exchange rate when giving the yuan exchange rate with the yen," explained Tan.
"Neither Chinese nor foreign-funded banks can produce yen vs. yuan exchange rates regardless of the U.S. dollar," said Zhao Qingming, a researcher with China Construction Bank.
Considering that the foreign exchange market works around the clock, commercial banks always convert small currencies like the Japanese yen and Chinese yuan into the major currency, which commonly means the U.S. dollar, in order to avoid exchange rate risks. "That's to say, even if the size of the trade grows remarkably, Chinese or Japanese commercial banks cannot go without the U.S. dollar as the anchor," said Zhao.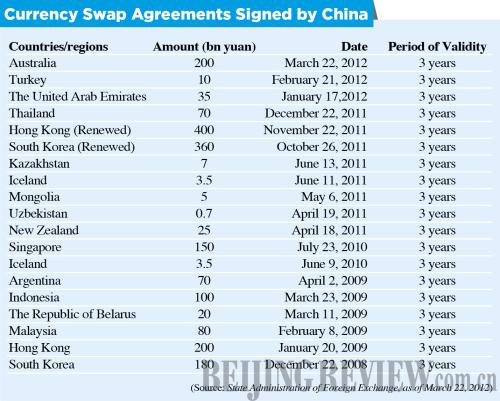 Email us at: lanxinzhen@bjreview.com