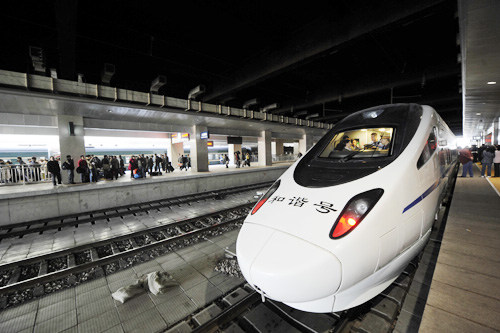 FASTER STEPS: An express train leaves Taiyuan Railway Station. The Shijiazhuang-Taiyuan passenger railway is the first of its kind in China built with private shares (YAN YAN)
For three years, Weng Yifeng, President of Rui'an Huafeng Micro-Credit Co. Ltd. in Wenzhou, has dreamed of transforming his small micro-credit company worth 1 billion yuan ($157.98 million) into an established bank. In 2008, Weng and several partners set up Rui'an with a registered capital of 200 million yuan ($31 million). Limited to granting credit, the company was strictly prohibited from taking deposits, a standard practice at most banks.
Recent developments in China's banking regulation, however, are making it easier for Weng and other prospective bankers to enter China's burgeoning banking sector, an industry that for long has been monopolized by state firms. The new policy will help shatter the stranglehold on state-owned enterprises across the country to have access to financing.
On May 25, the China Banking Regulatory Commission (CBRC) issued follow-up opinions from a 2010 document to encourage and guide private capital. The CBRC document this time is part of the detailed rules to implement the 2010 State Council opinions. According to the CBRC document, private capital will be granted almost equal access to the banking industry.
Under the new policy, Weng will face fewer difficulties in realizing his dream. He said after transforming his company into a bank, he expects a market-formed interest rate to be created, because only with market-formed interest rates, small financial institutions like his can seek better development.
Banking is not the only industry where monopolies will be broken. The Ministry of Railways, China Securities Regulatory Commission (CSRC), Ministry of Health and Ministry of Communications have issued detailed rules on encouraging private capital to enter monopolized industries under their supervision.
Relaying growth
"Under the current economic situation, it's getting more and more important to mobilize capital of various types," said Zhao Xijun, Vice President of the School of Finance of Renmin University of China.
China's economy is currently in a critical stage of development: With growth continuing to slow, the economy faces restructuring, industrial upgrading and transformation of the growth pattern.
"Opening industries to private capital and inspiring private capital will undoubtedly have far-reaching significance in stimulating the Chinese economy, promoting the transformation of the economic growth pattern and maintaining long-term sustainable and sound development," said Zhao.
Following the global financial crisis in 2008, the Chinese Government strategically launched a 4-trillion-yuan ($631.91 billion) stimulus package. Government-initiated public investment played an essential role in facilitating a quicker bounce back in the world economy. However, the economic growth was restricted by the fiscal ability of the government. Public investment is likely to cause overheated investment and surplus production capacity. In contrast, private investment is more efficient and will also be significant to solving problems involving imbalances in the Chinese economy.
Gu Shengzu, an economist and member of the Standing Committee of the 11th National People's Congress, thought during the post-crisis period the practice of making private investment relay public investment is the most important strategic choice to ensure sustainable economic growth, because compared with public investment, private investment features flexible mechanisms, high efficiency, high potential, strong sustainability and facilitation to innovation and employment. Private investment will play a key role in reinvigorating the economy and realizing sustainable economic growth.