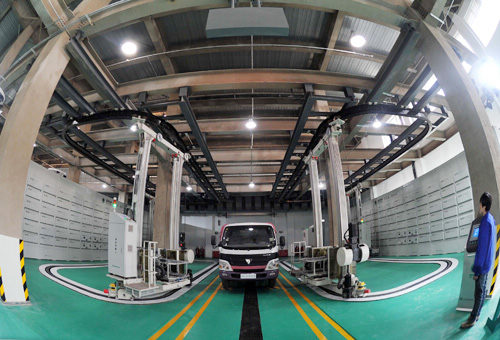 ON THE ROAD: An electric-powered sanitation vehicle charges cells at Beijing Gaoantun Charge Station, the largest one in the country (GONG LEI)
Other top-tier cities—Shanghai, Hangzhou and Shenzhen—are also jumping on the EV bandwagon, implementing detailed plans to promote EVs and develop the emerging strategic industry in their localities.
According to figures released by the MIIT, by the end of 2011, 75 automakers had produced 361 models of electric and other new energy vehicles.
A worldwide problem
The BYD taxi accident was not an isolated incident in terms of faulty EV components. An EV taxi from Zotye Auto in Zhejiang Province caught fire in Hangzhou, the provincial capital, on April 11, 2011 after being on the road for only five months. Similarly, Chevrolet's Volt has met challenges in its testing phase.
Song Jian, Executive Vice President of Tsinghua Automotive Engineering Institute, said neither iron phosphate lithium cells nor manganese lithium cells can fundamentally solve the safety problem for EVs.
At present, lithium cell technology is limited to two main options: iron phosphate lithium cells adopted by A123 Systems, Inc. and Valence Technology Inc. from the United States and BYD from China, and manganese lithium cells adopted by producers from Japan and South Korea.
The exact cause of the fires in relation to the impact of the collision is still unclear. In May 2011, the U.S. National Highway Traffic Safety Administration carried out a side collision test in a simulated crash of a Chevrolet Volt. Three weeks later, the test car spontaneously combusted in the garage. Primary judgment indicated that the reason for the fire was that lithium cells were damaged, but in a later repeated test, there was no fire.
Jia Xinguang, chief analyst of China Automobile Industry Consulting Co. Ltd., said addressing safety concerns is global automakers' biggest challenge, with many problems yet to be solved. Although conventional fuel vehicles also catch fire, the probability of fire by EVs is much higher and already beyond consumer tolerance.
Rational development
Although a conclusion has yet to be reached on the safety issue revolving around EVs, one thing is certain: China's EV industry needs to seriously reflect on its rapid development, said Zhong Shi, an independent auto analyst.
Based on current defects and controversy surrounding EVs, producers on the upstream and downstream need to find solutions quickly before consumer confidence wanes to a breaking point, Zhong said. New energy vehicles are the future, Zhong said, but developing the EV sector needs to be rational and meticulous.
Jia said the procession of EV accidents will certainly have a negative impact on the market, but not a detrimental one. With these incidents in mind, EV producers will be more prudent concerning power cell safety, resulting in an industry drive to make better, safer cars.
In China, all automakers are placing their hopes for the future in new energy vehicles. However, since industry norms in research and development and cell management to secure safety of EVs are non-existent, cell producers came to the fore in large numbers lured by the huge potential profits brought out by the concept of new energy vehicles.
"Rather than pursuing fast development, it's better to slow down development and solve safety and other problems in the EV industry," Jia said. "With stable EV performance and consumer confidence, the market will form naturally as people embrace this new trend in automotives."
Email us at: lanxinzhen@bjreview.com