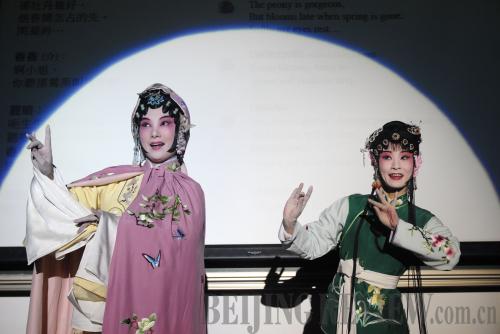 CASE STUDY: Shen Fengying (left) and Shen Guofang, who respectively play the lead role Du Liniang and her maid Chunxiang, perform at the course of Classic Kunqu Appreciation given by Pai Hsien-yung on March 11 (WEI YAO) 
An optional course for university students at Peking University is attracting students to crowd the 300-seat classroom. Many sit in aisles or stand at the back and in entrances. They come because of the charisma of the lecturer, Taiwanese author Pai Hsien-yung, and the exquisite art of China's oldest opera, Kunqu.
Pai, a professor emeritus of modern Chinese literature at the University of California, Santa Barbara, has established a reputation as a determined and ardent promoter of Kunqu.
Occasionally he resumes his role as a teacher to give lectures on Kunqu to young audiences in universities. His March 11 lecture officially kicked off an ambitious five-year plan to promote and pass on Kunqu to future generations.
The plan begins with an optional course, Classic Kunqu Appreciation, which will cover all aspects of the art form. During the three-month course, professors from Hong Kong, Taiwan and the mainland will interpret China's traditional aesthetics and literary heritage, while the production team for Pai's adaption of The Peony Pavilion, a classic repertoire of Kunqu, will elaborate on aesthetics involved in stage design, script adaptation and shooting.
As a parallel activity, actors and actresses are being selected from young fans of Kunqu in universities to be instructed by maestros Wang Shiyu and Zhang Jiqing, in creating the campus version of the lightly modernized The Peony Pavilion.
I'm home once I hear it
Mei Lanfang (1894-1961), a master of Peking Opera as well as Kunqu, staged a scene of The Peony Pavilion, called The Interrupted Dream, in Shanghai in 1946. The performance planted the seeds of a love affair with the opera form in the heart of 9-year-old Pai, son of Kuomintang General Pai Chung-hsi.
Pai and his family settled in Taiwan in 1952, where he studied English literature in Taipei and became an author. He went to the United States to study literary theory and writing in 1963 and became a professor of modern Chinese literature at the University of California, Santa Barbara, in 1965.
Inspired by Kunqu, Pai wrote a short story The Interrupted Dream in 1966, about the different fates of former actresses of the Suzhou Kunqu Troupe who married Kuomintang officials, settled in Taiwan and reunited years later at a birthday party where they perform several scenes.
While writing, Pai played some Kunqu classics on a gramophone.
"I felt as if I was at home when I heard them," he said. "Memories of my boyhood flashed back, and it also reminded me of many stories I heard during my childhood."
But by then, Kunqu had already begun to decline on the mainland and in Taiwan, with few troupes able to perform a complete story. In 1982, Pai adapted his book The Interrupted Dream into a stage play. A year later, he produced two acts of The Interrupted Dream in Taipei.
After half a century's experiences of cultural clashes, Pai was looking for an answer to the question: How can modern China be culturally powerful by reviving its rich cultural heritage?
"I strived to find a balance and combination between Western and Chinese, ancient and modern cultures when I was young. I have seen both the merits and demerits of both cultures during this process," he said. "I realized the most beautiful peony was in my own courtyard, and I decided to return and cultivate the peony."
Passing the heritage on
Pai said he prefers inheritance to heritage in describing Kunqu, because the genre is still alive. But the art form had showed any sign of revival until 2004 when the "Young Lover's" version of The Peony Pavilion adapted by Pai was premiered in Taipei and its 9,000 tickets sold out a month before the performance.
The 600-year-old Kunqu was listed by UNESCO as a "Masterpiece of Oral and Intangible Heritage of Humanity" in 2001, and the listing has prevented it from fading away.
Kunqu's appeal dwindled about 200 years ago when Peking Opera overtook it as the dominant form of popular entertainment. The situation was aggravated during the "cultural revolution" when many Kunqu troupes were disbanded. Today, Kunqu is widely viewed as a highbrow pastime for the educated and wealthy. The exquisite art form even lost its audience in Suzhou, east China's Jiangsu Province, where it originated.