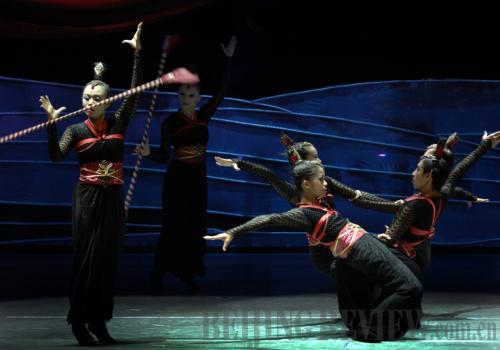 SOLID BASIC SKILLS: Students from Taiwan's Taoyuan Leading Dance Troupe perform Warriors (YE JIN)
The 2010 Cross-Straits Youth Dance Exchange was held in Qingdao, east China's Shandong Province, on July 24-28, 2010.
Hosted by the China Federation of Literary and Art Circles, Qingdao Government and the Chinese Dancers Association, the event featured a theme that youth on the both sides of the Taiwan Straits dance together for the future, with a purpose of strengthening mutual understanding between young students in Taiwan and the mainland through dance.
Nearly 40 young dancers from two groups in Taiwan—Tangyi Dance Troupe and Taoyuan Leading Dance Troupe—brought unique dance to Qingdao and shared their understanding of dance with local teachers and students. Through their face-to-face communication, the young dancers from across the Straits learned a lot from each other.
Understanding deepens
It was the first time the two Taiwan dance groups had visited Qingdao. Young students from Taiwan said they were impressed by Qingdao's blue sky, clear air, the beautiful buildings in the old city and quiet streets, especially the hospitable local people.
SWEET MEMORY: A group photo of young dancers from across the Straits (PAN XIAOQIAO)
The Tangyi Dance Troupe was set up in July 2002. Zhang Yiting, head of its dance team to Qingdao, said the troupe aims to train high-quality artistic talent. Members of the troupe are students who possess a strong interest in dance. The troupe never accepts students who have been forced by their parents to learn dance. Zhang, who had taken courses on educational and child psychology before she took up her career as a dance teacher, said only those who were really passionate about the art of dance would devote themselves to it for years without complaint.
Guided by these concepts, a student in her dance team, Zhang Yuxuan, who is in the second grade of senior middle school, has successfully kept the honor of being Taiwan's champion of Chinese classical dance competition over the past three years.
Zhang is grateful to teachers at the Beijing Dance Academy, China's top dance education institute, where she was educated in the essence of Chinese classical and national dances.
Through expanding cultural exchanges across the Taiwan Straits, Zhang feels there are striking differences between the styles of Chinese classical dance on the mainland and on the island. For example, in the mainland, Chinese dancers express certain ideas or artistic concepts with flexible and rich body language. In Taiwan, the version of Chinese classical dance is similar to traditional Chinese operas, with dancers depending on various stage properties to express certain ideas.
Zhang said she was now working hard to reform the presentation form of classical dance in Taiwan to shake off elements of traditional operas and even acrobatic movements in such dance through more communication with mainland artists.
Actually, in the past decade, dance teachers from the mainland went to Taiwan, giving lectures and training Taiwan classical dance teachers, which has greatly pushed forward Taiwan's classical dance development, Zhang said.
Zhang is now preparing to direct a classical dance, Emperor Tangminghuang and Concubine Yang Guifei, which tells the beautiful love story of an emperor and his favorite concubine in the Tang Dynasty (618-907). The name of Zhang's dance troupe, Tangyi, indicates her wish to regain the blossom of dance at that time.