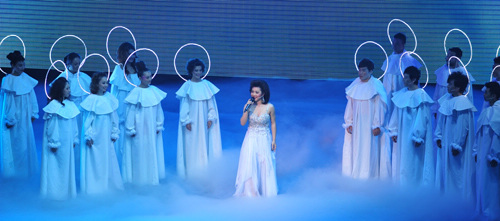 SINGING LEGEND: Wang Jing sings during Love U Teresa. The musical tells the legendary story of China's singing star Teresa Teng (YANG GUANG)
The past summer offered an interesting variety of musical performances. While the Chinese version of Mama Mia!, one of the most popular musicals in the world, tours China on a 200-performance run, homegrown musicals are also gaining ground.
Love U Teresa, an original musical about influential Taiwanese Chinese pop singer Teresa Teng (1953-95), has been staged in Beijing since August 5. The Broken Bridge, a large-scale musical featuring a cross-Straits love story spanning 60 years produced with funds from the Hangzhou Municipal Government, will be staged in the famous tourism city in Zhejiang Province from September 15 to 22. Musicals for children, such as The Vagrant Life of Sanmao and Sesame Street, are also piquing the interest of younger audiences.
Musical productions in China are going through a tri-phased development: fostering the market and audiences by introducing foreign classics; learning standard production and operation procedures and establishing professional teams by reproducing classic musicals; and creating original musicals with Chinese elements and staging them overseas, said Zhang Yu, Chairman of the China Arts and Entertainment Group, one of the three investors for the Chinese version of Mama Mia!.
Market yet to form
Although musical theater has attracted lots of public attention this summer, people working in the industry have a common view that the market still needs time to develop.
Despite its global presence for the past two centuries, musicals arrived on the scene relatively late in China compared with movie and stage performance genres, such as concerts, opera, ballet and drama. Chinese theater circles began studying and producing musicals in the 1980s alongside the development of popular music.
China's first homegrown musical, Our Modern Youth, was produced by the China National Opera House in 1982. It was followed by a number of musical productions by academies and various opera and drama troupes through the 1980s and 90s.