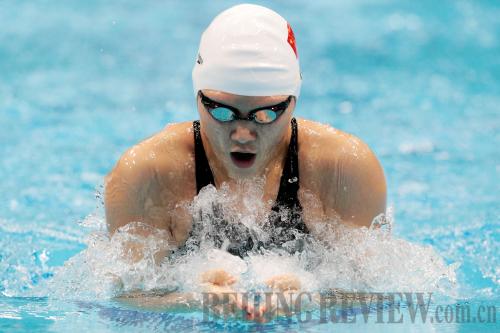 BREATHTAKING PERFORMANCE: Ye Shiwen competes in the women's 200-meter individual medley heat at the London Olympic Games on July 30 (CFP)
On the first day of the London 2012 Olympic Games, the fabulous performances of two young Chinese swimmers--Sun Yang and Ye Shiwen--stunned a worldwide audience. But before the two stars could enjoy their victory, Western media sources went on the attack with doping accusations. Though the suspicions were later proved to be groundless, their biased criticism irked many Chinese fans.
On July 28, the 21-year-old Sun won the men's 400-meter freestyle at 3:40.14, setting a new Olympic record and becoming the first male Chinese swimmer to claim Olympic gold. And Ye, 16, broke the women's 400-meter medley world record at 4:28.43.
Poolside prejudice
It is no longer a surprise when Chinese athletes win Olympic medals. But in the swimming pools, where European and American athletes have long dominated, elite Chinese swimmers are still a rare sight.
At the 1992 Olympic Games in Barcelona, Chinese swimmers emerged triumphantly to win four gold medals and five silver medals. But in the 10 years following that success, they suffered a sharp decline, taking only one gold medal in the Atlanta, Athens and Beijing Olympics respectively, and zero in Sydney.
Hence the world's astonishment when Sun and Ye swept away two gold medals on the first day of competition in London.
The dominant performance put on by Chinese swimmers that day was certainly unexpected, said a BBC host during the live broadcast.
While record-breaking Olympic performances are often subject to suspicion, the breathtaking speed of Sun and Ye attracted an unusual number of groundless attacks.
Before Sun, Chinese male swimmers' best result was one silver medal won by Zhang Lin in the 2008 Beijing Olympic Games. Sun's gold medal was a shocking breakthrough.
Ye's performance was equally outstanding. Her result in the women's 400-meter medley beat the world record by nearly one second. In the last 50 meters of her freestyle race, Ye's time was just 28.93 seconds, 0.17 seconds faster than American gold medal winner Ryan Lochte in the men's 400-meter medley—an extremely rare feat in swimming competitions.
"My achievements come from hard training. I have never taken drugs to enhance my performance," said Ye.
Her assertion has been confirmed by the report of the World Anti-Doping Agency, which showed Ye passed the drug test after the competition. All results complied with the standards, and no evidence of performance- enhancing drugs was found.
Ye was clean and she "deserves recognition for her talent," said Lord Colin Moynihan, Chairman of the British Olympic Association.
Since the athletes arrived in London, they have received doping tests from various organizations, including the International Olympic Committee, International Sports Federations and the British anti-doping organizations. The tests included blood and urine samples. The swimmers were given particularly close attention. All Chinese athletes went through all the tests and proved to be clean, said Jiang Zhixue, the anti-doping chief of China's General Administration of Sport (GAS).
"In recent years, the Chinese Swimming Association has made great efforts to combat doping. Under any circumstances, once any athlete is found to be using performance-enhancing drugs, he or she will be severely punished. It is unfair for anyone to improve their performance by doping," said Jiang.
Despite some people's doping suspicions, there were also a large number of international audiences supporting Ye. An opinion poll by Australia's Brisbane Times showed that of the 5,000 people who voted, 56 percent held it was unfair to question Ye's performance.
Many swimming athletes from other countries also came to the defense of their young Chinese counterpart.