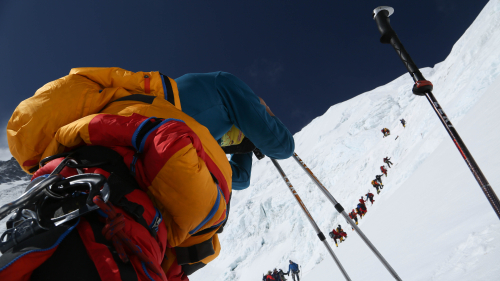 Climbers on their way to the peak of Qomolangma, also known as Mount Everest
If you had the chance, would you take the risk to reach the top of the world? While most people only dream of such a challenge, some adventurers make it a reality.
The documentary movie Ladder to Paradise, which opens at Chinese movie theaters in September, records the life of mountain guides in southwest China's Tibet Autonomous Region, from rookies to seasoned climbers, culminating with an ascent of the 8,844-meter Mount Qomolangma, also known as Mount Everest in the West.
The first successful ascent of Qomolangma took place in 1953 when New Zealander Edmund Hillary and Tenzing Norgay, a Nepalese Sherpa—members of a British expedition led by John Hunt—reached the summit via the South Col Route. Following their success, 400 people had reached the summit by 1993. In that year, commercial climbing took off and another 6,000 successful ascents were made in the next 20 years, with the help of mountain guides. Reaching the summit is a team effort. A climb mission involving six clients needs at least 100 people in support, transporting supplies and setting up camps, and will cost each client more than 300,000 yuan ($46,800).
Viewers of the documentary who expect to see something similar to a thrilling adventure movie may end up disappointed because director Xiao Han has taken a different approach.
"We'd like to tell the story in a plain way," Xiao told Beijing Review. "Some of the viewers may feel disappointed because it doesn't meet their expectations, while others may feel surprised to find a different Qomolangma, and the one they were seeking."
From the start to finish
Four years ago, Xiao and co-director Lei Jianjun were chatting as usual one evening. Lei shared his experience in Tibet and told of a promise he made to a trainee from the mountain guide school. The promise involved taking some religious books to the guide's father Awang Sanchi, the only monk practicing in the temple near the base camp at Qomolangma at an altitude of 5,200 meters. Lei said that when Sanchi received the books, he smiled, exposing the few teeth in his mouth. That image resonated with Xiao.
"I am a painter, and that picture Lei presented really touched me," Xiao said.
That night, Xiao decided to shoot a documentary based on the only school for professional mountain guides in the world—the Tibet Mountaineering Guide School in Lhasa, capital city of Tibet. The school mainly attracts students from Tingri and Nyalam, two remote counties at the foot of Qomolangma. To Xiao, those trainees are representative of Tibetan young people in terms of their destiny and choice of profession.
With this idea in mind, Xiao started on the movie. But four years on, he prefers his work to be understood in a diversified way rather than in terms of a specific theme.
Xiao's experience during the past four years, to some extent, has led to this change. He shared some stories from behind the scenes that reflected the change in his viewpoint.
Mountain guides, who are in their 20s, showed no fear when they heard news of the deaths of 15 Sherpa mountain guides in an avalanche caused by the 8.1-magnitude earthquake in Nepal in April, said Xiao.
The director states that many of the guides are cavalier in their attitudes toward death and some question whether this indicates a lack of respect for life or is merely the guides' way of dealing with things.
Sanchi prays for climbers but is worried such human activity may offend the god of the mountain. Sanchi's son is one of those offenders. Xiao admits doubting if such contradictions can ever truly be understood by outsiders.
Yaks are respected in the eyes of Tibetans. But the animals are the only means of transport during the climbing season. Many are killed by falling rocks or by stumbling into crevasses. While many in the audience direct their sympathy toward the animals, Xiao wonders out loud if the yak or the yak's owner, who has lost his livelihood, is the more deserving.
Those questions pose a moral dilemma. Xiao recognizes that everyone has his or her problems and sees his movie as a way of people recognizing their problems.
"I hope audiences can be touched by a character or a sentence that becomes a mirror for them," he said. "We all need a mirror because we often lose sight of ourselves."
Feedback from the audience completes the artistic process for Xiao. "Once the chemistry between the audience and the movie is generated, no matter whether it is positive or negative, the creation process is over, and each viewer will have one outcome," he said.
Documentary crew members conduct an interview in Tibet in October 2013
The power of reality
Xiao is often asked why he did not highlight drama and conflict in the movie. "That would be shallow," he said. "The documentary presents the reality and that is powerful."
Documentary movies are in their infancy in China, but the genre is developing. In recent years, A Bite of China, a documentary series on food and cooking by China Central Television, has gained high ratings and widespread popularity.
A survey by Beijing-based media consulting company CMMR in 2014 showed that 22 percent of respondents chose documentaries as their favorite TV program, ranked seventh in terms of popularity.
Some documentaries shown at cinemas have met with success. Mr. Deng Goes to Washington, based on late Chinese leader Deng Xiaoping's U.S. visit, took 15 million yuan ($2.34 million) at the box office and set a new record for this category in China's movie market. Producer Lu Muzi holds that the documentary should have its share of China's prosperous movie market.
Xiao wanted his documentary to be shown in cinemas ever since he had the idea to shoot it. From a technical aspect, Lei found that only a big screen could create the effect he wanted when he and the photographer worked on color modulation.
Lei feels that while a documentary may have a weakness as far as storytelling goes, the enclosed space of a cinema can be supplementary and help the audience find its real charm.
Xiao endorses that view. Watching a TV show can have too many distractions, he said. In a movie theater the focus is on the movie without any interruptions.
The market potential of Ladder to Paradise led to companies financing its shooting and promotion. It has received both domestic and international recognition. It was awarded the documentary with the most potential in the global market during China's first international documentary proposal meeting in 2013. Renowned public TV broadcasters, including the UK's BBC and Japan's NHK, have shown interest in screening the documentary.
The market potential of Ladder to Paradise further strengthens Xiao and his team's confidence in the documentary's future. Xiao attributes it to the natural power of documentaries. "What we have done is to release its power as much as we can," he said. As for the reaction of audiences, he is quite open-minded. "There are different possibilities for understanding. One thing is for sure: It can make people think about themselves."
(Photos courtesy of Xiao Han)
Copyedited by Calvin Palmer
Comments to lifangfang@bjreview.com